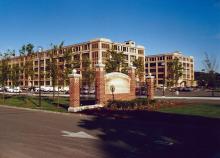 Architectural Description:
The mill complex was designed by Winfield Bradford Knowlton of Boston, built by Turner Construction Company.
AT - Sept. 3, 1920 – Work On Bridge Begun – Construction of bridge and warehouse started in Shawsheen
Village on Monday. ......Turner Construction to build new warehouse – 300' long 3 stories high on the south side of Argyle. Argyle St. runs from the River to the tracks of the B& M RR and is parallel to Haverhill Street.
This street was built and named Argyle St. in error. Eight houses were built along the north side of the road leading into Mill #1. When Mr. Wood returned form a European tour on Sept. 10, 1921 he saw the street, and is reported to have pointed his cane and said, "Remove those houses immediately!" The homes were then moved to the upper north end of York St.
Bibliography/References:
Essex County Registry Deeds, Salem, MA
Essex Northern Registry Deeds, Lawrence, MA
Andover Maps, 1852, 1872, 1888, 1906, 1926
Andover Street Directories
Andover Townsman
Mills, Mergers and Mansions, by Edward Roddy 1982
See Map plan #704 - American Woolen Company - Sept. 1927
Map plan #708 - Nov. 1927 - AWCo.
Plan #826 - Sept. 1930 - Shawsheen Dairy - AWCo.
Plan #2680 - lot 6
Plan #3511 - July 1957 - NE Milk Producers' Association Parcel A & B
Plan #4385 - July 1961 - B&M Railroad - b. 948 p. 226
Plan #4975 - Dec. 1960 - Raytheon Park
Plan #9209 - Jan. 19, 1983 - Parcel C
Plan #11218 - July 29, 1988 - lot 2
Plan #11742 - May 8, 1989 - lots 3-4-5
Bailey Bridge - Oct. 31, 1961 - b. 917 p. 465
Bailey Bridge - May 23, 1969 - b. 946 p. 63
Owners; Along the River west of York St.
John Smith & Peter Smith – Dec. 29, 1841 –b. 335 leaf 99
Smith & Dove Manufacturing Co. – July 1, 1864 - b. 677 leaf 259 Salem deed
Robert Braisford, General Degreasing Co. – July 21, 1902 – b. 197 p. 32
Beacon Trust Company. – Dec. 23, 1904 – b. 217 p. 80
Daniel C. Smith –Mar. 28, 1909 – b. 258 p. 446
Arlington National Bank – June 11, 1909 – b. 274 p. 565
James E. McGovern – July 17, 1909 – b. 275 p. 400 – mgt sale
Henry P. Binney, Trustee of A. W. Co. – Aug. 14, 1909 - b. 277 p. 310
Haverhill St. and east of York -
American Woolen Co. of NJ - Feb. 15, 1916 - b. 361 p. 411
American Woolen Company, Wm. M. Wood Pres. - Dec. 30, 1920 - b.435 p. 215 parcel 2a
American Woolen Company - Dec. 23, 1931 - b. 562 p. 323
American Woolen Company - Feb. 17, 1955 - Vote to merge
American Woolen Company - Feb. 28, 1955 - b. 809 p. 204 - merger
Textron American, Inc. - of Providence, RI - Feb. 23, 1955
Textron, Inc. - Dec. 13, 1956 -
Raytheon Manufacturing Co. - Feb. 20, 1956 - b.
Raytheon Company - Apr. 28, 1961 - b. 935 p. 206
Shetland Properties - Andover - Mar. 29, 1971 - b. 1168 p. 131 & 133
Andover Mills Realty Limited Partnership - Dec. 24, 1986 - b. 2389 p. 194
Niuna Grafton, Inc. - Oct. 12, 1988 - b. 2835 p. 298
Andover Mills Realty Limited Partnership - Feb. 1, 1990 - b. 3087 p. 345
Andover Mills LLC - Apr. 14, 2003 - b. 7694 p. 252 - 267
Trans-Western Brickstone Square, LLC
A SLAN III Brickstone Sq. LLC - Nov. 28, 2005 - b. 9912 p. 130
New Brickstone Office , LLC - Sept. 30, 2014 - b. 13994 p. 71
Inventory Data:
| | |
| --- | --- |
| Street | Brickstone Sq |
| Place | Shawsheen Village - Frye Village |
| Historic District | Shawsheen Village NRH District |
| Historic Name | Shawsheen Mills of the American Woolen Co. |
| Present Use | Muiti business and professional office space |
| Original Use | Woolen Mills - American Woolen Co. |
| Construction Date | 1921 - 1922 |
| Source | ERDS, ENRDL, assessers' rec./style-njs |
| Architectural Style | Other |
| Architect/Builder | Winfield B. Knowlton - architect /Turner Construction Co. |
| Foundation | concrete |
| Wall/Trim | concrete/brick |
| Roof | asphalt/gravel- flat |
| Outbuildings / Secondary Structures | four mill buildings |
| Major Alterations | 1980s - Conversion to office park and multiple professional office spaces |
| Condition | excellent |
| Acreage | 25.5 acres |
| Setting | commercial/business |
| Map and parcel | 35-27 |
| Recorded by | Stack/Mofford, James Batchelder |
| Organization | Andover Preservation Commission |
| Date entered | 1975 - 1977, 9/01/2015 |
Map: