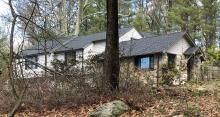 Historical Narrative:
"The Lodge" was one of more than Forty-three homes and other buildings designed or built by architect and designer Addison B. LeBoutillier in Andover. He was nationally acclaimed architect/craftsman who lived in Andover for 20 years. This house was lived in by "LeB's" daughter, Winifred Hopkins Tyer until her death in 1991.
This was the second home built by the Tyers and designed by Addison LeBoutiiller. They first resided at 39 Sunset Rock Rd. from 1929-1944. The Tyer family are listed at 100 Spring Grove in 1945.
Henry George Tyer II b. Feb. 5, 1885 son of Horace H. & Catherine (Buss) Tyer was the Vice President of the Tyer Rubber Co. founded by his grandfather Henry G. Tyer. Henry grew up in the Tyer homestead at 1 Chestnut St. Henry married Oct. 1, 1919 at the home of the bride's parent's on Orchard St. in Andover to Winifred Hopkins LeBoutillier, b. March 9, 1900 in Winchester, MA dau. of Addison B. & Elsie (Wait) LeBoutillier. Henry & Winnie first lived on Ballardvale Rd and had two daughters; Beatrice b. July 8, 1921 and Martha b. July 6, 1923. Henry purchased a 4 acre lot on Sunset Rock Rd. on Nov. 9, 1922 from Mary F. Babbitt of Haverford College in Pennsylvania. Winnie's father Addison LeBoutillier was an architect and artist and designed the house for the couple which was built in 1929 as the Tyers are listed here in the 1930 Directory and Census.
Henry deeds the property over to Winifred in 1931. Henry & Winnie later built the home at 100 Spring Grove attached to an existing field stone building referred to as "The Lodge" in the mid 1940's. and moved here about 1945. Henry died suddenly while on vacation in Rockwood, Maine on Sept. 26, 1947. Winnifred remained in that home then selling to Marcy A. Mazonson on June 18, 1991. Winnie Tyer died on Dec. 9, 1991. Daughter Beatrice Tyer graduated from Abbot Academy, became a teacher and taught in Troy, NY in 1943 and Chester, VA in 1947. She married in 1951 to John Lyle Campbell.
Martha Tyer also graduated from Abbot Academy, became a secretary and later married in 1952 in Dover, DE to Nelson Curtis III.
See Andover Historical Society archives for more information.
Bibliography/References:
100 Spring Grove Road 0.709 acre blt. 1935 79-16
Essex County Registry Deeds, Salem, MA
Essex Northern Registry Deeds, Lawrence, MA
Andover Historical Society LeBoutillier family files
Tyer Memories
Map plan #1768 - Aug. 26, 1928 - Henry C. Tyer, updated June 24, 1947
Map #16339 lot 16A Oct. 12, 2010
Owners;
Sarah F. Abbott, wife of Asa Abbott
Sarah F. Abbott estate, John Alden Abbott, heir son - Probate
John Alden Abbott estate; heirs, Anna F. A. Perkins, Harriet A> Clark, Asa G. Abbott, H. F. Babbitt guardian of Albert T. Abbott
Mary F. Babbitt - Dec. 8, 1916 - b. 374 p. 1 – 4 acres woodland
Henry G. Tyer - Nov. 9, 1922 - b. 469 p. 291
Winifred LeBoutillier Tyer, wife of Henry C. - Jan. 26, 1931 - b. 557 p. 14
Marcy A. Mazonson – June 18, 1991 – b. 3270 p. 217
Youg I & Heewon Park – Aug. 12, 2011 – b. 12578 p.199
Seonho Kim & Hwajoo Te Lee – May 22, 2012 – b. 12950 p. 213
Inventory Data:
| | |
| --- | --- |
| Street | Spring Grove Rd |
| Historic District | Not Applicable |
| Historic Name | Tyer House |
| Present Use | residential |
| Original Use | one room stone cabin |
| Construction Date | 1908 |
| Source | WB Tyer Memories |
| Architectural Style | Craftsman/Bungalow |
| Architect/Builder | Addison LeBouttier |
| Wall/Trim | stone/shingle |
| Major Alterations | remodeled in 1966 |
| Acreage | 1.5 acres |
| Map and parcel | 79-16 |
| Recorded by | Sean Craft 1991, Karen Herman 2018 |
| Organization | Andover Historical Society/Andover Preservation Commission |
| Date entered | 6/8/91, 5/1/18 |
Map: