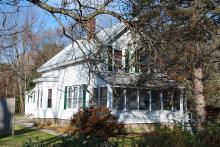 Historical Narrative:
This property was once part of the large farm of Isaac Howarth and then Samuel Anderson families at 17 Cuba Street. Isabella Anderson and her siblings inherited the property in 1879. Isabella S. Anderson would later marry John P. Wakefield, a butcher in town, who establish a successful market on Main St. at the corner of Park St. In 1910 he moved his shop to Barnard St. as the building was to be razed for the construction of the Barnard Block.
John Wakefield purchased this lot of land in July 1897 and the house was built shortly after. John and family would later move to Maple Ave. and the house was rented out.
In April 1920 Wakefield sold the property to Erdine M. O'Neil of Brookline, MA. Erdine also purchased the house at 17 Cuba from Isabella Wakefield on the same day. O'Niel held the properties for two years then released the two homes on Feb. 2, 1922 to George F. Smith, President of the Smith & Dove Co. George Ferguson Smith was the son of Joseph Warren & Frances S. (Donald) Smith and grandson of John Smith, founder of the company.
George then deeded the property over to the Smith and Dove Manufacturing Co. at that time. The houses were then rented to operatives working in the company. Ownership would be short lived as the company was bought out by the Ludlow Co. in 1927 and closed operations in Andover in 1928. The company holdings were then placed in the Smith & Dove Tenements, Inc. to be sold off to private buyers. A map of these properties #676 was drawn in 1927 listing 51 properties in Abbott Village to be sold.
Samuel B. & Mary C. Forsythe purchased the property in May 1927. and took a $3300. mortgage with the Lawrence Coop Bank. With the Great Depression and mill closing the Forsythe family was unable to pay the loan and the bank took the property in 1931.
Thomas D. & Florence M. Bourassa purchased the house in July 1932. They owned for 21 years. Thomas died on Sept. 20, 1942. His wife Florence then placed the property in her name and thier daughter Mary M. Bourassa. Mary died on Dec. 19, 1952 and Florence then sold to Charles A. & Catherine Hyder of Lawrence in Nov. 1953. The Hyder family held the house for 19 years selling in 1973 to Herbert K. & Erika G. Hemp, also of Lawrence, MA.
Herbert and Erika owned for 33 years before the death of Herbert on Jan. 20, 2005. Erika then sold the home to Richard P. Brenner on June 23, 2005.
Bibliography/References:
Essex County Registry Deeds, Salem, MA
Essex Northern Registry Deeds, Lawrence, MA
Andover Maps - 1855, 1872, 1888, 1906
Andover Directories
AVID Tour Brochure (B. Thibault)
Owners;
Isabella Anderson and family 1879
John P. Wakefield - July 31, 1897 - b. 56 p. 252 - 80 sq. rods
Erdine M. O'Neil - Apr. 20, 1920 - b. 421 p. 209
George F. Smith - Feb. 2, 1922 - b. 453 p. 62 & 63 - release
Smith & Dove Manufacturing Co. - Feb. 2, 1922 - b. 421 p. 64 & 65
Smith & Dove Tenements, Inc. - Feb. 21, 1927 - b. 529 p. 583
Samuel B. & Mary C. Forsythe - May 7, 1927 - b. 531 p. 395
Lawrence Cooperative Bank - Sept. 11, 1931 - b. 560 p. 544
Thomas D. & Florence M. Bourassa - July 16, 1932 - b. 565 p. 407
Florence M. Bourassa, by will probate - Sept. 1942
Florence M. Bourassa & Mary M. Bourassa - Sept. 19, 1952 - b. 767 p. 151
Florence M. Bourassa, Dec. 1952 by inheritance title
Charles A. & Catherine Hyder - Nov. 5, 1953 - b. 783 p. 276
Catherine B. Hyder
Charles A. Hyder - Nov. 27, 1970 - b. 1163 p. 93
Herbert K. & Erika G. Hemp - Aug. 18, 1972 - b. 1200 p. 110
Erika G. Hemp, probate will Herbert died Jan 20, 2005
Richard P. Brenner - June 23, 2005 - b. 9588 p. 66
Inventory Data:
| | |
| --- | --- |
| Street | Cuba St |
| Place | Abbott Village |
| Historic District | Andover Village Industrial NRH District |
| Present Use | residential |
| Original Use | residential |
| Construction Date | 1890s |
| Source | ERDS, ENRDL |
| Architectural Style | Greek Revival |
| Foundation | stone |
| Wall/Trim | Aluminum Siding |
| Roof | asphalt |
| Major Alterations | Front Porch/Siding (20c) |
| Condition | good |
| Acreage | .481 acre |
| Setting | residential |
| Map and parcel | 72-45 |
| Recorded by | Sean Craft, J. Batchelder |
| Organization | Andover Historical Society - Andover Preservation Commission |
| Date entered | 5/31/91, 6/2014 |
Map: