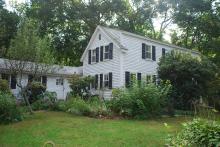 Historical Narrative:
11 Lincoln Street 71-72 0.37879 acre– John McCollum House c. 1855
John McCollum was born Nov. 12, 1819 in Ireland, son of James & Rebecca (Carlain) McCollum. John came to America and settled in Andover. He worked as a machinist in the Marland woolen mill on Stevens St. John married on Jan. 17, 1853 in Andover to Margray "Marjorie" McGravey b. July 12, 1827 in Ireland daughter of William McGravey. John purchased this house for $400 from the Abraham Marland estate, Francis Cogswell Trustee on March 19, 1861. The property deed was a one acre triangle "with dwelling house and out buildings occupied by John McCollum for several years last past." A second adjoining lot of two acres was also purchased.
John and Marjorie had seven children: William James b. Dec. 29, 1853, Ellen J. b. Sept. 1856, twins Francis C. & John M. b. Aug. 30, 1857, George b. Jan. 3, 1861, Rebecca M. b. 1866. Frederick William b. Aug. 2, 1869. Most of the children would begin working in the Marland Mill. Francis died on July 31, 1894 age 37 of Typhoid fever. George died on June 30, 1895 at age 34. William J., John M. and sister Rebecca never married and shared the family homestead. Ellen married James Kidd and was deeded a lot on Lincoln St. Fred would become a carpenter and contractor and built homes on Lincoln St. for the family.
Their father John McCollum died on March 6, 1897 at age 79. Wife Marjorie would inherit the property now eight acres. Son John M. died Feb. 16, 1900 and Marjorie on May 26, 1914. The remaining siblings would inherit the estate. The property was divided up in 1922. Fred got the eight acre parcel which he built the home at #15 for his son Fred W. and one for himself at #17 Lincoln. William and Rebecca lived in the old homestead. They deeded it to nephew George L., (son of Fred) and his wife Ellen McCollum on May 8, 1941. Rebecca died on Apr. 24, 1943 and brother William on Sept. 4, 1949.
Fred McCollum married Margaret Lowry b. 1872 in Ireland. Fred and Margaret had three children; Pearl M. b. 1898, Fred W. b. Aug. 11, 1889 and George L. b. 1907.
Bibliography/References:
Essex County Registry Deeds, Salem, MA
Essex Northern Registry Deeds, Lawrence MA
Town Clerks Office, Andover, MA
Assessor's Office, Andover, MA
Map plan #1521 - Apr. 1945 - Olive & Francis Wilson
Map plan #3920 - Sept. 1957 - Fred McCollum
Map plan #4094 - May 1960 - Cyr Circle
Map plan #4990 – Mar. 7, 1964 Harold Batcheller
Owners;
Abraham Marland estate, Francis Cogswell Trustee – 1850s
John McCollum - March 19, 1861 - b. 619 leaf 269 -
John McCollum, wife Margery - June 10, 1873 - b. 98 p. 182-185
John McCollum estate, died Mar. 6, 1897 - Probate
Margery "Marjorie" McCollum, widow of John - March 6, 1897
Margery Marjorie McCollum estate, died May 26, 1914 - Probate
McCollum heirs, Wm. J., Rebecca M., Fred W., Ellen Kydd
William J. McCollum & Rebecca McCollum – July 10, 1922 – b.459 p. 496
Fred McCollum, wife Margaret - July 10, 1922 - b. 459 p. 497 – 8.7 acres
William J. McCollum & Rebecca McCollum – July 10, 1922 – b.459 p. 498 – 1 acre
George L. & Ellen McCollum – May 8, 1941 – b. 640 p. 283
Theodore A. Scriven – May 23, 1946 – b.685 p. 19
Ellen F. Rody, wife of Francis Rody – May 23, 1946 – b. 685 p. 20
Harold B. & Margery Elaine Batcheller – Sept. 2, 1952 – b. 766 p. 418
Robert E. & Beverly D. (Hannon) Serverius – Aug. 20, 1976 – b. 1289 p. 497
Peter & Melissa Sliwkowski – Apr. 26, 1988 – b. 2716 p. 45
David & Roselle S. Heckendorn – May 6, 1996 – b. 4494 p. 323
Inventory Data:
| | |
| --- | --- |
| Street | Lincoln St |
| Place | West Center, West Parish |
| Historic District | Andover Historic Building Survey |
| Historic Name | John McCollum House |
| Present Use | residence |
| Original Use | residence |
| Construction Date | 1850 |
| Source | ERDS, NERDL, style, |
| Architectural Style | Greek Revival |
| Foundation | stone/cement/granite |
| Wall/Trim | clapboards/wood |
| Roof | asphalt/gable |
| Condition | excellent |
| Acreage | 0.37879 acre |
| Setting | residential |
| Map and parcel | 71-72 |
| Recorded by | James S. Batchelder |
| Organization | Andover Preservation Commission |
| Date entered | March 18, 2018 |
Map: