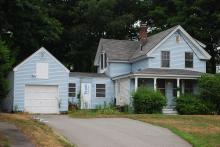 Architectural Description:
One one half story Queen Anne stye cottage. wrap around porch,
Historical Narrative:
The property at 7 - 9 Tewksbury St was once part of this lot and owned by the Ballard Vale Company, a Corporation. On Jan. 15, 1844 the share holders voted to sell off properties owned by the company in the village. Thomas Barron purchased this property on Feb. 18, 1845 for $1000. The deed states "the house in which he now lives and the land connected." Thomas Barron purchased a second lot for $100. on on Apr. 2, 1846, recorded Sept. 15, 1846, from John Shepard, Yeoman. Shepard had purchased the joining lot from Eaton Green that same day.
John J. Horne, a blacksmith, then purchased the property (7-9) on Aug. 20, 1863. Horne then sold two moths later to Roselle Leonard, wife of John H. on Oct. 28, 1863 for $1600.
Roselle Leonard would later acquires a second lot numbered #5 on Center St. Oct. 15, 1880. Roselle would build the home next door at 11 Tewksbury St. about 1885. The Ballardvale map of 1884 does not include the cottage but it is listed on the 1888 map. Leonard held the property 45 years then selling to Rose A. Chapman on April 11, 1908. Chapman lives on Main St. and owns several properties on Main, Morton, and Chapman Ave. Rose owns for eleven years then selling to Gavin H. McGhie on Nov. 24, 1919.
James & Mary Brierly purchase on Sept. 8, 1928. Brierly then buys a second parcel on Sept. 20, 1930. Brierly sells the cottage to James A. & Arabelle J. Green on Aug. 13, 1946. Green owned five years then sold to Frederick & Christina B. Hunt on Dec. 4, 1951. Christina Hunt owned for 43 years then selling to her son and daughter Frederick Hunt Jr. and Marjorie Douglas on Oct. 5, 1994. The deed included a life tenancy for Christina. Marjorie Douglas owned on March 20, 2014 and sold to Jeremy M. Rozen on August 29, 2014.
Bibliography/References:
Essex County Registry Deeds, Salem, MA
Essex Northern Registry Deeds, Lawrence, MA
Historical Sketches of Andover, Sarah Loring Bailey 1880
Andover, A Century of Change, Eleanor Richardson 1995
Andover Advertiser, Andover Townsman
Andover Historical Society files
National Register of Historic Places Certificate
Andover maps, 1852, 1872, 1884, 1888, 1906
Ballard Vale Machine Shop CO. 1848 - Franklin Darracott
Owners:
Ballard Vale Company, a Corporation - Jan. 15, 1844 - Vote to sell off properties
Thomas Barron - Feb. 18, 1845 - b. 351 leaf 171 - $1000.
Thomas Barron - Sept. 15, 1846 - b. 371 leaf 237 - $100. second lot
John J. Horne - Aug. 20, 1863 - b. 655 leaf 68
Roselle Leonard, wife of John H. - Oct. 28, 1863 - b. 658 leaf 31 - $1600.
Roselle Leonard, wife of John H - Oct. 15, 1880 - b. 66 p. 33 - lot #5
Rose A. Chapman - Apr. 11, 1908 - b. 260 p. 568
Gavin H. McGhie - Nov. 24, 1919 - b. 443 p. 88
James & Mary Brierly - Sept. 8, 1928 - b. 542 p. 234
James & Mary Brierly - Sept. 20, 1930 - b. 554 p. 316
James A. & Arabelle J. Green - Aug. 13, 1946 - b. 688 p. 388
Christina B. Hunt - Dec. 5, 1951 - b. 757 p. 557
Frederick V. Hunt Jr. & Marjorie Douglas - Oct. 5, 1994 - b. 4141 p. 117
Marjorie Douglas - Mar. 20, 2014 - b. 13932 p. 53
Jeremy M. Rozen - Aug. 29, 2014 - b. 13962 p. 300
Inventory Data:
| | |
| --- | --- |
| Street | Tewksbury St |
| Place | Ballardvale |
| Historic District | Ballardvale Local Historic District |
| Historic District | Ballardvale National Register District |
| Historic Name | Roselle Lenord Cottage |
| Present Use | residence |
| Original Use | residence |
| Construction Date | 1885 - 1887 |
| Source | ECRDS, ENRDL, style-njs |
| Architectural Style | Queen Anne |
| Foundation | stone/granite |
| Wall/Trim | clapboard/wood/vinyl siding |
| Roof | asphalt - gable |
| Outbuildings / Secondary Structures | one stall garage |
| Major Alterations | vinyl siding |
| Condition | good |
| Acreage | 0.134 Acre |
| Setting | residential/business |
| Map and parcel | 157-37 |
| Recorded by | Stack/Mofford, James S. Batchelder |
| Organization | Andover Preservation Commission |
| Date entered | 1975-77, 8/5/2016 |
Map: