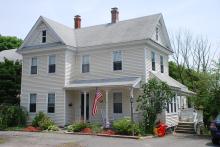 Historical Narrative:
John Bowner & Patrick McCormick own the property in 1855 when they sell the lot "with buildings" to Michael McGowan and his wife Mary on Aug. 20, 1855. Michael died and his widow Mary McGowan, and heirs Winifred, Frank and Mary Ann McGowan, and Ellen & husband Edward Walsh, all of Boston are named in the deed.
They sell the McGowan estate to Peter Smith for $1000. on May 6, 1873, who then sells a week later on May 13, 1873, for the same price, to Betsey (Middleton) Grieve, wife of James Grieve. The deed clearly states to Betsey solely, with no influence or interference from her husband James. In the 1880 census lists; James 57 b. 1820 laborer, Betsey 56 b. 1821 and two sons John G. 24 and George N. 18, both furniture dealers. Betsy has the property for eight years selling to John Schofield on Aug. 20, 1881 for $1075. Betsy died on Aug. 11, 1886 and is interring at South Cemetery with husband James who died on Nov. 7, 1905. Her epitaph reads "She has done what she could"
The Schofield family has a long ownership of 80 years to the homes and property at #14 & #16. Annie Z. Schofield becomes owner on Nov. 18, 1919. The deed is transferred through Harry Scholfield to Annie Z. and Julia C. Schofield on Sept. 11, 1950. The Schofield sisters sub-divide their property in Aug. 13, 1959 through the Andover Board of Appeals and the plan #3976 was filed on Sept. 29, 1959. Two lots were created with a right of way between. Lot #1 remained 14 Cuba St. and lot #2, now 16 Cuba St. was sold to Raymond W. Lynch on Dec. 4, 1959 b. 906 p. 400.
Edward J. Gill, Conservator of the property of the Schofields was granted permission through Probate to sell the property on Jan. 18, 1961. Annie Z. Schofield Doc. #266,125 and Julia C. Schofield Doc. #266,124
Warren J. & Joya Sideri Sr. purchased the estate on Jan. 23, 1961 for $11,000. They remained just two years sell to Louis G. & Marguerite M. Mirisola in March 1963. They owned for six years then selling to George W. & Virginia Corkery on Feb. 3, 1969.
Eileen M. Dowgiallo then purchased the property on Dec. 30, 1998 and later married now Eileen M. Baron on the deed in March 2003.
Bibliography/References:
Essex County Registry Deeds, Salem MA
Essex Northern Registry Deeds, Lawrence, MA
Andover Maps 1852, 1855, 1872, 1882, 1888, 1906
Andover Street Directories
Andover Valuations records
Owners;
John Bowner & Patrick McCormick 1855
Michael McGowan, wife Mary - Aug. 20, 1855 - b. 518 leaf 169 Salem deed
Michael McGowan estate, wid. Mary McGowan, and heirs
Peter Smith - May 6, 1873 - b. 21 p. 64
Betsey Grieve, wife of James - May 13, 1873 - b. 21 p. 120
John Schofield - Aug. 20, 1881 - b. 65 p. 162
Annie Z. Schofield - Nov. 18, 1919 - b. 411 p. 244
Harry F. Schofield - Sept. 11, 1950 - b. 741 p. 140
Annie Z. and Julia C. Schofield - Sept. 11, 1950 - b. 741 p. 140
Schofield sub-divison of property - Sept. 29, 1959 - filed - 2 lots
Schofield estates, Edward J. Gill, Consvr. - Jan. 18, 1961 Probate
Annie Z. Schofield #266,125 and Julia C. Schofield #266,124
Warren J. & Joya Sideri Sr. - Jan. 23, 1961 - b. 930 p. 301
Louis G. & Marguerite M. Mirisola - Mar. 19, 1963 - b. 931 p. 340
George W. & Virginia Corkery - Feb. 3, 1969 - b. 1124 p. 194
Eileen M. Baron - Dowgiallo - Dec. 30, 1998 - b. 5295 p. 262
Eileen M. Baron - Mar. 21, 2003 - b. 7624 p. 149
Inventory Data:
| | |
| --- | --- |
| Street | Cuba St |
| Place | Abbott Village |
| Historic District | Andover Village Industrial NRH District |
| Historic Name | McGowan - Schofield House |
| Present Use | residence |
| Original Use | residence |
| Construction Date | 1855-1860 |
| Source | ERDS, ENRDL |
| Architectural Style | Queen Anne |
| Foundation | stone |
| Wall/Trim | clapboards/vinyl covered |
| Roof | asphalt |
| Condition | good |
| Acreage | .146 acre |
| Setting | residential |
| Map and parcel | 72-19 |
| Recorded by | James S. Batchelder |
| Organization | Andover Preservation Commission |
| Date entered | June 26, 2014 |
Map: