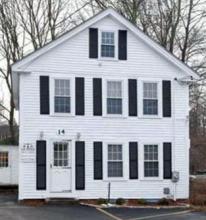 Architectural Description:
This building listed as offices - medical professional today is just 22' x 34' and is believed to have been the barn of the Gleason home at 12 Essex St. The simple clapboard building was adapted into apartment space in the early 20th century.
Historical Narrative:
Themes, Architectural, Community development.
Original owner Major Benjamin Gleason as his family residence (Brick house). Subsequent uses, apartments, offices-professional property management 1970's.
The house at 12 Essex St. was built about 1834 by carpenter Jacob Chickering for Major Benjamin Gleason who was a mason. Undated note in Chickering's accounts: "Mrs. G. Gleason's House (Mrs. Hannah) roof: Cupola 6 1/2' x 6 1/2' - July 12 - 2 days put up the frame and boarded the roof complete/carving balustrade - 13 3/4 days labor/ sawed 3 balustrades at once, in 10 minutes a bunch". Known as "Squire Foster's office" in 1845.
Originally the house was built with a hip roof in the Federal style and the balustrades were probably for a roof fence detail which was a decorative detail on several homes near the center of town, a reflection of high style and wealth. The cupola may have been a monitor type similar to the Swift house built behind the Gleason house on the corner of Brook and Central St. The house was just west of the railroad tracks of the Andover - Wilmington Railroad. Benjamin Gleason reserved a right of way by Andover & Haverhill Railroad Corp. on Jan. 16, 1838 which at that time ran by his house to the depot across the street. The Second Empire mansard roof was added in 1881 allowing for more living space in the attic but taxed lower than the main floors. "March 25, 1881 Andover Advertiser - Abbott & Jenkins to build a French roof on the house of Mrs. Gleason on Essex Street." The upper cornice was also changed at this time. The contractors were located across the street near Pearson St. and had bought out Chickering carpentry business.
Major Benjamin Gleason was born in 1781 in Burlington, MA, son of Benjamin & Dorothy (Beard) Gleason. He married on May 22, 1803 at Bedford, MA to Rhoda Gleason b. Sept. 28, 1777 , dau. of Jonas & Ruth (Wilson) Gleason. Benjamin purchased two parcels of land on Essex St. The first parcel was purchased from Stephen P. Gardner on July 13, 1833 and the second lot came from Jacob Chickering on April 17, 1838. The 1850 Valuation Schedule list Ben Gleason Dwelling house, Barn and house lot, 1/3 acre $1800 and a 9 1/4 acre land $660. Personal estate - Farm Stock $35.
Benjamin & Rhoda's son Gamaliel Gleason was born on April 26, 1812 and also became a mason working with his father. They both may have had a hand in the construction of their home. Gamaliel married Hannah M. Morse of Alexandria, Virginia on Nov. 1, 1836. They had six children of which only sons Benjamin Gamaliel 1844-1898 and Moses Virginius Gleason born June 9, 1846 - Sept. 4, 1902 would survive to adulthood. In the 1850 census parents Ben and Rhoda share the house with their son Ben and family. They also have seven boarders listed at this address. Benjamin deeded the property to his son Gamaliel on Jan. 9, 1852. Benjamin Gleason died on Feb. 12, 1852. Rhoda died in Nov. 1857. Gamaliel's wife Hannah died in May 1863 and he re-married to Margaret M.
Both Gleason lots were transferred into Margaret's name by Geo. Foster on August 17, 1869. Gamaliel died on March 25, 1879 and was interred in the family lot in South Church Cemetery. Son Benjamin G. Gleason married in 1868 to Elizabeth Kindle Grosvenor, sister of Mary Hannah Grosvenor. The Grosvenor family James & Elizabeth lived next door at #28 Essex St.
Margaret M. Gleason died on Dec. 21, 1890 and her property was devised to Moors E. White then unmarried. He took out a mortgage on the property in Sept 1892. He later married Kate C. took a second mtg. in Oct. 1897. Moors died on Jan. 11, 1899 and Kate inherits the estate. She remarries to Amos Blanchard who also dies in March 1908. Kate C. Blanchard then sells the property to business partners Albion G. Pierce & Henry L. Wadsworth both from Methuen on June 15, 1909.
Albion G. Pierce later partners with Albert S. Thompson but then becomes sole owner in 1913. He sells to Louis Resnik in Feb. 13, 1913. The 1920 Andover Valuation list Louis & Samuel Resnik - of 1 Chapman Court - House 14 Essex St., House rear 14 Essex St., Cottage House, Essex St., Stable, Essex St. and 13584 sq. land. also the Colonial Theatre, 9, 11, Essex St., Barn rear 9, 11, Small shop 11 Essex, Lunch cart Essex and 14873 sq. ft land 9, 11 Essex St.
The Resnick family held the property via Resnick Realty Investment, Samuel Resnik – Mar. 1, 1922, then Samuel Resnik on Nov. 10, 1938. The property was then purchased by Danton Realty Trust, L. John Davidson & Phidias G. Dantos on June 11, 1968. It was through this partnership that the Gleason House and property was renovated into professional offices and apartments. Renovations continued through the ownership of Dalton, Dalton, Asioan & McGarry who purchased parcel #1 on Dec. 31, 1974. Parcel 1 is the brick dwelling house now #12 Essex and the rear addition.
Parcel 2, the rear building at #14 Essex St. was held by Dalton, Dalton, Assoian & Moody on Dec. 31, 1974. The property at #14 was later sold to Bruce D. Moody and George S. Kokinos on May 27, 1976. George S. Kokinos then bought out Moody on September 4, 1980. In July 1988 the property was purchased by Paul L. Twomey and Marie P. Concemi and placed into the 14 Essex Street Realty Trust.
Bibliography/References:
Essex County Registry Deeds, Salem, MA
Essex Northern Registry Deeds, Lawrence, MA
Map plan #7412 - Apr. 1976 - Dalton, Dalton, Asoian, McGarry
Owners:
Stephen P. Gardner and others to Benj. Gleason (lot #1)
Benjamin Gleason – July 13, 1833 – b. 270 leaf 226 - Parcel #4
Jacob Chickering – to Benj. Gleason
Benjamin Gleason – April 17, 1838 – b. 306 leaf 60 - (lot #2) Parcel #4
Gamaliel Gleason – Jan. 9, 1852 – b. 455 leaf 70
George Foster, portion of land
Margaret M. Gleason - Aug. 17, 1869 – b. 779 leaf 261
Margaret Gleason Est. died - Dec. 21, 1890
Moors S. White devised by Margaret Gleason
Katherine C. (White) Blanchard – June 15, 1909 – b. 274 p. 425
Albion G. Pierce – Henry L. Wadsworth – June 15, 1909 - b. 274 p. 425
Albert S. Thompson – Jan. 16, 1913 – b. 326 p. 54
Catherine F. Thompson, wife of Albert -
Albion G. Pierce – Feb. 20, 1913 b. 327 p. 61
Louis Resnik – Feb. 13, 1913 – b. 327 p. 62 Parcels #4 & #5
Resnick Realty Investment, Samuel Resnik – Mar. 1, 1922 – b. 454 p. 531 Parcels #4 & #5
Samuel Resnik – Nov. 10, 1938 – b. 619 p. 167 – parcel #5
L. John Davidson & Phidias G. Dantos - June 11, 1968 – b. 1107 p. 367 Parcels #4 & #5
Danton Realty Trust, L. John Davidson et al Tr,- June 11, 1968 – b. 1107 p. 367 Parcels #4 & #5
Buffie Real Estate Trust, Frederick Flather III Tr, - Mar. 21, 1972 – b. 1190 p. 168
L. John Davidson – Dec. 31, 1974 – b. 1254 p. 126 Parcels #1 & #2
Dalton, Dalton, Asioan & McGarry – parcel #1 – Dec. 31, 1974 – b. 1254 p. 128 - 12 Essex St.
[Wm. J. Dalton, Charles F. Dalton Jr., Richard G. Asoian, John F. McGarry]
Dalton, Dalton, Asioan & Moody – parcel #2 – Dec. 31, 1974 – b. 1254 p. 120 - 14 Essex St.
[Wm. J. Dalton, Charles F. Dalton Jr., Richard G. Asoian, Bruce D. Moody]
Bruce D. Moody and George S. Kokinos - May 27, 1976 - b. 1282 p. 589
George S. Kokinos - Sept. 4, 1980 - b. 1457 p. 171
14 Essex Street Realty Trust., Paul L. Twomey & Marie P. Concemi Trustee - July 28,1988 - b. 2775 p. 116
Inventory Data:
| | |
| --- | --- |
| Street | Essex St |
| Place | Andover Center District |
| Historic District | Andover Historic Building Survey |
| Present Use | Professional office space |
| Original Use | barn |
| Construction Date | 1880's |
| Source | ECRDS, ENRDL |
| Architectural Style | Other |
| Foundation | stone/granite |
| Wall/Trim | clapboards/wood |
| Roof | asphalt - gable |
| Major Alterations | Professional office space 1974 - 1976, replacement windows |
| Condition | excellent |
| Acreage | 0.033 acre |
| Setting | residential/business |
| Map and parcel | 55-52A |
| Recorded by | Stack/Mofford, James S. Batchelder |
| Organization | Andover Preservation Commission |
| Date entered | 1975-77, 2/15/2017 |
Map: