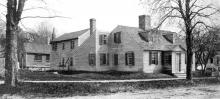 Architectural Description:
The house was a classic full Cape style home, center entrance, two windows flanking the entrance. Dormer windows, a Beverly Jog addition on left rear ell and attached barn.
Historical Narrative:
This location is the historic site of the former Jonathan Swift house later known as the Thomas Clark house and the Henry Newman house. The home was a classic New England Cape "Cod" style home, nearly identical to the Rose Cottage on the corner of Chestnut and Central Streets, the next door neighbor at the time they were built. The structure in the rear yard of the property, in the period photograph, is reported by Josiah Quincy in 1853, to be one of Andover's first Post Office buildings that once stood on the corner of Main & Chestnut Streets in the 1780's. It was later moved to the rear of the Newman lot and used as a painter's and carpenter's shop.
Jonathan Swift was born in 1759 and was first a Cordwainer (shoemaker) and then a "Tanner" by trade, providing leather for shoe and harness makers. He married on Dec. 11, 1793 to Silence White of Weymouth, MA. They did not have children. The property boundary on the SW side was through the center of Rogers Brook. A tanning building and yard and was built to the rear of the property which occupied most of the TD Bank land of the drive-up area today. On June 16, 1794 Swift purchased a third of an acre lot on the west side of Central St. (#23) from Sarah Barker and built his mansion house there. Jonathan "died suddenly" on Mar. 4, 1808. His estate was administered by nephew Nathaniel Swift. Widow Silence Swift would keep the mansion and sell this property including the tan yard to Nathaniel Swift on May 3, 1815 for $500.
The following advertisement from a Boston Paper;
"Rare Chance - For Sale - That eligible situation in the South Parish of Andover, containing about one acre of Land, with a convenient Dwelling house, having four rooms on the floor, a well of excellent water, under cover, never known to be dry - a Barn - a new shop, 18 by 24 feet, now occupied by Mr. Thomas Holt - also a Tan-yard, Bark-house, &c. contiguous to the same. Said yard is the same that was formerly owned and improved by Mr. Jonathan Swift, late deceased, and contains twenty four vats, three of which are calculated for tanning wholes hides - s Tan-house, 50 by 22 feet - a new excellent Bark-mill-a large and convenient Beam-house, and a never-failing stream of water running directly through said yard - also a well of water in the yard, with a new pump in the same, and every utensil and other necessary convenience for carrying on the tanning and curing business. Said situation is within a few rods of the meeting house, in a good neighborhood, and is allowed to be the best in the town, without exception, for collecting hides, skins bark, &c. The situation needs only to be known, to render it an object worthy the attention of any man of enterprise.
ALSO , for sale 8 or 10 cords Oak Bark
For further particulars please apply to the subscriber, living near the premises. N. SWIFT - Andover, March 2, 1814"
Thomas Holt, a Cordwainer, who had occupied the property, purchased the home on June 2, 1815 for $1100. Thomas married Ruthy Board (Beard) of Wilmington, intention recorded May 8, 1812. They had twelve children;Thomas A. b. Sept. 25, 1812, William F. b. Mar. 9, 1814, Harriott b. Nov. 16, 1815-d. Mar. 25, 1817, Harriott b. July 3, 1817, Adeline b. Mar. 16, 1819 – d. Mar. 23, 1819, Theodore b. Abt. 1820 – d. Sept. 8, 1823, daughter b. Sept. 9, 1823 – d. Sept. 9, 1823, Charlotte M. b. Oct. 7, 1824, Ruthy W. b. Jan. 2, 1825, Martha Ann b. Mar. 24, 1828, Edwin b. June 10, 1830 f. Sept. 16, 1832 and Elizabeth Sawyer b. Apr. 11, 1832. Thomas took loans on the property in 1826 and was foreclosed on in Nov. 1827. One creditor, John S. Wilson, a Tanner, took the property, and later also was foreclosed on.
Benjamin Abbot Jr. purchased the property at auction on Nov. 23, 1829 for $150. He held ownership one year then selling to Solomon H. Higgins and Thomas Clark, Andover Painters on Nov. 5, 1830. Higgins appears to have sold his share to Eben P Higgins, a painter, in 1835 which goes back to Solomon in Nov. 1837. Solomon H. Higgins married Phebe H. Osgood of Dracut in Feb. 1826. Thomas Clark b. June 27 1807, married on Jan.3, 1832 to Sarah Ann Osgood b. Nov. 14, 1811 dau. of Samuel & Lydia (Noyes) Osgood of Andover. Thomas & Sarah A. had eight children; Sarah F. b. July 13, 1832, Thomas Henry b. Oct. 1, 1833 0 f. Feb. 11, 1839, Eliza Ann b. May 29, 1834 – d. Aug. 25, 1835, child b. Jan. 8, 1836 – d. Jan 9, 1836, Abba Ann b. May 1, 1837, Henry Newton b. Aug. 8, 1839 – d. Nov. 27, 1840, Jesse b. Aug. 7, 1844 and a daughter b. Aug. 11, 1846. Thomas Clark purchased the Henry Dane farm at 85 Argilla Rd. from John Abbott on April 25, 1844.
On Aug. 6, 1853 Henry J. Newman & Edward A. Newman of Boston purchase the property from Higgins & Clark for $1500. Higgins & Clark held the mortgage. The Tan yard is no longer part of the parcel as it was sold off earlier to Nathaniel Swift.
Thomas Clark assigned the mortgage to the Andover Savings Bank on July 23, 1855. Newman could not keep up with the payments and the bank took possession of the property in September 4, 1858. The bank held the property for eighteen years and then sold it Almena Swift wife of Jonathan Swift on May 1, 1876. The Swifts first lived across the street at 23 Central St. at the corner of Brook St. then to 53 Main St. where the TD Bank is located today.
The house was rented out by the Swift family. After the death of Almena her estate was inherited by her two daughters, Elizabeth Florence Swift and Kate Adams Swift. The sisters lived together and never married. With their deaths their estates were then sold off on Oct. 18, 1914.
William M. Wood, President of the American Woolen Company purchased the property in October 1914 and in February 1921 placed the property in the Arden Trust.
An article in the Andover Townsman March 22, 1912? "Old House Gone" The Mark Newman house on Central street is being demolished by workmen. This is said to be one of the oldest houses in town, nearing two hundred and fifty years. The old boards and inside frame are in wonderful state of preservation, and the nails are had made and very free of rust. The old oven used so many years ago is an object of interest. Its modern history is also interesting, as in this house the Free Church was organized in 1845. The property belongs to William M. Wood, president of the American Woolen Co."
Wood later sold the lot to William J. Burns, a merchant with property on Main Street in Nov. 1924. It would be inherited by his brother David S. Burns in 1939 and his wife Florence S. Burns in 1952.
Bibliography/References:
Essex County Registry Deeds, Salem, MA
Essex Northern Registry Deeds, Lawrence, MA
Andover Advertiser, Andover Townsman
Andover Historical Society files
Owners
Jonathan Swift -
Jonathan Swift estate, died Mar. 4, 1808 - heir widow Silence Swift
Nathaniel Swift – May 3, 1815 – b. 207 leaf 25 - $500
Thomas Holt, wife Ruth – June 2, 1815 – b. 207 leaf 26 - $1100
Thomas Holt to Henry Skinner & Francis Kidder – June 7, 1826 – b. 241 leaf 289 - $200 mtg.
Thomas Holt to John S. Wilson – Nov. 20, 1826 – b. 243 leaf 284 – $500 mtg.
Wilson to Joseph Faulkner – Dec. 10, 1827 – b. 247 leaf 211
Jos. Faulkner to Warren Richardson – Aug. 12, 1828 – b. 249 leaf 281 – ½ undivided Tan yard.
Valpey, Abbot & Co. Nov. 20, 1826 – foreclose (Samuel Valpey, Joseph Richardson, Richard Merrill & Daniel Abbot (all Butchers, co-partners)
Andover Mechanic Association against John S. Wilson – Sept. 1829 - $190.59 claim
Benjamin Abbot Jr. – Nov. 23, 1829 – b. 256 leaf 205 – at auction $150
Solomon H. Higgins & Thomas Clark – (Painters) Nov. 5, 1830 – b. 256 leaf 205
Eben P. Higgins – Feb. 16, 1835 – b. 282 leaf 132 - $500
Solomon H. Higgins – Nov. 20, 1827 – b. 347 leaf 291
Henry J. Newman & Edward A. Newman – Aug. 6, 1853 – b. 481 leaf 149 - $1500
H. J. & E. A. Newman – to Higgins & Thomas Clark - Aug. 6, 1853 – b. 481 leaf 150 - $1500 mtg.
Newman to Thomas Clark - July 23, 1855 - b. 516 leaf 150 - mtg. assigned to Andover Savings Bank
H. J. & E. A. Newman – to Stephen Wilkins - Feb. 2, 1857 – b. 549 leaf 207 $300 mtg.
H. J. & E. A. Newman – to Henry F. Barnard – Jan. 26, 1858 – b. 564 leaf 254 - $500 mtg.
H. J. & E. A. Newman insolvency, Geo. W. Benson assignee = May 6, 1858 – b. 569 leaf 189
Andover Savings Bank - Sept. 4, 1858 - b. 576 leaf. 102 possession
Almena Swift, wid. of Jonathan - Mar. 1, 1876 - b. 40 p. 194 Lawrence deeds
Almena Swift estate, died Jan 20, 1895 -
Heirs; Elizabeth F. Swift & Kate A. Swift, daughters – Jan. 1895
William M. Wood - Oct. 18, 1914 - b. 357 p. 231
Arden Trust, William M. Wood - Feb. 9, 1921 b. 447 p. 330 see also pages 306, 316 and 342
William J. Burns - Nov. 22, 1924 - b. 506 p. 191
William J. Burns, Estate, heir David S, Burns – d, June 15, 1939
David S. Burns, brother heir, 1939 -1952
David S. Burns estate, Florence S. Burns – d. Aug. 22, 1952
Florence S. Burns Trust - 1952
John J. & Nancy Burns McArdle Jr. - May 9, 1955 - b. 813 p. 40
McArdle Family Trust, John J. & Nancy B. McArdle Jr, Trs - Oct. 22, 1971 - b. 1182 p. 43
McArdle Family Trust, John J. & Nancy B. McArdle Jr, Trs - Dec. 23, 1977 - b. 1328 p. 415
McArdle Family Trust, John J. & Nancy B. McArdle Jr, Trs - Nov. 19, 1991 - b. 3364 p. 141
Nancy Burns McArdle Estate - Aug. 2, 2011 -b. 12693 p. 230
John J. McArdle III - Aug. 2, 2011 - b. 12693 p. 227 Executor's deed
McArdle Family Trust - John J. McArdle III & Theodore Valpey Jr., Trustees - Aug. 2, 2011 - 12693 p. 241 & 251 quit claims
McArdle Family Trust, John J. McArdle trustee - Sept. 17, 2012
Inventory Data:
| | |
| --- | --- |
| Street | Central St |
| Place | Andover Center District |
| Historic District | Central Street NRH District |
| Historic Name | Jonathan Swift - Thomas Holt house |
| Present Use | McArdle Building |
| Original Use | Residence |
| Construction Date | 1780s |
| Source | ECRDS, ENRDL, style-njs |
| Architectural Style | Federal |
| Foundation | stone/granite |
| Wall/Trim | clapboards/wood |
| Roof | asphalt - gable |
| Outbuildings / Secondary Structures | barn and shed used as a shoemaker's shop, paint shop and carpenter's shop. |
| Condition | razed 1912 |
| Demolition Details | Razed in 1912 |
| Acreage | 51 sq. poles |
| Setting | residential/business |
| Map and parcel | 55-98 |
| Recorded by | James S. Batchelder |
| Organization | Andover Preservation Commission |
| Date entered | July 30, 2017 |
Map: