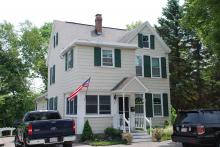 Architectural Description:
Queen Anne style home, with corbel brackets on the west side at the second floor division is a detail element not found on other houses of similar plan on the street. The front second floor room above the porch is a later addition. The house was originally built in an ell configuration with an open porch similar to other houses on the street.
Historical Narrative:
This lot and home was once part of the property next door at #14 Cuba St. the McGowan - Schofield House. The property was purchased by John Schofield on Aug. 20, 1881. This house is not on the 1888 map of Andover but is listed in the 1900 valuation schedule at $1000. We date the house about mid 1890s. The two houses were on the same half acre lot owned by the Schofields. The property was sub-divided by sisters Annie Z. Schofield and Julia C. Schofield in 1959 through the Andover Board of Appeals. A plan map #3976 submitted in Aug. 1959 divides the property into two separate lots, lot 1 the original house at #14 Cuba and lot #2 the second house on this lot. A right of way was also created for parking to the rear of both homes.
The Schofields sold this house to Raymond M. & Anna R. Lynch on Dec. 4, 1959. Raymond is listed as a manager in 1961. The Lynch family lived here for 37 years. In October 1997 the home was sold to Brian & Sandra Kindlan who continue ownership in 2014.
Bibliography/References:
Essex County Registry Deeds, Salem MA
Essex Northern Registry Deeds, Lawrence, MA
Andover Maps 1852, 1855, 1872, 1882, 1888, 1906
Andover Street Directories
Andover Valuations records
Owners;
John Bowner & Patrick McCormick 1855
Michael McGowan, wife Mary - Aug. 20, 1855 - b. 518 leaf 169 Salem deed
Michael McGowan estate, wid. Mary McGowan,et al. heirs -
Peter Smith - May 6, 1873 - b. 21 p. 64
Betsey Grieve, wife of James - May 13, 1873 - b. 21 p. 120
John Schofield - Aug. 20, 1881 - b. 65 p. 162
Annie Z. Schofield - Nov. 18, 1919 - b. 411 p. 244
Harry F. Schofield - Sept. 11, 1950 - b. 741 p. 140
Annie Z. and Julia C. Schofield - Sept. 11, 1950 - b. 741 p. 140
Schofield sub-divison of property - Sept. 29, 1959 - filed - 2 lots
Lot #2 - 16 Cuba Street
Owners;
Raymond M. & Anna R. Lynch - Dec. 4, 1959 - b. 906 p. 400
Raymond M. & Anna R. Lynch - June 23, 1995 - b. 4288 p. 20
Raymond M. & Anna R. Lynch - Sept. 29, 1997 - b. 4857 p. 131
Brian & Sandra Kindlan - Oct. 2, 1997 - b. 4857 p. 133
Inventory Data:
| | |
| --- | --- |
| Street | Cuba St |
| Place | Abbott Village |
| Historic District | Andover Village Industrial NRH District |
| Historic Name | Schofield House |
| Present Use | residence |
| Original Use | residence |
| Construction Date | 1890-1895 |
| Source | ERDS, ENRDL |
| Architectural Style | Queen Anne |
| Foundation | stone and concrete |
| Wall/Trim | asbestos |
| Roof | asphalt |
| Major Alterations | second floor room over front porch asbestos siding over original cedar clapboard and shingle. |
| Condition | good |
| Acreage | .124 acre |
| Setting | residential |
| Map and parcel | 72-19A |
| Recorded by | James S. Batchelder |
| Organization | Andover Preservation Commission |
Map: