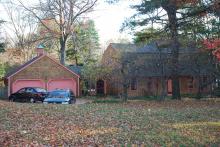 Architectural Description:
NRDIS NRMRA
Gambrel Colonial Revival
Historical Narrative:
This parcel of land once was part of the Caroline Burtt farm later the Robert Scobie property at #160 Lowell St. It was divided off into a separate parcel of land by Anne P. Scobie in 1954. The Gambrel roof Colonial home was built in 1954 and was one of the first of this stye home built in Andover in the 20th century. Attention to details in the design included a cedar shingle roof.
The first owners were Edward M & Melanie E. Munroe who purchased the home in July 1954 and lived here until 1969.
James & Suzanne McLellan purchased the home in July 1969 and sold eight years later to Irving & Linnea Gershenberg on October 3, 1977. Linnea worked for the Andover Public School system They owned for 15 years selling in Feb. 1992 to John O. & Lisa F. (Marson) Wise. The Wise family held the property for 17 years selling in July 2009 to the current owners Nickolas & Holly Kingsley.
Bibliography/References:
Robert & Anne Scobie
Anne Scobie - May 1952 - probate
Edward M. & Maleleine E. Munroe - July 17, 1954 b. 795 p. 486
James M. & Suzanne E. McLellan - July 29, 1969 - b. 1136 p. 270
Irving & Linnea Gershenberg - Oct. 3, 1977 - b. 1321 p. 42
John & Lisa Wise - Feb. 14, 1992 - b. 3399 p. 183
Lisa F. Wise - Feb. 1, 2000 - b.5677 p. 210
Lowell Andover Nominee Trust, Lisa F. Marson (AKA Wise)
June 3, 2002 b. 6881 p. 201
Nickolas & Holly Kingsley - July 8, 2009 - b. 11682 p. 29
Northern Essex Registry of Deeds - Lawrence
see plans #1235 May 1940 1.96 acres Caroline J Burtt land
#2870 Aug. 1954 - 25,000 sq. ft. lot Anne Scobie
West Parish Center National Register Historic District
Inventory Data:
| | |
| --- | --- |
| Street | Lowell St |
| Place | West Parish - West Andover |
| Historic District | West Parish Center NRH District |
| Historic Name | Munroe House |
| Present Use | residence |
| Original Use | residence |
| Construction Date | 1954 |
| Source | WPCNRHD 1980 |
| Architectural Style | Other |
| Foundation | concrete |
| Wall/Trim | wood cedar shingle |
| Roof | asphalt |
| Condition | good |
| Acreage | less than one acre |
| Setting | residential |
| Map and parcel | 89-8 |
| MHC Number | ANV.1190 |
| Recorded by | Stack/Mofford; James Batchelder |
| Organization | Andover Preservation Commission |
| Date entered | 1980; updated 12/2013 |
Map: