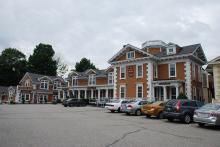 Architectural Description:
NRIND NRMRA, a Federal Greek doorway inserted in carriage house, Ionic columns on porches.
Historical Narrative:
Original owner - Nathan Frye
Themes - Architectural, Community development
Abraham Marland established a cotton mill in 1807 on the Shawsheen River at Abbott Village, which continued until 1811 when he began production of woolen goods. In 1821 "Marland leased from Peter C. Brooks of Boston a mill privilege on the Shawsheen, together with new buildings erected on the site of what had been a powder mill. This is now known as Marland Village. The buildings, which were leased for a term of twenty years, comprised a brick mill, the oldest of the present buildings at Atria Marland Place, and a row of brick tenement houses." Abraham Marland built his homestead estate at 29-33 Shawsheen Rd.
In 1828 Marland bought the entire property which included the mill privilege, old paper and grist mills, and thirty acres of Land. In 1834 the business was organized under the name Marland Manufacturing Company. Abraham Marland was the president until his death on Feb. 20, 1849. Nathan Frye succeeded Marland as the company president from 1849 - 1879.
Nathan Frye was born in Andover on Jan. 1, 1809, son of Amos & Hannah (Durant) Frye. At age 14, entered the employment of Marland Manufacturing Co. He worked his way up to Superintendent of the mill and was elected president in 1849. The company sold to Nathan ten acres land on the hill overlooking the mill pond and factory on December 31, 1852. The lot went from the Shawsheen River and mill pond, along Stevens St. to North Main St. and south to Railroad Street including the site of the Andover Commons, (former Tyer Rubber Co.) to the Free Church land and back along the ridge behind Bakers Lane and back down to the river.
Nathan Frye married on Apr. 4, 1833 to Amanda Gleason, born Oct. 14, 1807, dau. of Jonathan & Sarah (Foster) Gleason. They had two sons, Charles Horatio b. June 25, 1835 and William b. Feb. 12, 1840. Nathan may have built the house on the property prior to owning the land as his house and buildings are assessed 1850 at $4000. Through the years in the mansion house his entire family lived with them. His mother Hannah and mother-in- law Sarah Gleason both came to stay when they became widows. Son Charles married Fannie A. Hall b. in Philadelphia, and they had two children; Prosser H. and Laura A., both born in NYC., they too had returned home by 1880. The census records also include domestic servants, one or two Irish girls to help with the household chores. Nathan continued as president of the company "for nearly thirty years, maintaining a name for probity and energy."
The company however defaulted on a 1873 loan from the Andover Savings Bank and the mill was sold at auction. Sarah Loring Bailey notes, "In the recent financial crisis of the country, this manufacturing company became embarrassed, and, in July 1879, the mills, machinery, and all the property were sold to Mr. Moses T Stevens of North Andover..."
The 1870 census place Nathan's real estate value at $10,000 and his personal estate at $30,000. In 1880 Nathan is retired and at home. Nathan died on Aug. 12, 1884 at age 75y 7m 12d, of what is listed as "Softening of the Brain". in 1885, his widow Amanda and his sons sold the house and property to Nathaniel Stevens who was then holding the mortgage on the Frye mansion. Nathan Frye had taken a $2000. mortgage on his property in 1882 from Moses T. Stevens, and it was later assigned to Nathaniel Stevens, who was now running the company. The Frye family is still listed as living in the house in 1888 directory. Amanda Frye died on July 15, 1892. Son William had died in Nov. 29, 1891 of an intestinal infection. All are interred in the Christ Episcopal Church cemetery in Andover.
Charles and Fannie had moved to a house at the corner of School and Locke streets in 1891. In 1897 they had moved to Punchard Ave. at the corner of Bartlet St. Sadly his wife Fannie died of Paralysis & heart disease on May 4, 1896.
His daughter Laura was dieing of consumption and the stress was too great and Charles died on Sept. 12, 1897 at 62 of Apoplexy. Laura died 13 days later on Sept. 25th.
Their son Prosser Hall Frye survived the ordeal. He graduated from Harvard College in 1889 with a Bachelors in Education, the attended Trinity College in Connecticut. He married Ellen Teresa Nellie Leinbach, born in Bethlehem, PA, daughter of William Felix & Mary E. (Evans) Leinbach. Prosser was hired at the University of Nebraska to teach Rhetoric. He had a glowing career as a teacher, writer and critic publishing many books including "Romance & Tragedy." Prosser died in June 1934 in Lincoln, Nebraska. He is interred in the family plot in Andover. His widow Ellen died in Los Angels, CA on Dec. 25, 1945.
The Moses Stevens Co. began improvements at the Marland mill and in 1884 relocated the road, building a causeway across the mill pond, a new bridge, and additional operative housing on North Main Street and Stevens Street, an inventory of about 62 housing units.
In 1896 the Marland Mill operation, now M. T. Stevens & Sons, Co., employed 200 operatives and manufactured 875,000 lbs. of wool yearly. The company later became known as J. P. Stevens & Co. Inc. after World War II.
In 1953 the J. P. Stevens Co. began to divest itself of all its housing stock in Marland Village which was then subdivided into separate parcels and sold to residents. Approval of the subdivision plans #2619 and #2020 by the Andover Board of Appeals occurred in Nov. 1952 and plan #3356 in Oct. 1955. Many of the homes were occupied by employees of the mill and it appears that the Steven's Co. may have given them "first right of refusal" to purchase as many homes were bought by those families who had been renting.
The Nathan Frye house was first used as the Superintendents house for the company after the Frye family moved out. Charles L. White Superintendent and family are living here in 1897 &1901 followed by Supt. Phillip H. Yost and family in 1908. By 1913 Dan Hilton was Superintendent of the mill, but lived at 21 Elm Street. The Frye house was divided up into three apartments by the M. T. Stevens Co. and used as additional employee housing. The former north lawn also saw four two-family duplexes built along North Main St. In 1918 James S. McNulty & wife Mary J. are living in one apartments in the mansion house now listed as #162. James was a weaver in the mill. In 1943 McNulty is still here, their daughter Mary M. is a book keeper at Temple Radio. Also renting were Philip & Margaret Hughes at #162 Philip was a fireman at Marland Mill. #162a has Lillian Coles, a percher at the mill and #162b is McNulty.
On August 2, 1958 the Nathan Frye house was purchased by C. Lincoln Giles, contractor, architect and designer. Giles renovated the Italianate Mansion remodeling it into a commercial property of professional office apartments. Giles reworked the rear ell connecting it to the former carriage house. It offically opened on Friday November 7, 1958 as the "Andover Colonial Center". The old barn was set up as an old country store keeping the barn features. Called the "Country Store Coffee Shop", featuring home style cooking and light lunches. The Country Store Loft featured antiques and gifts. There was even a water wheel mounted on the barn. The first tenants to occupy the stores including the Country Store were, Bernardin Real Estate Agency, Valentine Florist, Travel Anywhere, and the Viennese Pastry Shop. The Andover Townsman moved their offices into the second floor here in January 29, 1959 from the old Dr. Abbott house on Main St. This would be their sixth location since the newspaper was established in 1887. Other new tenants were Angela's Beauty Salon and the Plastic Plate Supply Co. Inc. Edward F. Hogan, Consulting engineer. The center was still advertising custom rental spaces and in November the "Toggery Shop" opened a store in an extension on the barn. Giles did other major projects in town, always trying to reuse, recycle and renew old landmark buildings into modern spaces yet maintaining a "Colonial" charm which Giles seemed to embrace. Old Andover Village, The Croft on No. Main St. and the Mansion house in Ballardvale are of few of his projects.
On August 2, 1959 C. Lincoln Giles subdivided the property and the lot in the front, now #168, was created. This was purchased by the Andover Realty Company, made up from trustees of Marion Real Estate, D. & G. Real Estate and the Andover Realty Trust.. See plan #13880 for lot plan Oct. 2000. They later built the current building, most likely designed by Lincoln Giles too as the style mimics the Frye House behind. When first built the building was painted red with white trim to match the Andover Colonial Center.
Chew Real Estate Trust, J. Alan Chew Jr., Donal O"Callagahan, & Eleanor H. (Chew) Horrington, Trustees purchased the Frye House from Giles on June 3, 1964. Eleanor H. Horrington the former trustee purchased on Dec. 26, 1973 and sold to S. Joseph Hoffman & Jorge H. DiNapoli that day. The men created the Andover Properties Realty Trust; S. Joseph Hoffman, Jorge H. DiNapoli Trustees, on Dec. 22, 1986 and held the property for 27 years before selling the property of Anthony D. DiNapoli in Nov. 2000.
Anthony D. DeNapoli created the ADD 3 LLC in June 21, 2002. DiNapoli then began a complete renovation of the building, renewing lost architectural features and bringing the building up to current code which included handicap access. Dormers were added on the ell portion and a new columned porch along the ell side which had been enclosed by Giles in 1958. Elevator was tucked in at the rear. Nathan Frye LLC is the current ownership title on the property as of June 9, 2009.
Bibliography/References:
Andover - Map 1882 (Bird's Eye View)
Atlas of Essex Company - 1872 (Andover Village)
Essex County Registry Deeds, Salem, MA
Essex Northern Registry Deeds, Lawrence, MA
Andover Advertiser AA
Historical Sketches of Andover, S. Bailey 1880
Business History of Andover, 1896 Anniversary Souvenir.
Andover Historical Society files.
Andover Valuation and directories
Owners;
Peter C. Brooks
Abraham Marland – 1828 - Feb. 20, 1849
Marland Manufacturing Co., Abraham Marland Pres., - 1834 – Feb. 20, 1849
Marland Manufacturing Co., Nathan Frye, Pres. Feb. 1849 - July 19, 1879
Nathan Frye – Dec. 31, 1852 – b. 471 leaf 223 Salem deed – Homestead lot
Nathan Frye – July 30, 1880 – b. 60 p. 540 – Andover Savings Bank mtg. discharge
Moses T. Stevens – Feb. 6, 1882 – b. 67 p. 540 – mtg. deed
Nathaniel Stevens – b. 88 p. 150 mtg. deed assigned
Moses T. Stevens Co. July 19, 1879 – b. 56 p. 482 - Mill Complex and housing
Nathan Frye Estate, Amanda, Charles H. and William Frye – Oct. 15, 1886 – b. 88 p. 148
Nathaniel Stevens – Oct. 15, 1886 – b. 88 p. 149
M. T. Stevens & Sons Co. – Dec.17, 1912 – b. 325 p. 568
J. P. Stevens & Co. Inc. – after 1946
C. Lincoln Giles – Aug. 2, 1958 – b. 879 p. 79
Chew Real Estate Trust, J. Alan Chew Jr., Donal O"Callagahan, & Eleanor H. (Chew) Horrington, Trustees – June 3, 1964 – b. 1010 p. 407
Eleanor H. Horrington, Trustee Dec. 26, 1973 – b. 1234 p. 26
S. Joseph Hoffman & Jorge H. DiNapoli – Dec. 26, 1973 – b. 1234 p. 27
Andover Properties Realty Trust; S. Joseph Hoffman, Jorge H. DiNapoli Trustees – Dec. 22, 1986 – b. 2394 p. 303
Anthony D. DiNapoli – Nov. 14, 2000 – b. 5921 p. 119
ADD 3 LLC, Anthony D. DiNapoli Tr. – June 21, 2002 – b. 7094 p. 49
Nathan Frye LLC – June 9, 2009 – b. 11633 p. 150
Inventory Data:
| | |
| --- | --- |
| Street | North Main St |
| Place | Marland Village |
| Historic District | Individual National Register Listing |
| Historic Name | Nathan Frye House |
| Present Use | Professional offices/1 apartment |
| Original Use | residence of mill president |
| Construction Date | 1852 |
| Source | ERDS, ENRDL |
| Architectural Style | Italianate |
| Architect/Builder | C. Lincoln Giles renovated |
| Foundation | stone & granite |
| Wall/Trim | clapboards/wood |
| Roof | asphalt |
| Outbuildings / Secondary Structures | Carriage House |
| Major Alterations | extensively in 1959 -1960 by C. Lincoln Giles; 2002 by Anthony D. DiNapoli |
| Condition | excellent |
| Acreage | 0.630 acre |
| Setting | residential/commerical business |
| Map and parcel | 54-6 |
| MHC Number | ANV.394 |
| Recorded by | Stack/Mofford, James Batchelder |
| Organization | Andover Preservation Commission |
| Date entered | 1975-77, 8/2014 |
Map: