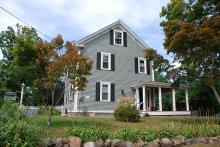 Historical Narrative:
This home and the one across the street at #172 are two of the first homes to be built along the former Boston & Maine Railroad line that is now High Street from Harding St. and continuing into North Andover to Sutton St. then on to Haverhill, MA. The rail tracks were moved to the current location to the west in 1848 to service the new city of Lawrence, MA. The old line was abandoned and converted into a "highway" in 1856.
Andover Advertiser - July 12, 1856 – County Commissioners to layout old railroad from Andover Village to Sutton's Mills as a public highway.
This section of High Street was the extension of the Andover-Wilmington Railroad (1836-1848) that originally stopped at Essex Street but then was extended to Haverhill and Manchester, NH. It merged to become the Boston & Maine Railroad.
This parcel of land once contained 22 acres 115 rods and was listed as east of the Town Farm and the Almshouse, which was located on Bunham Rd. to York St. The Trustees of Phillips Academy sold the parcel to Peter Temple on May 2, 1846 - b. 370 for $681. Peter built the home shortly after. The Andover Valuation Schedule of 1850 list Temple's property with Dwelling house, barn and 2/12 acres land adjoining $2300. 22 acres of Trustee Land $660. 30 acres of Young wood $800. and Farm Stock $95.
Peter Temple also acquired 2 acres 104 rods of additional land along the abandoned railroad bed from the Boston & Maine Railroad on May 11, 1855. Temple borrowed money from the Rev. Calvin E. Stowe, Professor of Sacred Literature at the Andover Theological Seminary on Sept. 29, 1859. The loan was in the form of a mortgage, which Peter Temple could not meet, and Rev. Stowe was forced to foreclose on the loan and property on Sept. 4, 1862. Calvin's wife was Harriet Beech Stowe, who wrote "Uncle Tom's Cabin". The Stowes lived on Chapel Ave. in the stone house that his wife did over into a home. Stowe lived in Andover from 1852-1864.
Calvin Stowe sold this home to John F. Shattuck on Sept. 27, 1865 for $1800. John F. Shattuck was born in Andover in 1840, son of Thomas C. Shattuck & Solome K. Bailey of Andover. His father Thomas was a Cordwainer or Shoemaker and in the 1860 census several of his eight children were working in his trade including John F.
John Shattuck married on Nov. 21, 1861 in Nashua, NH to Althea Amelia Cutler, b. Oct. 19, 1843 in Tewksbury, MA daughter of William Kenneth & Amelia (Haven) Cutler. The Cutler family lived on Lowell St. in West Parish, a portion of their farm now West Parish Garden Cemetery.
John F. & Althea had seven children; George Cutler b. Nov. 22, 1862, Edwin Leslie b. Feb. 6, 1864, Ella Jane b. Nov. 16, 1867 - d. Jan 15, 1871, Etta May b. Apr. 17, 1872 d. July 13, 1872, Louis died and infant, Lewis Herbert b. Feb. 15, 1874, Mary b. ? Died Oct. 22, 1923, and another infant who died. The surviving sons went on to other professions.
George Cutler Shattuck became an architect, worked for the firm of Shepley, Rutan & Coolidge ans was the designer of the main entrance Arch, Chapel, stone cottage and tomb of the West Parish Garden Cemetery in 1909. George also won an award for the Boston Laying in Hospital. George never married, lived in Watertown, MA and died on Sept. 6, 1923. He in interred at West Parish Cemetery across from the chapel. His brother Edwin Leslie Shattuck would become a dentist, married and lived in London, England with wife Lyde and two daughters Edna and Marjory. Edwin died on April 1, 1939. Lewis Herbert became a Lawyer, married twice, and had one daughter Althea. Lewis died on July 28, 1919 in Manchester, NH.
John F. Shattuck worked in the shoe making trade then became a milk dealer by 1870. John sold the property for $2600. to Helena A. Pease, wife of Albion P. Pease on April 19, 1876. Pease owned just one year then selling to Ezekiel W. Mathews and wife Eunice for $2800 on Sept. 21, 1877. The property was now reduced to 13 acres 141 sq. rods. Matthews owned the place for 25 years then sold to Charles S. Bingham, wife May on Dec. 1, 1902.
Samuel D. Berry purchased the property on Sept. 2, 1909.
Bibliography/References:
Essex County Registry Deeds, Salem, MA
Essex Northern Registry Deeds, Lawrence, MA
Andover Advertiser - July 12, 1856
Map plan #6812 - Mar. 21, 1973 - b. 1211 p. 618
Map plan #1178 - easment - b. 622 p. 583
Owners;
Trustee of Phillips Academy - 1846
Peter Temple - May 2, 1846 - b. 370 leaf 252 & 253 - $681. for 22 acres 115 rods
Peter Temple - May 11, 1855 - b. 524 leaf 184 -
Rev. Calvin E. Stowe - Sept. 29, 1859 - b. 559 leaf 53 - mtg. loan
Rev. Calvin E. Stowe, wife Harriet B. - Sept. 4, 1862 - b. 642 leaf 23 foreclosure
John F. Shattuck, wife Athea L. - Sept. 27, 1865 - b. 691 leaf 135 - $1800
Helena A. Pease, wife of Albion P. - Apr. 19, 1876 -- b. 40 p 152 - $2600
Ezekiel S. Bingham, wife Eunice - Sept. 21, 1877 - b. 48 p. 189
Charles S. Bingham, Wife Mary F. - Dec. 1, 1902 - b. 199 p. 548
Samuel D. Berry - Sept. 2, 1909 - b. 278 p. 448
Phebe B. Carter, Gertrude B. Hardy, Helen M. Lacaillade
Plaza Trust, John D. McDonald, Henry D. Audesse, Trustees - b. 1151 p. 663
Corville Realty Trust, Yvon Cormier, Tr. - June 22, 1971 - b. 1173 p. 517
Old Berry Realty Trust, Vincent D. McCabe Tr. - Oct. 11, 1973 - b. 1230 p. 129
Robert W. & Kathleen Skoczulek - Dec. 6, 1973 - b. 1232 p. 750
Jeffrey Taylor Realty Trust, Calvin G. & Anita S. Taylor Tr. - Feb. 2, 1978 - b. 1331 p. 462
Joseph B. & Mary L. (Moossa) Jurek - Dec. 10, 1993 - b. 3924 p. 30
Mary Louise Moossa - July 20, 2011 - b. 12552 p. 143
Inventory Data:
| | |
| --- | --- |
| Street | High St |
| Place | Andover Center District |
| Historic District | Andover Historic Building Survey |
| Historic Name | Peter Temple - John F. Shattuck House |
| Present Use | residence |
| Original Use | residence - farmhouse |
| Construction Date | 1857 - 1858 |
| Source | ECRDS, ENRDL, style-njs |
| Foundation | stone/granite/brick |
| Wall/Trim | clapboard/wood/vinyl siding |
| Roof | asphalt - gable |
| Outbuildings / Secondary Structures | Barn and shed, Shed razed in 1973, barn 2011 |
| Major Alterations | vinyl siding, replacement windows |
| Condition | excellent |
| Acreage | 0.36589 acre |
| Setting | residential |
| Map and parcel | 19-128B |
| Recorded by | B.Thibault, James S, Batchelder |
| Organization | Andover Historical Society, Andover Preservation Commission |
| Date entered | 1990, 4/15/2016 |
Map: