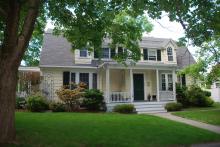 Architectural Description:
Colonial Revival - Dutch Colonial
This home is the best example of a Dutch Colonial home built as a two family residence. The attention to proportions, roof pitch and the elegant design of the roof dormer with matching gable ends, makes an excellent and pleasing style. Three other homes of the same design were built in Shawsheen Village, one directly across the street at 1 Arundel.
Historical Narrative:
Shawsheen Village was named after the Native American name for the river Shawshin, which means Great Spring. Arundel Street takes its name from Arundel Castle, a restored medieval castle in Arundel, West Sussex, England. home to the Dukes of Norfolk. All the streets in Shawsheen Village were named for Castles & Cathedrals in Great Britain.
Prior to Shawsheen Village this area was known as Frye Village. The town of Andover purchased land from York Street to the Boston and Maine Railroad or the use of a Town Farm or Alms House in 1807.
This home was built as part of the Shawsheen Village development 1918 – 1924 by William M. Wood, President of the American Woolen Company. Wood hired about eight different architects to design the homes and structures for the village. Homes were sold or leased through the Homestead Association who had offices in the Post Office building on the corner of North Main & Poor Streets.
Many streets in the village have a variety of different homes by different architects. Arundel Street is unique in that one architect is responsible for nearly every home on the street. Wood chose Addison LeBoutillier, an Andover resident, of the Boston firm Ripley & LeBoutillier. The firm had designed the new wing on the North School in West Andover in 1914, the new Punchard High School wing in 1916 (now Andover Town Offices) and the crowning jewel of the village, the beautiful Shawsheen School in 1923.
This house is the exception ass it was designed by James E. Allen of Lawrence, MA. It is the same plan as the home across the street at #1 Arundel St.
A walk down Arundel Street does not disappoint. Each home incorporates a different look, style and design modifications, most noticeable with the front door entrances. Decorative details on the corner boards and a variety of ornamental trellises add to the "icing on the cake, of the maintained original designs. Most of the homes now sport a variety of different colors and some have garages to the rear. Many have enclosed the open porches for additional rooms on the interiors. The wide street and mature landscape add to the charm of the neighborhood.
After the death of William M. Wood on Feb. 2, 1926 most of the residential and commercial buildings were then sold. Some were held by the Wood family in the "Arden Trust" and others with the American Woolen Company, which had been deeded the property in December 1920. The A.W.Co. Board of Directors authorized its President, Lionel J. Noah, to deliver all deeds, as deemed necessary to the Textile Realty for sale on Dec. 29, 1931.
The Textile Realty then transferred ownership to the Andover Shawsheen Realty Company on June 30, 1932, holding the mortgage on the properties. T. Edwin Andrew, treasurer, was authorized to sell or lease the properties. With the Great Depression sales were sluggish and many homes were rented until the economy rebounded.
One of the first occupants of record to lease the home in 1926 were Leslie & Ida Herrick renting 2 Arundel. Leslie was a clerk with the American Woolen Co. At #91 Burnham Rd. were Noel W. LaPlante assistant manager at the Balmoral Spa and his sister Helen lived with him. Noel is also listed as a Pharmacist working in Boston prior to Andover. Noel and Helen later purchased the house across the street at #3 Arundel in 1932.
This house was sold to Philip Churchill on Oct. 8, 1932. Phillip was a chemist for the American Woolen Co. They lived on the south side of the home at 91 Burnham Rd. in 1932 - 37. Phillip & Elizabeth B. Churchill then purchased the home at 1 Arundel St. on Mar. 30, 1937. and moved across the street to #89 Burnham Rd. Both properties were then placed in both names on Apr. 24, 1937.
The Churchills owned for 15 years before selling to Hyman A & Elisabeth G. Saber and Murry Willard & Virginia M. Spencer on Jan. 15, 1947. Both Saber & Spencer owned one undivided half. Hyman & Elisabeth live at 91 Burnham Rd. and Murry & Virginia live at 2 Arundel. Both men were Buyers for Cherry & Webb Co., a very popular women's clothing store in Lawrence. They owned for three years selling to E. Wells & Mary Elizabeth McClean on Oct. 9, 1950.
Bibliography/References:
Essex County Registry Deeds, Salem, MA
Essex Northern Registry Deeds, Lawrence, MA
Andover Maps, 1852, 1872, 1888, 1906, 1926
Andover Street Directories
Mills, Mergers and Mansions, by Edward Roddy 1982
See Map plan #704 - American Woolen Company - Sept. 1927
#878 - June 1932 - Textile Realty Company lot #
See #7 Argyle St. for Town Farm history
Owners;
Samuel Abbot - 1804 - 90 acre farm
Inhabitants of Town of Andover - 1807 – 1921 – Town Farm
Varter & Havenes Dagdegian - July 11, 1921 - b. 443 p. 503
Town of Andover, Geo. C. H. Dufton - July 12, 1921 - b. 443 p. 505 - 13.66 A
Town of Andover, July 12, 1921 - Town Meeting Nov. 1, 1921 sell
American Woolen Co., Wm. M. Wood - July 11, 1921 - b. 443 p. 296 - 12.56 acres - lot 1
American Woolen Co.- Nov. 15, 1921 - b. 450 p. 342 - 10 acres- lot 2
Textile Realty Co., Lionel J. Noah, Pres. A.W.Co. - Dec. 30, 1931 - b. 563 p. 334
Andover Shawsheen Realty Co. - June. 30, 1932 - b. 565 p. 87 - 16th parcel
Philip Churchill - Oct. 8, 1932 - b. 566 p. 557
Philip & Elizabeth B. Churchill - Apr. 24, 1937 - b. 606 p. 248
Hyman A & Elisabeth G. Saber & M. Willard & Virginia M. Spencer - Jan. 15, 1947 - b. 693 p. 247
E. Wells & Mary Elizabeth McClean - Oct. 9, 1950 - b. 742 p. 519
Leo & Jean M. Hart - Aug. 11, 1961 - b. 942 p. 9
Jerry H. Berke and Scott & Catherine Nolin - Sept. 30, 1996 - b. 4603 p. 149
Scott R. & Catherine Nolin - Jan. 2, 2002 - b. 6587 p. 239 - Unit 2
Unit 2 & 4 Arundel Street Condominium.
Inventory Data:
| | |
| --- | --- |
| Street | Arundel St |
| Place | Shawsheen Village - Frye Village |
| Historic District | Shawsheen Village NRH District |
| Historic Name | Philip & Elizabeth B. Churchill House |
| Present Use | residences - 2 family condo |
| Original Use | residence - 2 family |
| Construction Date | 1922 - 1923 |
| Source | ERDS, ENRDL |
| Architectural Style | Colonial Revival |
| Architect/Builder | James E. Allen - Architect, Lawrence, MA |
| Foundation | stone |
| Wall/Trim | clapboard/wood |
| Roof | slate - gambrel |
| Condition | excellent |
| Acreage | 0,199 |
| Setting | residential |
| Map and parcel | 36-60 |
| Recorded by | Stack/Mofford, James Batchelder |
| Organization | Andover Preservation Commission |
| Date entered | 1975-77, 7/13/2015 |
Map: