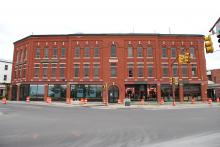 Architectural Description:
Historical Narrative:
Themes: Commerce, Community Development
2 Elm Square – The Musgrove Building
Built 1894-5
The Musgrove Building which dominates Elm Square was built in 1894-95 by John H. Flint. The retail and office building was not built on actual site of Elm House, as had often been said. The Musgrove covers what was once the open "Common" grass plot also referred to in deeds as "the Green"."Village Green" . A portion of the site to the rear on Elm St. is where the hotel stood and the Elm House stables. The property was sold to Frances A Flint on on June 30, 1892 and transferred to John H. Flint on Sept. 2, 1892. There was talk of renovating the hotel or building a new one but it was later dismantled in 1894. The old hotel was no longer a profitable operation and after several meetings with local businessmen Flint sold the building for salvage in April 1894 and began construction of the Musgrove Building on the site of the former Common. Before Flint built, some townspeople, supported by editor of local paper, tried to save spot for "open space". It is interesting to note that he was somehow able to build on the very common that both Thomas C. Foster and his father John Flint had placed a deed restriction on years before.The Musgrove is the largest business block to be built in the town center and opened in the spring of 1895.
John Henry Flint the son of John Flint Jr. and Lydia Clark Abbot was born March 6, 1842. John H. was the youngest of eight children and the only son. John H. married on April 15, 1874 to Frances Anna Tyer, daughter of Horace George Tyer, the founder of the Tyer Rubber Co., John H. & Frances A. had two daughters, Gertrude Louisa who married Franklin H. Grier and Nellie Frances who married Joseph A. Rand. John H. became sole owner of his father's house in April of 1883 (1 Elm Sq.) and quickly put his mark on the house. June 22, 1883 AA - John Flint put in a bay window over the front door of his house on Elm Square. [see 1 Elm Sq. or 8 Elm St. ]
John H. Flint was a successful business man in real estate and the market. He became the president of the Tyer Rubber Co. in 1876-1882 and treasurer from 1882-1914. Flint also served as director and president of the Andover Savings Bank, director of the Andover National Bank and the Merrimack Mutual Fire Insurance Co. He was active in town affairs and served as selectman, assessor, town clerk, treasurer, chairman of the Board of Public Works, Chief of the Fire Department and served on several committees. He was past Master of St. Matthew's lodge, member of the Andover Lodge of I.O.O.F. and the Andover Club.
Flint hired Architect W. P. Regan of Lawrence to design the building. Regan was the architect for the Indian Ridge School on Cuba St. in 1892. June 15, 1894 – Andover Townsman (AT) p1 - Architect W. P. Regan has plan well underway for John H. Flint's new business block in Elm Sq. Brick, three stories high. The building was named for Sir. John Musgrove, an Uncle of Henry G. Tyer, founder of the Tyer Rubber Co. and Great Uncle of Frances Flint. The inheritance may have helped finance the building.
November 11, 1881 AA- Obituary - Sir John Musgrove – Uncle of Henry G. Tyer
John H. & Frances A. co-owned many properties in Andover. John H. Flint died Nov. 30, 1916 and his wife and daughters inherited the estate. The Musgrove Building was sold to Louis & Samuel Resnik on Sept. 27, 1920. Frances Flint died on March 22, 1922, daughters Nellie and Gertrude then sold the Flint mansion to Building Trustees of St. Mathew's Lodge A.F. & A.M. of Andover, MA on Sept. 28, 1922.
The Musgrove Building has been home to many the tenants who leased space in the impressive Romanesque style building. The Andover Post Office moved out of the Town House and into the Musgrove in July 1895. AT - July 12, 1895 – p 4 col. 6 – New Post Office description in Musgrove building. The entrances to the Post Office were through the main arched doorway on Elm Sq. and a second door to the rear of the building on Post Office Ave. The office occupied the southeast corner of the building. The Post Office moved to 28 Essex St. in March 1917. William H. Welch & Co. plumbers then moved into the P.O. space.
Allen Brothers, E. M and Wm. A, druggists, had the SW corner drugstore and specialized in ice cream sodas (p. 33 Business History). Herbert F. Chase ran Andover Bicycle Store established 1891 at 13 Barnard Court then moved here in June 1895. It is said Chase was the first tenant in the building, as he was in Barnard's building. He would later be the first tenant in the ARCO Block in 1907 at #48 Main St. Chase dealt in all kinds of bicycles and athletic goods, and was the agent for Columbia bikes. He began his career as a machinist for 10 years, with six years employed by the Smith & Dove Co.
W. J. Driscoll opened his Hardware store next to Allen's Drug Store in 1895. He kept a full line of hardware and cutlery and was also an agent for Stearns & Crescent bicycles, giving H. F. Chase a run for his money.
AT - Mar. 28, 1913 pg. 5 - After 20 years in pharmacy business, William A. Allen sold business to Frank Stacey (who had been in the National Bank building). Allen will retain the Victrola business. Stacey plans to move into Allen's space in the Musgrove Building; will hold on to bank location for a while. Finally closes that in May, 1913.
Main St. (and beyond) Evolution - Gail Ralston 2014 - complied list of businesses
Past Tenants;
Allen Brother's Drug Store, American Railway Express (originally mail order and package delivery business); original office in Elm House
Andover Agency, Insurance/Real Estate (1903), Andover Coal Co. (moved to 27 Main St.), Andover Craftsmen, reupholsters (1948), Andover Finance Company, Andover Indoor Golf School (1928), John Voglatzakis Shoe Repair (1926), Andover Square Shoe Repairing & Shine Parlor (1930), (Emanuel) Baduvakis Shoe Repair.
Blue and White Barber Shop (1929/30) "next to Stacy's", Blue Bird Beauty Shop, (Joe) Bouleau Barber, Burris Tailor (1902), (Herbert F.) Chase's Bicycle 1895-1907,
Chin Sewey, Chinese laundry (to Post Office Ave in 1913), (P.J.) Daly, dry goods and groceries, (Tony) D'Amore's Shoe clinic, DeQuattro's Restaurant (1948), Diana Beauty Salon (1948), Diane Lane Beauty Shop, Doherty's Insurance, original location, 1934, Eagle Lunch (1938), Emack & Bolio's Ice Cream (1987), Ferguson, John, jeweler (1920) – 1923 to 41 Main, Freddie's Barber Shop (1950/55) "next to Look Photo", (Richard) Graber Photography 1960s.
(E.E.) Gray Groceries (corner of Elm & Post Office Ave.), Harborn Shop (to 23 Chestnut Street ~ 50s), (F.P.) Higgins' Bakery ("baked beans and brown bread") ("tonics, fruit and syrups") (1903/1910), Holihan's Town Grill (3rd bar in Elm Square), Lawrence Gas Company (1903) (later across Main St.), (William T.) Ledwell, hair (1898) "Tonsorial Parlor"
Leon's, Livingston Flower Shop (1950), (Donald) Look Photo Service (1948/1971), Richard Chapel, 1978 (moved later to Barnard St.), Carlton Shulze, 1954-1970s
Merrimack Valley Academy of Dance (1969), Model Grocery, Mrs. Leo Allicon (1936), Mrs. Martell's Country Kitchen (1966), Musgrove Bakery (Michael Brennan) (1913)
Perillo's Sub Shop. (A.M.) Placido, barber (1903) Post Office (1895-1916), Remick's Andover Coal Company, (Sam) Resnick, attorney, Robbie's Furriers (1949) (2nd location, 1st – 15 Barnard; 3rd location – 20 Essex Street, 1955), (A. A.) Roesch, car service, Barnett Rogers Real Estate Agency (1927), (Rogers & Angus, real estate, 1908) + insurance and Steamship Agency, 1913, Simeone's, 1908-1933 (then moved to their own building),(Frank) Stacey's Drug Store (Franklin Stacey, pharmacist (originally in Nat'l bank bld. between bank & savings)
Slot Car Track, Sundown Silver Shop (1975), Taxi Office, New England Telephone Exchange/Payment Office, (Bill Lane's) Town Grill, Inc. (1962), T & T Fine Jewelry (1998), Travel Anywhere (1971), Trolley Waiting Room, Verrette's (1919/40s), Vito's Barber Shop, (Frank A.) Welch, plumbing and heating; home appliances
3rd Floor Lodges: Odd Fellows (IOOF), Knights of Pythias, Rebekahs, Veterans of Foreign Wars, Garfield Hall, GAR (Grand Army of the Republic) Hall, Arcanum Hall, Pilgrim Hall, AOUW (Ancient Order of United Workmen)
Most recent businesses:
CitiBank, Dress Code, Bin 28/Brassiere 28 (wine bar) (2010-2016)(location of Enzo's; Baduvakis Shoe Repair; Bouleau, barber; Travel Anywhere; Ernie Verrett Restaurant (1948); DeQuattro's Restaurant)
Andover Family Associates, counseling (1986), Andover Photo (1981/87), Atlas Building Maintenance (janitorial) (2000), Autograph Records (1986)
Beauty & Main (2009), Boutique Toni, silk flower arrangements (1988), Burke's, sewing goods (1984), Carriage House Photography (2000), Century 21, (The) Continental Cow "European Cheeses" (1978), Enzo's - Men's Clothing (moved to 91 Main in Old Andover Village), Futon Shop / Antique Jewelry (1984), Giggles, Josef's Men's Hair Styling – "for gentlemen and their sons" (1973/84/88), John Charles Salon, Les Fleurs (1992) (to Barnard Street), Lydia's Hair & Nails / Lydia's Unisex Hair Salon (1986), McGoff Associates (1980), Merrill Lynch, Office Concepts of Andover (1985), Quiet Pleasures Jewelers (2000)
June 1982 - Accepted into National Register of Historic Places
See 1980 National Register Nomination for updated information
Bibliography/References:
Essex County Registry Deeds, Salem, MA
Essex Northern Registry Deeds, Lawrence, MA
Andover Townsman, April 27, 1894
Business History of Andover, Anniversary Souvenir No. of Andover Townsman, 250th anniversary, May 20, 1896
Maps: 1830, 1852, 1872, 1884, 1888, 1896, 1906, 1926
Main St. (and beyond) Evolution - Gail Ralston 2014
Property Owners;
James Parker Jr. , "Husbandman", wife Mary - My "Ballard lot" - 10 acres
Benjamin Ames & Joshua Lovejoy Jr., - Dec. 25, 1773 - b. 132 leaf 155 - 10 acres
Benjamin Ames Jr. - Mar. 31, 1784 rec. Aug. 8, 1800 - b. 167 leaf 9 - "Ye Ames Tavern" 9 acres
William Foster, Jr - July 10, 1813, rec. Oct. 12, 1813 - b. 201 leaf 115 - $2000 - 1/2 Moiety
William Foster, Jr. - Aug. 16, 1816 - b. lf. "Foster's Tavern"
Capt. Thomas C. Foster, (Abigail) - Oct. 20, 1815 - b. 207 leaf 170 - $3500.
Capt. Thomas C. Foster, (Abigail) - Feb. 17, 1817 rec. Jan. 3, 1818 - b. 213 leaf 69 & 276 - 7 lots
Capt. Thomas C. Foster, (Abigail) - Nov. 13, 1821 - b. 213 lf 69 - (b. 228 leaf 17) - 12a 106 rods div. 7 lots
Aaron Davis Mayo, wife Sarah - May 10, 1825 rec. June 20th - b. 239 leaf 135 - "Mayo's Tavern"
Merrill Pettingill & Stephen Hoyt auctioneers - May 1, 1830, rec. May 15 - b. 258 leaf 29- held the deed
Jonathan W. Ward, wife Mary G. - Oct. 20, 1832 - b. 267 leaf 122 - "Ward's Tavern"
Jonathan W. Ward, wife Mary G. - Oct. 20, 1832 - b. 268 leaf 13 - Wards Tavern & 1/3 Hay Scales - $7800
Jonathan W. Ward, wife Mary G - Oct. 22, 1832 - b. 269 leaf 122 - $662 lot
John Pearson & Merrill Pettingill - Dec. 2 1835 - b. 285 leaf 135 -
William Foster family - Dec. 5, 1835 - b. 285 leaf 136 - "Eagle Hotel" $4000. mtg. deed
Thomas C. Foster - proprietor
Edward S. Merrill - proprietor - prior to 1850
Wm. Phillips Foster - Feb. 1, 1861 - b. 618 leaf 170 - 172 - "Eagle Hotel"
Sarah A. Bean, wife of Samuel G. Bean - Feb. 6, 1860 - b. 618 leaf 233 - mtg. deeds Elm House
Sarah A. Bean - Feb. 4, 1861 - b. 618 leaf 233 - Salem deeds
Frances A. Flint - June 30, 1892 - b. 121 - p. 208 mtg. dis. Lawrence
John H. Flint - Sept. 2, 1892 - b. 121 p. 210
John H. Flint estate, heirs wid. Frances A. Flint - Feb. 10, 1917 - b. 373 p. 190
Gertrude & Nellie Flint quit claim to mother
Louis & Samuel Resnik - Sept. 27, 1920 - b. 432 p. 562 - 565
Resnik Realty Invest. Trust - Mar. 6, 1922 - b. 454 p. 532 deed of Trust.
Trust to Samuel Resnik - Nov. 1, 1946 - b. 733 p. 541 court decree
SW Trust – ELAN Corp. Trust - July 7, 1992 - Doc. #53104 – title Ctf. #9543
ADD 1, LCC – Anthony DiNapoli - Jan. 31, 2002 - title Ctf. #9543
Barry Finegold & Scott Jameson - May 15, 2008 - b. 11179 p. 158
Lease deeds.
U.S. Post Office lease - Feb. 15, 1906 - b. 228 p. 91 - from Flint et ux
New England Tel & Tel lease - Jan. 1, 1936 - b. 596 p. 293 - Sam Resnick
Eagle Lunch lease - Feb. 27, 1938 - b. 613 p. 388 - South corner
New England Tel & Tel lease - Apr. 26, 1946 - b. 684 p. 1
1973: Bought by Robert E. Webster
August, 1984: Purchased by Liberty Group, Danvers
July, 1987: Purchased by Eagle Investment Group for $2.9 million
May 14, 1991: Sold at auction to FDIC for $870,500
Inventory Data:
| | |
| --- | --- |
| Street | Elm Sq |
| Place | Andover Center |
| Historic District | Main/Locke Streets NRH District |
| Historic Name | Musgrove Building |
| Present Use | commercial retail |
| Original Use | commercial retail |
| Construction Date | 1894 - 1895 |
| Source | ECRDS, ENRDL, style-njs |
| Architectural Style | Romanesque Revival |
| Architect/Builder | W. P. Regan/Architect |
| Foundation | stone/granite/brick |
| Wall/Trim | Brick/stone |
| Roof | flat - tar & gravel |
| Major Alterations | renovated after roof fell in ca. 1974/75, retail shop renovations 1990's and as needed by tenants. |
| Condition | excellent |
| Demolition Details | Elm House Hotel demolished 1894 |
| Acreage | less than one acre |
| Setting | prominent position in town center square |
| Map and parcel | 39-27 |
| MHC Number | ANV.170 |
| Recorded by | Stack/Mofford, James S. Batchelder |
| Organization | Andover Preservation Commission |
| Date entered | 1975-77/1992, 2/5/2017 |
Map: