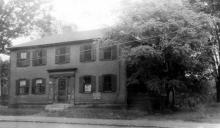 Architectural Description:
Historical Narrative:
21 Elm Street – Benjamin Ames - Thomas Chandler Foster House
Built circa – 1790 razed 1947
Benjamin Ames Jr. was born November 9, 1749, the son of Capt. Benjamin & Hephsebeth (Chandler) Ames. Benjamin Jr. married Phebe Chandler March 20, 1772. Phebe was b. Oct. 18, 1754 the daughter of Nathan Jr. & Phebe Abbot Chandler.
Capt. Benjamin Ames bought ten acres of "Ballard Pasture" from James Parker Jr. for 50 pounds in 1773. The land boarders the Great Road to Haverhill (Elm & Central Streets). This property extended from the former Burtt House at #35 Elm Street through the square to the Newman House on Central Street. There was no mention of any buildings on the land. Ames builds the house at #21 Elm Street. The couple had eleven children of which nine survived; Benjamin b. Feb. 24, 1773 d. Oct. 10, 1775, Phebe b. Apr. 8, 1775, Hepsibah b. Jan. 20, 1777, Benjamin b. Oct. 30, 1778, Hannah b. July 19, 1781, Molly b. July 3, 1783, Ezra Chandler b. Jan. 1, 1785, Nathan b. May 7, 1787, Elizabeth b. Jan. 19, 1789, Rhoda b. Jan. 12, 1792 d. Jan. 31, 1792, and Isaac b. Nov. 13, 1795. His wife Phebe died June 19, 1798 at age 44 years. We know that Benjamin Ames Jr. is living in the house to the rear of the tavern in 1804.
The land for the tavern was given by James Parker Jr. to Benjamin Ames, gentleman, and Joshua Lovejoy Jr., yeoman, on Christmas Day in 1773. The lot was transferred to Benj. Ames senior to his son Benjamin Ames Jr. on August 8, 1800. The land extended down the east side of Central Street to about Chestnut Street and up to Bartlet St. then north to about the location of the Free Church today. The tavern occupied the lot directly behind the Musgrove building where the Elm Block apartment building and the Andover Spa are today. Livery stables were constructed south of the inn on Post Office Ave. to about Park Street.
The tavern went through several owners and proprietors during its years of operation but "The Tavern was never a paying venture" Benjamin Ames Jr., the builder, ran the inn and it is on record that "his son Ezra Chandler Ames helped his father in the Ames Tavern until he was of age." Ames had mortgaged other real estate properties in town to keep the inn afloat before selling to Master William Foster in on August 16, 1816. The deed recorded on Oct. 13. Ames died suddenly in the tavern on November 24, 1813 at the age of 64.
Built in the closing years of the eighteenth century, it was known as the "Ye Ames Tavern" until 1813. It is believed that the tavern was built between 1794 and 1800 on the main road between the North and South Parishes. This predated our current Main Street or Essex Turnpike constructed in 1806-07.
The landmark hotel on Elm Square stood for nearly 100 years. It was last called the Elm House and was razed in 1894 for the construction of the Musgrove building.
Thomas Chandler Foster was the son of Timothy & Elizabeth (Dane) Foster and was baptized on October 4, 1789. His mother Elizabeth died of consumption at 37 yrs in April 1794. His father died in Aug. 1796 at age 42 of a "Putrid fever". Thomas C. was taken in by his uncle Master "Billy" Foster who then adopted him.
Thomas C. married Abigail Abbot Sept. 26, 1813 and they had eight children; Abigail C. b. 1814 ? d. Mar. 7, 1818 3y 9m., Sarah Jane b. Dec. 13, 1815, Hannah A. b. Aug. 8, 1817, Thomas E. b. Dec. 16, 1820, Ann Maria b. Oct. 16, 1822 d. Dec. 5, 1824, Joseph William b. July 31, 1824, Ann Maria b. May 18, 1827, Mary Elizabeth b. Apr. 23, 1829.
Wife Abigail died of typhus fever Oct. 24, 1844. November 1, 1847 Thomas C, now 57 years old, occupation given as farmer marries the widow Lucy C. Shattuck age 47 daughter of Benjamin & Phebe Mooar.
1816 – Thomas Chandler Foster becomes owner of tavern & the house. When?
Tavern sold to Aaron Davis Mayo in 1825.
Thomas C. Foster retired to the estate in the rear of Mayo's Tavern and Foster's name is on the property in town maps from 1852 – 1872. Thomas C. Foster died in 1875 and the house was bought by Joseph F. Cole who owned the property until 1908. Mr. Cole was partners with Lewis Hardy in the construction firm of Hardy & Cole. Their business was located between Essex & Pearson Streets before moving to the former Low estate at 70 Main Street. The streets of Lewis and Buxton Court were developed by Hardy & Cole and a wood shop and lumber yard were relocated here.
Bibliography/References:
Essex County Registry Deeds, Salem, MA
Essex Northern Registry Deeds, Lawrence, MA
Owners;
James Parker Jr.
Benjamin Ames & Joshua Lovejoy Jr., Dec. 25, 1773 b. leaf
Benjamin Ames Jr. - Aug. 8, 1800 - b. leaf Ye Ames Tavern
William Foster - Aug. 16, 1816 - b. leaf Foster's Tavern
Captain Thomas C. Foster - Oct. 13, 1816 - deed recorded *
Aaron Davis Mayo - 1825 - b. leaf - Mayo's Tavern
Merrill Pettingill and Hoyt auctioneers - 1830 - held the deed
Jonathan W. Ward - Oct. 20, 1832 - b. leaf -
John Pearson et al. b. leaf
William Foster family - December 5, 1835 - b. leaf - Eagle Hotel
Thomas C. Foster - proprietor
Edward S. Merrill - proprietor - prior to 1850.
Wm. Phillips Foster
Sarah A. Bean, & Samuel G. Bean - Feb. 6, 1860 - mortgage deeds Elm House
Feb. 4, 1861 - b. 618 leaf 233 Salem deeds
Above deeds connected to Elm House property formerly on Musgrove site.
*Thomas C. Foster his homestead 21 Elm Street
Hannah W. Foster, wife of Joseph W. – March 12, 1872 – b. 13 p. 580
Lewis F. Hardy & Joseph F. Cole – Aug. 29, 1883 - b. 73 p. 85
William S. Jenkins – Feb. 17, 1891- b. 111 p. 308
Carrie E. Cole, wife of Joseph F. Cole – Feb. 17, 1891 – b. 111 p. 309
Carrie E. Cole estate, Probate #96568 -
Joseph F. Cole & Frank L. Cole heirs –
John H. Campion, hus. of Gertrude M. – Nov. 25, 1905 – b. 226 p. 520-523
John H. Campion estate, will probate #174636 Gertrude M. Campion heir
Gertrude M. (Campion) Souter, wife of James H.,
Paul K. Pratt – June 29, 1946 – b. 686 p. 539
First National Stores, Inc. – June 29, 1946 – b. 686 p. 540
Doherty Trust, James D., William A. & Joseph D. Doherty; Trustees, - Aug. 29, 1956 – b. 840 p. 423
William A. Doherty Estate, James D. Doherty, Extr. – Dec. 29, 1989 – b. 3060 p. 185
James D. Doherty & Muriel S. Doherty Family Trust –
MTD Nominee Trust – Nov. 13, 2006 – b. 10487 p. 172
Inventory Data:
| | |
| --- | --- |
| Street | Elm St |
| Place | Andover Center District |
| Historic District | Not Applicable |
| Historic Name | Ames - Cole House |
| Original Use | residence |
| Construction Date | Circa 1790 |
| Source | ECRDS, ENRDL |
| Architectural Style | Federal |
| Foundation | stone & granite |
| Wall/Trim | clapboards/wood |
| Roof | asphalt - gable |
| Condition | Razed |
| Demolition Details | 1947 |
| Setting | residential/commercial |
| Map and parcel | 39-19 |
| Recorded by | James S. Batchelder |
| Organization | Andover Preservation Commission |
| Date entered | Feb. 8, 2016 |
Map: