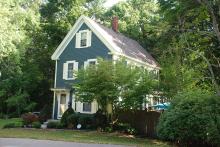 Historical Narrative:
21 Lincoln St. (formerly listed as #78) 71-69
This property was once owned by John McCollum who purchased his home at 11 Lincoln St. from the Abraham Marland Estate. John married on Jan. 17, 1853 in Andover to Margery "Marjorie" McGravey. John and Margery had seven children: William James b. Dec. 29, 1853, Ellen J. b. Sept. 1856, twins Francis C. & John M. b. Aug. 30, 1857, George b. Jan. 3, 1861, Rebecca M. b. 1866. Frederick William b. Aug. 2, 1869. Most of the children would begin working in the Marland Mill.
Daughter Ellen Jane McCollum married on Dec. 24, 1885 to John Kidd b. Sept. 11, 1858 in Invenkeilor, Co. Angus, Scotland, son of Andrew & Cecilia (Anderson) Kydd. Ellen & John were deeded this lot of 1 acre 10 rods on Lincoln St. by her father on April 5, 1894. It is not known if Ellen's brother Fred had a hand in building their house, but he was a house carpenter and built both #15 and #17 Lincoln St. homes. John & Ellen had six children: George William b. July 27, 1883, Agnes b. Feb. 10, 1887, Rebecca b. June 1889, Mary b. Nov. 1889, Marjorie E. b. Nov. 22, 1891 and William Herbert b. Dec. 27, 1894 – d. Mar. 30, 1895.
John Kydd was living in Arbroath in 1881 with his mother and siblings and worked as a Flax Dresser. John came to Andover shortly after and worked for the Smith & Dove Manufacturing Co. as an operative. John died on Feb. 8, 1897 of Phthisis -Tuberculosis. Ellen now had five children to care for on her own.
Ellen remarried on Nov. 25, 1903 to James Magee. It was the second marriage for both. James Magee was born in August 1853 in Ireland, son of John & Eliza (Mallard) Magee. He immigrated to America in 1875. James first wife was Margaret J. Shaw b. Nov. 1849 in Ireland, dau. of William & Mary J. (Steele) Shaw. They married in 1882 and had three children; James b. Dec. 1882, Mary b. Nov. 1884 and Robert b. August 1885 all born in New York. They came to Andover where James took work as a Hackler or Flax Dresser with Smith & Dove Co. His wife Margaret died of heart disease on Jan. 22, 1903.
When Ellen & James married it became a blended family of Kydds and Magees. Ellen and James were married for 26 years. James died in 1929 and was interred at Spring Grove Cemetery with his first wife Margaret.
Ellen continued to live in her home with daughters Agnes and Rebecca. Daughter Marjorie Kydd married on March 9, 1912 to Kerr Alexander Sparks b. May 13, 1891 in Andover, son of William H. & Betsy (Napier) Sparks. They had three children: Francis Donald b. Apr. 18, 1913, Kerr Alexander Jr. b. Dec. 19, 1918 and an infant son, stillborn Dec. 25, 1914. Kerr was a machinist in the Marland Mill then became an Andover firefighter. Marjorie died on Dec. 22, 1933.
Kerr then moved in with his mother-in-law Ellen and sister-in-law Agnes Kydd. All are here in the 1940 Census. Ellen died on March 23, 1941 just shy of her 77th birthday. Daughters Agnes and Rebecca remain the house. Kerr re-married in 1944 to Frances B. and they had one daughter Marion A. Spark. (Sparks is listed with and without the s) Kerr would move down to 17 Lincoln St.
Agnes Kydd died on Dec. 3, 1958 and Rebecca Kydd the Administrator for the estate, purchased the property for $15,000. Frances D. Sparks, son of Kerr and Marjorie, married on Aug. 30, 1940 in Exeter, NH to Lucy Mary Mikulyski, dau. of Polish parents Joseph & Mary (Holler) Mikulyski. They would live with Rebecca and purchased the property from Rebecca's estate on April 6, 1966. Frances followed his father Kerr as a firefighter in Andover. The home remained with the McCollum - Kydd - Magee families for 102 years.
The McCollum, Kydd and Sparks families are interred at West Parish Garden Cemetery.
Bibliography/References:
Essex County Registry Deeds, Salem, MA
Essex Northern Registry Deeds, Lawrence, MA
Ancestry.com - Kydd, Magee, Sparks family history
Andover Town Directories
Federal Census records.
Owners:
Abraham Marland estate, Francis Cogswell Trustee – 1850s
John McCollum - March 19, 1861 - b. 619 leaf 269 -
John McCollum, wife Margery - June 10, 1873 - b. 98 p. 182-185
John Kydd, wife Ellen J. (McCollum) Kydd– Apr. 5, 1894 – b. 131 p. 486 1a 10 rods
John Kydd estate, widow Ellen J. Kydd – died Feb. 8, 1897 –
Ellen J. Kydd – Magee, wife of James Magee – Nov. 25, 1903
Ellen J. Kydd – Magee estate – March 23, 1941
Agnes Kydd and Rebecca Kydd heirs 1941
Agnes Kydd estate – died Dec 3, 1958 –
Agnes Kydd estate, Rebecca M. Kydd Adm. – Dec. 1, 1960 – Probate
Rebecca M. Kydd – Apr. 11, 1961 – b. 934 p. 110
Rebecca M. Kydd estate, Charles W. Trombly Extr. – Apr. 6, 1966 – b. 1057 p. 272
Francis D. & Lucy M. (Kydd) Sparks – April 6, 1966 – b. 1057 p. 272
Lucy M. Sparks estate, Charles W. Trombly, Extr. – 1996
Louis & Elizabeth A. Carciofi – Jan. 4, 1996 – b. 4419 p. 145
Kevin P. & Susan F. Harriington – June 27, 1996 – b. 4535 p. 81
Michelle L. Cross – Sept. 27, 2006 – b. 10409 p. 329
Inventory Data:
| | |
| --- | --- |
| Street | Lincoln St |
| Place | West Center, West Parish |
| Historic District | Andover Historic Building Survey |
| Historic Name | Kydd - Magee House |
| Present Use | residence |
| Original Use | residence |
| Construction Date | 1894-1895 |
| Source | ERDS, NERDL, style, |
| Architectural Style | Queen Anne |
| Foundation | stone/granite/brick |
| Wall/Trim | cedar shingle/wood |
| Roof | asphalt/gable |
| Condition | good |
| Acreage | 0.83 acre |
| Setting | residential |
| Map and parcel | 71-69 |
| Recorded by | James S. Batchelder |
| Organization | Andover Preservation Commission |
| Date entered | March 22, 2018 |
Map: