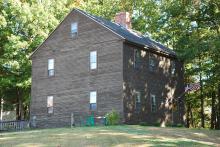 Architectural Description:
Style; Vernacular Georgian
Other features:
site & buildings were in danger of industrialization, highway development forcing demolition unless moved off property/
Historical Narrative:
Owners: estate of "Edward & Catherine Shattuck: J. A. Dolten, Trustees
Original owner: land, part of Dudley Bradstreet farm; house - Joseph Shattuck
Subsequent use: Colonial Restaurant, 1946
Themes: Aboriginal, Agricultural, Architectural, Community development, Exploration/settlement
Historical significance:
Land, part of Col. Dudley Bradstreet farm. Passed to Sarah Farnum Abbot, wife of Benjamin, who gave her share to her son, David (deed 1694). In 1718, Jonathan and Hannah Abbot and David's family occupied houses on Shattuck farm about a mile apart.
1818 - Abbot's sold to Frederick Noyes.
1871 - Noyes sold to four Shattuck brothers. Owners, Catherine and Edward Shattuck developed colonial restaurant here, 1946.
For about 500 years until 1500's, there was a large Indian village here - the original site now mostly under water, as building of Lawrence Dam changed river.
The former Shattack Farm site and buildings was zoned and sold as industrial development site. Land taken by option for industry forms part of 600 acre tract now belonging to Hewlett - Packard. Route 93 development in the 1950's split off east side of farm.
Bibliography/References:
Essex County Registry Deeds, Salem, MA
Essex Northern Registry Deeds, Lawrence, MA
see 1980 National Register nomination for updated information
Glennie, George et al; "Historic Andover", 325th Anniversary, 1646 - 1971, Andover Historical Society, 1971
Goldsmith, Bessie; "Historical Houses in Andover" - , Mass. 1946
See 125 River Rd.
Owners at this site; High Plain Rd.
Stanley Chmielecki Farm - land
John & Sophia Chmielecki - May 28, 1958 - b. 870 p. 429
David & Catherine A. Netti - b. 1021 p. 386
John Terrance & Patricia A. Sullivan - Sept. 29, 1975 - b. 1268 p. 162
Sullivan Family Trust - Sept. 9, 2003
Matthew & Jenna Murphy - May 21, 2010 - b. 12042 p. 256
Joshua Reifsnyder & Elizabeth J. Higgins - Jan. 18, 2012 - b. 12784 p. 53
Inventory Data:
| | |
| --- | --- |
| Street | High Plain Rd |
| Place | West Parish - West Andover |
| Historic District | Not Applicable |
| Historic Name | Abbott - Shattuck - Noyes house |
| Present Use | residence |
| Original Use | residence |
| Construction Date | circa 1718 |
| Source | ERDS, ENRDL |
| Architectural Style | Georgian |
| Foundation | concrete |
| Wall/Trim | clapboard/wood |
| Roof | asphalt |
| Major Alterations | Moved in 1982 from 127 River Rd. former addition wing used a ice cream stand razed before move. |
| Condition | excellent |
| Moved? | Yes |
| Move Details | Moved from 125-127 River Rd. in 1982 |
| Acreage | 1.00622 acres |
| Setting | residential |
| Map and parcel | 172-7C |
| Recorded by | Stack/Mofford, James Batchelder |
| Organization | Andover Preservation Commission |
| Date entered | 1975-77, 7/2014 |
Map: