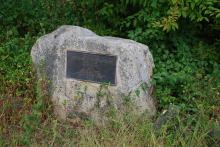 Historical Narrative:
This property of 11.6 acres was purchased by the Town of Andover on October 10, 1969 from the Essex Bituminous Concrete Corp., of Dracut, William F. Drislane, Treas. The property is now part of the Andover Recreation Park. At the entrance of the property today is a large boulder with a plaque noting the location of the Andover - Wilmington Railroad bed 1837- 1848. The first train line to be built to Andover off the Lowell Line in Wilmington. The railroad line cut across the "Plains" or "Preston Plains", now the school yard property behind South Elementary School. The Ballard Vale Depot was in the house across the street at #265 Andover St. The train line ran through the Andover Rec. Park, now the main entrance off Abbot St., then across Abbot St. then called the Road to Boston and through what is now Andover's Spring Grove Cemetery. Then down the east side of Abbot St. crossing behind the homes on Central St. and cutting across land east of the South Church Parsonage. The train Depot was located on Essex Street on the site of the back entrance to the Memorial Hall Library today.
When the Boston & Maine Railroad was created, it purchased the Andover Wilmington line and moved the tracks to the present location to extend service to the new City of Lawrence in 1848. The former rail bed was abandoned and portions of the bed remain today as pathways or conversion to public ways, such as High Street from Harding St to the North Andover line and the main entrance to Spring Grove Cemetery.
The Essex Bituminous Concrete Corp., of Dracut was formerly known as the Essex Sand & Gravel Company of West Peabody and later Andover MA. William F. Drislane of Lynn, MA purchased the land on Aug. 3, 1945 the Pike brothers and the deed was then turned over to the Essex Sand & Gravel Co. Inc. on April 1, 1948 which contained two parcels. William Drislane was the Treasurer of the company. Essex Sand and Gravel hauled tons upon tons of sand off the property during the construction of interstate 93 and 495 in the late 1950s and early 1960s. The contour of the land was altered considerably by the removal of the large sand deposit.
John N. Pike, Albert W. Pike, Walter E. Pike purchased the property on Nov. 20, 1914 which contained two parcels. Parcel 1 was 28 acres which they bought from Edward J. Beaulieu & Ernest J. Beaulieu. Beaulieu had purchased the year before on Oct. 13, 1913, parcel 1 - 28 acres. The parcel had been part of had been part of a larger 60 acre parcel that Henri & Delia Fontaine acquired on Sept. 23, 1912.
Joseph Tschauder, a German immigrant bought the property on July 1, 1889 and farmed some of the 60 acres. Tschander sold off a few smaller parcels for house lots. on Andover St.
Bibliography/References:
Essex County Registry Deeds, Salem, MA
Essex Northern Registry Deeds, Lawrence, MA
Owners:
Inhabitants of the Town of Andover - Oct. 10, 1969 - b. 1141 p. 353 - 11.6 acres
Essex Bituminous Concrete Corp., Wm. F. Drislane, Treas. - Mar. 29, 1958 - b. 878 p. 440
Essex Sand & Gravel Co. Inc. - April 1, 1948 - b. 709 p. 185 - two parcels
William F. Drislane - Aug. 3, 1945 - b. 675 p. 510 - two parcels
John N. Pike, Albert W. Pike, Walter E. Pike - Nov. 20, 1914 - b. 348 p. 98 parcel 1 = 28 acres
Edward J. Beaulieu & Ernest J. Beaulieu - Oct. 13, 1913 - b. 335 p. 528 - parcel 1 - 28 acres
Henri & Delia Fontaine - Sept. 23, 1912 - b. 322 p. 28 - 60 acres
Mary V. Ragan, wife of John J. - Sept. 4, 1912 - b. 321 p. 102
Joseph A. Tosney -
Frank J. Benoit & James H. Cooper - Aug. 3, 1911 - b. 307 p. 263 - 60 acres
Joseph Tschauder - July 1, 1889 - b. 102 p. 341 - 60 acres
South Boston Savings Bank - b. 40 p. 11 - possession
South Boston Savings Bank - July 28, 1875 - b. 36 p. 330 - mtg. deed
Ella R. & Josiah B. Anderson - Aug. 12, 1875 - b. 36 p. 35 - two parcels
Elizabeth Ryley, George Ryley - Aug. 1, 1866 - b. 1 p. 184
George W. Ryley - Dec. 15, 1865 - b. 679 leaf 76 - 15 acres
George W. Ryley - Dec. 15, 1864 - b. 679 leaf 74 & 75
Elizabeth Ryley - Dec. 14, 1864 - b. 679 leaf 75 - 25 acres - $15,050.
George J. Tenney & Samuel Little of Georgetown, MA - Dec. 14, 1864 - b. 679 leaf 74 & 75
George J. Tenney & Samuel Little of Georgetown, MA - b. 666 leaf 37 -
William Monroe of Boston -
Gardner Warren - May 25, 1853 - b. 486 leaf 267
James L. Little(Rep. for Monroe), Wm. Monroe Jr., David C. Ranney, Paul Alden
Inventory Data:
| | |
| --- | --- |
| Street | Andover St |
| Place | Ballardvale - Scotland District |
| Historic District | Ballardvale Local Historic District |
| Historic District | Ballardvale National Register District |
| Historic Name | Andover - Wilmington Railroad |
| Present Use | Recreation Park |
| Original Use | open land - sand pit |
| Construction Date | 1836 - 1848 |
| Source | ECRDS, ENRDL |
| Architectural Style | Other |
| Demolished? | Yes |
| Demolition Details | Route and tracks relocated to current B&M Railroad line in 1848 to service the new city of Lawrence, MA |
| Acreage | 11.6 acres |
| Setting | residential/recreational |
| Map and parcel | 117-15 |
| Recorded by | Bernice Haggerty (Ballardvale Historic District Commission), James Batchelder |
| Organization | Andover Historical Society, Andover Preservation Commission |
| Date entered | Feb 1996, 12/6/2016 |
Map: