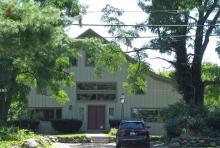 Architectural Description:
The main core of the home is a typical gable end front facade to street New England style barn. A shed addition was added to the west side of the barn, later replaced with the current wing when converted in 1968, Board & batten over wood plank siding.
Historical Narrative:
This home was once the barn of the Rogers - Downing farm next door at 269 Highland Road. The house was built in 1848 by Benjamin Rogers Jr. of Boston. The 1850 Valuation Schedule lists Rogers assessment a dwelling house $2000, store house $400, barn $350, small house $250, 117 acre farm $2340 and the Rea land $144. Total assessment $5484. His personal stock was $543.
Rogers owned the 1848 William R. Meade – Oct. 6, 1870 – b. 6 p. 246 & 249 – 5 gentleman farm for 22 years then sold to James H. Ford on Oct. 6, 1870 which included 6 lots of land. Six months later Ford sells to David Simonds a portion of the farm with buildings on Apr. 15, 1871. David Simonds and George H. Simonds had acquired separate lots of the farm on Apr. 13, 1871. John F. Bassett then takes ownership of the deeds on Apr. 20, 1871 which include 6 lots. Sally Bassett, wife of Joseph R. Bassett then purchased the property with 8 lots on Nov. 15, 1871.
Sarah Downing, wife of Emanuel Downing purchased the farm on Oct. 24, 1872 and for the next 96 years the farm would known as the Sarah Downing Farm. See 269 Highland Rd for a more complete overview of the family histories.
With the construction of Route 93 and 495 in the late 1950s and early 1960's, Andover farm land became a desired location for housing development and industry as well. The Downing family sold the remaining 7.65 acres to C. Lincoln Giles, Trustee 1700 Estate Trust Nov. 5, 1968. Lincoln Giles was an architect and developer. He embraced the idea of restoration over demolition. The property was sub-divided by Giles and the house sold off separately. The barn became the corner lot in the Kathleen Drive sub-division of new homes.
Giles saved the old barn and rehabilitated it into a new and unique residence. The old shed addition on the west side of the barn was removed and rebuilt . Giles created enlarged living space having a contemporary feel on the interior, while keeping the look of the original function of the exterior structure in no doubt from the street. A board & batten on wood plank sheathing, kept the barn like feel to the exterior structure. The house contains 11 rooms with four bedrooms, two baths and original structural beam details.
Michael A. & Barbara R. Fine of Woburn, MA purchased the home on Aug. 21, 1969 and were residents for 30 years. They sold to the current owners Michael & Ellen Alden on Sept. 21, 1999. The home was list in the Andover Barn Survey done in 1988.
Bibliography/References:
Essex County Registry Deeds, Salem MA
Essex Northern Registry Deeds, Lawrence, MA
Andover Advertiser
Andover Townsman
Ancestery.com - Downing Family Genealogy
Jane Griswold Sunday Drive - Lawrence Eagle Tribune 1-29-1989
Andover Historical Society vertical files.
Plan map #5941 - July 17, 1968 - Sarah Downing Estate
Plan map # 5499 - Dec. 13, 1965 - Oak Knoll development
Plan map #6339 - June 3, 1969 - lot 4 with barn
Plan map #12170 - Dec. 12, 1992 - M. & B. Fine - sub-divide
Owners:
Joseph & Mary Gass – 1848 – b. 401 leaf 241 Salem Deeds – land 2 lots – 40 acres
Benjamin & Caroline Rogers – 1848 – b. 401 leaf 241 Salem Deeds
William R. Meade – Oct. 6, 1870 – b. 6 p. 246 & 249 – 5 lots
James H. Ford – Oct. 6, 1870 – b. 6 p. 250 – 6 lots
David Simonds – Apr. 15, 1871 – b. 8 p. 215 – portion
David Simonds & George H. Simonds – Apr. 13, 1871 – b. 8 p. 375 separate lots
John F. Bassett – Apr. 20, 1871 – b. 8 pgs. 245 & 417 – 6 lots
Sally Bassett, wife of Joseph R. Bassett – Nov. 15, 1871 - b. 12 p. 11 & p. 235 – 8 lots
Sarah Downing, wife of Emanuel Downing, Oct. 24, 1872 – b. 18 p. 209 – 8 lots
Joanna Downing Foster, Consvr. – Sept. 24, 1968 - Probate
1700 Estate Trust, C. Lincoln Giles, trustee, Nov. 5, 1968 – b. 1118 p. 283 & 284
Michael A. & Barbara R. Fine - Aug. 21, 1969 - b. 1138 p. 119
Michael A. & Barbara R. Fine - Jan. 22, 1993 - b. 3649 p. 31
Michael L. & Ellen Barker Alden - Sept. 21, 1999 - b. 5557 p. 187
Inventory Data:
| | |
| --- | --- |
| Street | Highland Rd |
| Place | Andover Center District |
| Historic District | Andover Historic Building Survey |
| Historic Name | Rogers - Downing Barn - Fine House |
| Present Use | residence |
| Original Use | barn |
| Construction Date | 1850 & 1968 |
| Source | ECRDS, ENRDL, style-njs |
| Architectural Style | Other |
| Architect/Builder | C. Lincoln Giles/architect |
| Foundation | stone/granite/concrete |
| Wall/Trim | wood/board & batten |
| Roof | asphalt - gable |
| Outbuildings / Secondary Structures | studio shed |
| Major Alterations | 1968 conversion from barn to residence, west shed wing new |
| Condition | excellent |
| Acreage | 883 acre |
| Setting | residential |
| Map and parcel | 5-30A |
| Recorded by | James S. Batchelder |
| Organization | Andover Preservation Commission |
| Date entered | Feb. 13, 2017 |
Map: