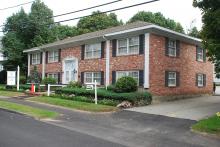 Historical Narrative:
Florence Street was constructed in 1885. The south end portion (Park St.) of two acres and 28,045 sq. ft. was owned by Hannah W. Foster, wife of Joseph W. Foster. Hannah sold the parcel to William Wood, a carpenter for $1900 on March 13, 1883. Wood built his home at 66 Park St. and house lots extended on both sides of Florence St. up to #21 and #24. The north end portion (Elm St.) on the east side was the former Moses Abbot Jr. homestead at #49 Elm St. Owned by his son George T. Abbott, also a House-wright, who was partners with William S. Jenkins in the firm Abbott & Jenkins. The Abbot parcel extended to #20 Florence. St. The west side of Florence St. from Elm St. to #17 was owned by the Henry Burtt estate formerly at #35-#37 Elm St.
Oct. 2, 1885 Andover Advertiser - pg. 2 col. 9, "The new way between Park and Elm has been completed by Nathan F. Abbott, the contractor, and accepted by the Selectman. Several names have been suggested……"
William Wood built the home at 66 Park St for himself and wife Margaret Wood, who would later hold the deed on September 13, 1895. William Wood was born in 1835 in Ireland,son of John & Margaret Choate or Chitic) Wood. William came to Andover from Danvers as a young boy and became a painter. He married on Nov. 21, 1865 by the Rector of Christ Church to Margaret McDermott, b. in March 1843 in Scotland, daughter of Robert & Amelia McDermott. William & Margaret had four children, three survived to adulthood; William W. b. 1867, Walter E. b. 1874 and Marion Leighton b. Jan. 13, 1876.
William Wood laid out Florence St. and developed the south end of the street. He also built many of the homes in this area. The original parcel of land was was divided into house lots.along Park St and both sides of Florence St. on the Park St. end. The Woods would later occupy the home here at 28 Florence St. by 1893, razed in 1963 for the office building. Wood's son William was tragically killed from a fall off the commuter train entering Andover station on October 28, 1893. This loss took its toll on William and his health began to fail. He transferred all his property to his wife in 1895. William died on Aug. 16, 1896 and is interred in Christ Church Cemetery.
Margaret would later deeded her holdings to their daughter Marion L. Wood on July 3, 1917. Marion sold off the property next door at #34 Florence St. in 1919 to William H. Sparks. She kept the home at #28 Florence and was her residence until her death in 1955. The 1920 Andover Valuation Schedule lists Marion's property as House $$3500, barn $200 and 15,531 sq. ft. of land $1700. The 1943 directory lists Marion Wood at #28 and also Edward & Moria Altman. Edward is employed by the Panama Canal.
After Marion's death Fred E. Cheever, her Executor and Andover Realtor, sold the property for $13,500 to Samuel E. & Eva C. Laurenza on Oct. 28, 1955. The 1962 Andover directory lists Samuel b. 1929 a Mechanic, Eva ab. 1929 a housewife. The two family home also has Benjamin H. Stafford b. 1932 Insurance Admin. and his mother Susan b. 1894. They would be the last residents of the home.
On December 20, 1962 the property was sold to Arthur A. Collins b. 1927, an Insurance Agent, and partner Robert E. Wilson. The property was rezoned for business and the former Wood house was demolished for the construction of the current building on the lot. It was occupied as an Insurance Company business offices. The building was later converted into a funeral home now occupied by Dewhirst & Conte Funeral Home, 28 Florence Street.
Bibliography/References:
Essex County Registry Deeds, Salem, MA
Essex Northern Registry Deeds, Lawrence, MA
Andover map 1906
1920 Andover Valuation Schedule
Owners;
Hannah Foster, wife of Joseph W.
William Wood - Mar. 13, 1883 - b. 71 p. 252
Mary M. Poor -Sept. 14, 1895 - b. 142 p. 524 deed transfer
Margaret Wood - Sept. 13, 1895 - b. 142 p. 525
Marion L. Wood - July 3, 1917 - b. 378 p. 30
Marion L. Wood estate, Fred E. Cheever, Extr. - June 1, 1955 - Probate
Samuel E. & Eva C. Laurenza - Oct. 28, 1955 - b. 823 p. 470
Arthur A. Collins & Robert E. Wilson - Dec. 20, 1962 - b. 976 p. 447
Haverhill Savings Bank - Jan. 28, 1963 - b. 979 p. 148 mtg. deed
Arthur A. Collins & Bernard F. Magane - Aug. 28, 1964
28 Florence St. Trust, Louise D. Collins & Brenda L. Magane Tr. - Oct. 19, 1964 - b. 1020 p. 449
28 Florence St. Trust, Arthur A. Collins & Bernard F. Magane - Jan 17, 1967 - b. 1076 p. 214
Do-Ann Realty Trust, John Johnson, Paul Nestor, Margarette Nestor, TR- June 1, 1967 - b. 1083 p. 70
Paul R. Nestor estate, Margarette A. Nestor, Extrx. - (d. 7/4/1987) - Dec. 31, 1987 - b. 2649 p. 42
Paul R. Nestor Jr. - Dec. 30, 1987 - b. 2654 p. 132
S & A Realty Trust, Anthony S. & Ann L. Conte - Oct. 12, 1995 - b. 4358 p. 271
Conte LLC - Apr. 23, 2008 - b. 11151 p. 300
Inventory Data:
| | |
| --- | --- |
| Street | Florence St |
| Place | Andover Center District |
| Historic District | Not Applicable |
| Historic Name | Margaret & Marion Wood House |
| Source | ECRDS, ENRDL, style-njs |
| Map and parcel | 39-83 |
| Recorded by | James S. Batchelder |
| Organization | Andover Preservation Commission |
| Date entered | April 10, 2017 |
Map: