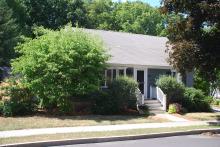 Historical Narrative:
The Ballardvale Machine Shop Corp., John Marland, President, purchased much of the property in the center of Ballardvale in 1847. The land was then sub-divided into house and store lots and the company began selling off parcels in 1848. John Marland and John Howe Jr. owned the parcel along Centre St. (now Center St.) and auctioned off 35 lots on July 28. 1847. The auctioneers were Loring, Abbott and Porter of Boston.
The Ballardvale Machine shop would begin selling off their holdings in 1848. Samuel Abbott of Boston and William Abbott of Andover followed suit with their property on Oak and Tewksbury Streets. The greater portion of the village center was developed at this period of time.
This lot # 6 on the Marland & Howe 1847 map was sold to Joseph H. Thornton had also purchased lot #7 (27 Center St.) at the Marland & Howe auction for $233.05. Thornton then took a motgage with Marland & Howe for $209.75. to be paid off in five years. With the bankruptcy of Marland's Ballardvale Machine Shop Co. the following year, Marland sold the mortgage to John Howe Jr. on October 2, 1848. In the 1850 Andover Valuation Schedule, Jos. H. Thornton of New York, is assessed for 3/4 acre, Dwelling house and house lot $900. and a house lot in B. Vale $50. (lot #6)
John Howe Jr. would later assign the same mortgage to Frederick Putnum on May 13, 1865. Putnam then took possession of the property on lot #6.
Putnam sells the properties lots 6 & & to Mary J. Foster, wife of Homer Foster for $3000. on Nov. 21, 1867. With the death of Mary in 1875 her estate went to her husband Homer and three sons, Charles F., Edward H. and Henry S. Foster. Charles was the administrator of his mothers estate and purchased it form his brothers and a quit claim of his father.
Charles F. Foster held the property for ten years then selling to Felix G. Haynes on July 1, 1885. Felix G. Hanyes and his brother Bancroft H. Haynes owned a grocery store, F. G. Haynes & Co. at the corner of Andover and Rive Streets. This was income property for Felix as he lived on High Vale Street. With Felix's death his estate went to his two surviving daughters Sarah E. (Haynes) Marjerison wife of J. William and Grace A. (Haynes) Stott, wife of Joseph E. Stott.
Sarah and Grace then sold the property to William Jaques on May 2, 1919. Jaques owned two years then sold to Nellie T. Sherry on May 10, 1921.
Nellie Sherry sold off lot #6 to George A. & Vera T. Murphy on Sept. 7, 1956. Ralph N. & Ola G. Coleman of Chestnut St. in Andover purchased the property on Feb. 25, 1958.
Leon R. & Annie Gray bought on Oct. 2, 1959 and were residents for 26 years. Richard F. & Ellen A. Brennan, Jr. purchased the home from Gray on Oct. 30, 1985 and the Brennan family continue as owners of record in 2016.
Bibliography/References:
Essex County Registry Deeds, Salem, MA
Essex Northern Registry Deeds, Lawrence, MA
Historical Sketches of Andover, Sarah Loring Bailey 1880
Andover, A Century of Change, Eleanor Richardson 1995
Andover Advertiser, Andover Townsman
Andover Historical Society files
Marland & Howe map Ballardvale Center - house and store lots July 1847
Ballardvale Machine Shop Corporation May 1848 - Franklin Darracott Engineer
Samuel Abbott & William Abbott house lots amp 1848
Andover maps; 1852, 1856, 1872, 1884, 1888, 1906
Andover Valuation Schedules, 1850, 1860, 1870, 1900, 1910, 1920
Owners;
John Marland & John Howe Jr. - 1847
James Rhodes - July 28, 1847 - rec. Aug. 19, 1847 - b. 386 leaf 234 - $233.05
James Walton - Jan. 3, 1859 - b. 599 leaf 270
Jane Rhodes - Jan. 3, 1859 - leaf 599 leaf 271
Frederick M. Putnam, wife Lydia - May 6, 1865 - b. 684 leaf 19 - lot #7
Frederick M. Putnam - May 13, 1865 - b. 684 leaf 19 - Possession lot #6
Mary J. Foster, wife of Homer - Nov. 21, 1867 - b. 735 leaf 208 - $3000.
Charles F. Foster - March 29, 1875 - b. 33 p. 161 - $1500
Felix G. Haynes - July 1, 1885 - 82 p. 193
Felix G. Haynes estate, heirs; Sarah E. Marjerison, Grace A. Stott - Probate
William Jaques - May 2, 1919 - b. 398 p. 181
Nellie T. Sherry - May 10, 1921 - v. 439 p. 452
George A. & Vera T. Murphy - Sept. 7, 1956 - b. 840 p. 437
Ralph N. & Ola G. Coleman - Feb. 25, 1958 - b. 869 p. 407
Leon R. & Annie Gray - Oct. 2, 1959 - b. 902 p. 495
Richard F. & Ellen A. Brennan, Jr. - Oct. 30, 1985 - b. 2072 p. 252
Ellen A. Brennan - Feb. 23, 1990 - b. 3083 p. 105
Ellen A. Brennan & Richard F. Brennan Jr. - Feb. 23, 1995 - b. 4217 p. 137
Ellen A. Brennan - Feb. 25, 2003 - b. 8278 p. 22
Inventory Data:
| | |
| --- | --- |
| Street | Center St |
| Place | Ballardvale |
| Historic District | Ballardvale Local Historic District |
| Historic District | Ballardvale National Register District |
| Source | ECRDS, ENRDL, style-njs |
| Architectural Style | Other |
| Foundation | concrete |
| Wall/Trim | cedar shingles/wood |
| Roof | asphalt - gable |
| Condition | excellent |
| Acreage | 0.214 acre |
| Setting | residential |
| Map and parcel | 138-42 |
| Recorded by | Ruth A. Sharpe (BallardvaleHistoric District) James Batchelder |
| Organization | Andover Preservation Commission |
| Date entered | May 1996, 8/21/2016 |
Map: