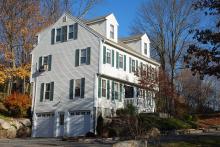 Architectural Description:
This is a 20th Century Garrison Colonial style home.
Eight rooms, four bedrooms
Historical Narrative:
This site was once connected with the house at 17-19 Red Spring Rd and was acquired by the Smith & Dove Manufacturing Co. about 1864. The lot owned by the company was later expanded to include the houses at 9-11 and 1-7 Red Spring Rd and extended up the hill to Cuba St.
On the 1884 map of Andover at this site is shown a large building owned by the Smith & Dove Co. It is later marked as Dry Shed #20
on the 1927 map #676 plan of Smith & Dove MFG. Co.
In 1927 the Smith & Dove Manufacturing Co. was sold to the Ludlow Co. The housing real estate was placed in the Smith & Dove Tenements, Inc. that year, later changing the name to Andover Homes, Inc. All the housing properties were then sold off to private individuals. The company operations were moved to Ludlow, MA and the mill closed in 1928.
The former Dry house was razed at some point before 1950 and this lot remained empty. The house at 17-19 Red Spring Rd. was purchased by Johnstown Realty Inc. in 1986 and in June 1987 the property was subdivided into two separate lots. Lot #1 became 29 Red Spring Rd and lot #2 was the lot containing the old home at #17-#19.
Parcel was purchased in July 1987 by Dennis Edmondson and Alan P. Xenakis. Their mortgage with Arlington Trust was taken over by Shawmut Bank which later took the property in 1992.
The bank sold the lot to Kenneth J. Ahern & Co. Inc. in Aug. 1992 and the house was then built on the site. In Jan 1993 the property was then sold to Robert L. Lee & Wife Margarita E. Brenes. They sold the home seven yearrs later to the New England Confrence of United Methodist Church of Lawrence, MA in Aug. 1999.
In the 2002 directory David C. & Deborah J. Myers are list as residents at #29. In Dec. 2003 the Church sold the house to Sen Sarma Somenath who is the current owner in 2014.
Bibliography/References:
Essex County Registry Deeds, Salem, MA
Essex Northern Registry Deeds, Lawrence, MA
Andover Advertiser AA
Andover Historical Society files.
Andover Valuation and directories
Smith & Dove Manufacturing Co. - deed changes in 1864 and 1912
See Plan #676 Smith & Dove 1927
Plan #10776 - June 1987 Johnstown Realty Inc.
Owners;
Smith & Dove Tenements, Inc. - Feb. 21, 1927 - b. 529 p. 583
Smith & Dove Tenements, Inc. Walter Amesbury, Pres., - Feb. 21, 1927 - b. 529 p. 587
Andover Homes, Inc., Walter Amesbury Treas.
Virgil D. Harrington - June 7, 1932 - b. 564 p. 546
Indian Ridge Company, Inc., Virgil Harrington Treas., - Nov. 15, 1932 - b. 567 p. 266
Louis & Elizabeth M. Stefani - May 7, 1936 - b. 598 p. 212
Robert E. & Gabriella M. Genske - July 11, 1946 - b. 686 p. 146
Paul D. & Teresa DeTeresi - June 3, 1949 - b. 724 p. 9
Paul A. DeTeresi & David P. DeTeresi - Feb. 3, 1986 - b. 2127 p. 272
Johnston Realty, Inc. - Dec. 15, 1986 - b. 2543 p. 293
Dennis Edmondson & Alan P. Xenakis - July 10, 1987 - b. 2543 p. 301-302
Shawmut Bank, NA, Aug. 1992 -
Kenneth J. Ahern & Co. Inc., - Aug. 13, 1992 - b. 3527 p. 43
Robert L. Lee & Margarita E. Brenes - Jan. 29, 1993 - b. 3652 p. 273
New England Confrence of United Methodists Church - Aug. 3, 1999 - b. 5516 p. 48
Sen Sarma Somenath - Dec. 23, 2003 - b. 8481 p. 58
Inventory Data:
| | |
| --- | --- |
| Street | Red Spring Rd |
| Place | Abbott Village |
| Historic District | Andover Village Industrial NRH District |
| Present Use | residence |
| Original Use | residence |
| Construction Date | 1992 |
| Source | ERDS, ENRDL |
| Architectural Style | Other |
| Architect/Builder | Kenneth J. Ahern & Co. Inc |
| Foundation | concrete |
| Wall/Trim | vinyl clapboards & trim |
| Roof | asphalt |
| Condition | excellent |
| Acreage | .689 acre |
| Setting | residential/commerical business |
| Map and parcel | 72-11A |
| Recorded by | James S. Batchelder |
| Organization | Andover Preservation Commission |
| Date entered | July 2014 |
Map: