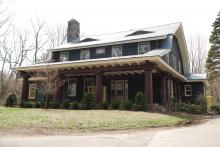 Architectural Description:
Shingle Style Bungalow -
Mixed textures of natural stone and wood shingles, stone fireplace and chimney, eyebrow dormers, brackets and open beam porch ceiling
Historical Narrative:
The Shingle Style bungalow known as "Lake House" has a view of Poor's Pond to the south and when built an uninterrupted view east from the front porch to the Shawsheen River. The natural wood shingles, open beam porch ceiling, field stone fireplace and the eyebrow dormer windows are all elements of the Shingle Style. In the 1920's this house had yet to be assigned a house number as it was considered a part of the William M. Wood's Arden estate.
Lake House was built for the use of William Wood's son Cornelius Ayer Wood and wife Muriel (Prindle) Wood. Cornelius was born on October 9, 1893 in Andover, MA and married on December 15, 1915 in Duluth, Minnesota to Muriel Prindle. Muriel was born July 27, 1893 in Minneapolis, Minn. daughter of William M. & Mina (Merrill) Prindle. It is said that their children Cornelius Ayer Wood Jr. born June 11, 1920 and daughter Muriel Prindle Wood b. February 8, 1924 were born in this house. Cornelius succeeded his brother William Jr. as an officer and director of the American Woolen Co. on August 21, 1922 and became First Vice President in 1926. Cornelius and Muriel would later move into "Arden" after his father's death in 1926. "Lake House" then became a rental property for the Wood family.
When the house was built it was on the beginning of the original location of Poor Street, now the private way beginning at the gateway on North Main St. marked "Aberfoyle" and continuing through and along the west side of Wood Park to Lowell St. Tuttle & Morrison & William M. Wood realigned this corner of Poor Street in the fall of 1899. Tuttle & Morrison who had purchased the Poor Wagon Works in 1895 removed the diagonal through way that cut between the Wagon Works buildings. The new 90 degree turn in the road then went behind the blacksmith shop connecting to the main street.
Andover Townsman October 6, 1899; Wm. M. Wood has a gang of laborers at work filling and grading between the relocated Poor Street and Tuttle & Morrison's buildings. Oct. 27, 1899 AT; The new face wall along Main and Poor streets is being pointed up. Nov. 17, 1899 AT; Tuttle & Morrison's blacksmith shop has been moved back several feet to allow room for the continuation of the handsome wall which William M. Wood is constructing in front of his property. November 24, 1899 AT; A new wall is being erected opposite W. M. Wood's place. It is four feet back from the former location of the fence, thus widening the street at this point to 70 feet. January 5, 1900 AT; The land belonging to William M. Wood on the corner of Poor and Main streets, is being filled and graded. Wood purchased the wagon works buildings when Tuttle & Morrison moved to Park Street in December 1899. Wood razed the shops and moved the blacksmith building a second time in February 1900 to his estate on the other side of Poor's Pond converting it into the Casino.
"Lake House" was first given the number 18 Poor Street the former address of Katherine Poor's farmhouse. In the 1920 Census Cornelius & Muriel Wood along with the cook, Mary A. Gorman and maid Katherine Colter are listed on Poor Street but no number is recorded. The next neighbor listed is August Frederickson, Arden caretaker and his family. For several years no number was assigned just 000 following Arden at #276. From1935-1952 the number #306 is used and in 1954 to the present day #298 North Main St. is the official street address.
The property is included with the Arden estate today which was purchased by Mrs. Ellen (Ayer) Wood on July 7, 1891 from Susan C. Dove and family. The Pond and privilege along with the Wagon Works were later purchased by Mrs. Wood on September 13, 1899 from Tuttle & Morrison, who had purchased the former Poor Wagon Works at Poor & North Main Streets in 1895. The adjoining lot of 1.4 acres to the northwest, #18 Poor St. in 1900, was owned by Mrs. Katherine M. Poor, widow of Jonathan Poor, and included a farmhouse and barn. William M. Wood purchased this land in September 10, 1909 from her daughter Kate M. Poor.
Tenants;
#000 in 1930 occupied by E. Francis Leland and Lucille C. Leland was a dealer in Wool in Boston. Leland had moved to 59 Phillips St. by 1932.
1935 - #306 in occupied by Elizabeth S. Reed
In 1935 Charles Bowen Hodges Jr. his wife Marjorie Atlee (Mason) Hodges moved into #306 - Lake Cottage. The Hodges had twin daughters Mary Jane and Helen J. born on July 21, 1928 in Boston, MA. The Hodges family became long term tenants of Lake House remaining here until 1982. Charles, called Bowen, was born Dec. 7, 1901 in Pittsburgh, PA son of Charles Bowen Hodges Sr. He graduated from Amherst College in 1923. He was living in Walpole, MA in 1930 and is a salesman in a textile plant in Boston. They relocated to Andover in 1935 but he continued to work in Boston. Bowen served in the Army during WWII with the 451st Bombardment Group, US Army, Air Corps. After his return home he worked with the Investment Brokerage firm Brown Brothers, later with Smith, Barney, Harris and Upham of Boston. Hodges had retired by 1969. He was a member of the Lawrence Rotary Club and they attended the North Parish Unitarian Church in North Andover. Bowen died on September 7, 1981 in at Bon Secours Hospital at the age of 79. His wife Marjorie lived at Lake Cottage another year. She died on May 1, 1991 in Hampton, CN.
Lake House had remained vacant since the Hodges family occupancy. In 2011 Mrs. Rosalyn Wood made extensive renovations to the interior and restored the exterior. An addition of a sun room was built on the south side of the house overlooking Poor's Pond. The design and restoration was done by Tom Childs of Andover.
Bibliography/References:
Researched by James S. Batchelder – Andover Preservation Commission July 2013
References;
Andover Townsman (AT)
Andover Advertiser (AA)
Andover Building Survey Form 1974-1976
Federal Census 1900 – 1940
Andover Street Directories
Andover Valuation Reports 1870, 1900, 1910, & 1920
Andover Historical Society – Vertical files.
Andover Vital Records (AVR)
Northern Essex Registry of Deeds, Lawrence, MA
Essex County Registry of Deeds, Salem, MA
Inventory Data:
| | |
| --- | --- |
| Street | North Main St |
| Place | Shawsheen Village |
| Historic District | Not Applicable |
| Historic Name | Lake Cottage |
| Present Use | residence |
| Original Use | home of Cornleius A. Wood |
| Construction Date | circa 1915 |
| Source | ERDS, ENRDL |
| Architectural Style | Greek Revival |
| Foundation | stone & granite |
| Wall/Trim | wood shingle |
| Roof | asphalt |
| Outbuildings / Secondary Structures | Two care garage built 2011 small dog house circa 1915 |
| Major Alterations | Complete interior remodeling 2011 Sun-room addition on south side 2011 Front entrance door relocated 2011 |
| Condition | excellent |
| Acreage | Arden Estate 60 acres |
| Setting | residential |
| Map and parcel | 53-4 |
| Recorded by | 1978, James Batchelder |
| Organization | Andover Preservation Commission |
| Date entered | Dec. 19, 2013 |
Map: