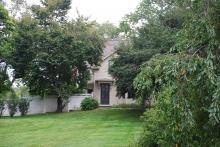 Architectural Description:
Greek Revival home, Gable end to street
Historical Narrative:
This parcel of land was once a 15 acre pasture and part of the Henry Holt farm which included 103 acres of land in six different parcels. Henry Holt died on February 24, 1821 age 57 years. His estate went to his widow Ruth and their children. The entire farm was sold to son Herman Holt, wife Nancy, for $5000. Herman then sold off the 15 acre "Eben Pasture", actually 14 acres 113 rods, to Thomas Manning Jr. on May 31, 1824 for $500. The pasture passed to John H. Manning who would then sell to George Foster on May 20, 1859. Foster sold to John A. Trull, yeoman, on June 1, 1859 for $380.
Charles C. Frost of Reading, a carpenter, purchased the pasture from Trull for $900 in Feb. 1860. Charles built the home but became insolvent by December 1860. The courts assigned the property to Chauncey P. Judd on Sept. 7, 1861. The property was sold to Brooks F. Holt for $475 on Jan. 13, 1862 including "with building standing" on the property.
Brooks Frye Holt born Feb. 1, 1838, son of Jonas & Parmelia Porter (Frye) Holt. Brooks graduated from Phillips Academy in 1859. Brooks lived on his father's farm. In the 1870 census he is listed as an Ice Dealer, living with his brother Lewis G. and Emma Holt. Brooks married on Nov. 21, 1872 in Tewksbury, MA to Mary Frances Clark b. 1848 daughter of Samuel & Emerline Clark. Brooks & Mary had seven children, six survived: Harry Frye b. Dec. 6, 1876, Florence Brooks, b July 8, 1874, Mary Eleanor "Ella" b. Dec. 12, 1878, Charlotte Augusta b. Apr.12, 1881 and twins Annie Clark & Alice Pamelia b. Nov.4, 1889. Anna C. d. Mar. 23, 1890.
Brooks had a large share of the ice trade locally, cutting ice off Poor's Pond (Arden estate), Hussey's Pond and the Shawsheen River in Ballardvale. Brooks even built the pond on this property as an additional source of ice. In the 1900 census he had five team drivers listed at his home and Cora Williams, a drivers, wife was the cook. In 1901 Brooks is listed as president of the Lawrence Ice Co. and his brother Lewis is the treasurer. Brooks would later retire and sold his business to the Peoples Ice Co. The Holts owned for 62 years. Brooks died in 1925 and his wife Mary d. 1930 both Interred at Spring Grove Cemetery.
Rose E. Bullock had purchased the property from the Holts on May 1, 1924 which included 15 acres, and ½ acre on Main Street. Rose owned for 25 years then sold to Arthur B. Glines, wife Barbara on Apr. 12, 1949. Glines held five years, then selling to Erwin H. & Florence H. Neal on Oct. 6, 1954. Erwin b. 1914 was an office manager and Florence b. 1914 was a school teacher.
After Erwin's death his widow Florence H. Neal sold to George C. Long on Oct. 1, 1984.
Bibliography/References:
326 So. Main Street – Brooks F. & Mary Holt House
Ownership
Henry Holt estate
Henry Holt Heirs, Ruth, Anna, Eliza, Mary K., & Henry Holt – 1822
Herman Holt – Apr. 27, 1822 – b. 234 leaf 279 - $5000 homestead/farm
Thomas Manning Jr. – May 31, 1824 – b. 235 leaf 212 - $220.50 – 14a 113 rods
John H. Manning, wife Lois Ann –
George Foster, (Rebecca H.) – May 20, 1859 – b. 587 leaf 236 - $367.66
John A. Trull – June 1, 1859 – b. 589 leaf 48 - $380
Charles C. Frost, wife Sarah P. – Dec. 29, 1860 – b. 616 leaf 238 - $900
Charles C. Frost, wife Sarah P. – Feb. 27, 1860 – b. 620 leaf 95 insolvent
Chauncy P. Judd, assignee, Sept. 7, 1861 – b. 634 leaf 156
Brooks F. Holt – Jan. 13, 1862 – b. 634 leaf 156 - $475 w/buildings
Marquis M. Converse, wife Alice – May 1, 1924 – b. 499 p. 360
Rose E. Bullock – May 1, 1924 – b. 499 p. 361 – 15 acres, ½ acre
Arthur B. Glines, wife Barbara – Apr. 12, 1949 – b. 722 p. 102
Erwin H. & Florence H. Neal – Oct. 6, 1954 – b. 800 p. 205
Erwin H. Neal estate, widow Florence H. Neal
George C. Long – Oct. 1, 1984 – b. 1874 p. 314
Leo V. McNamara & Janet E. Gifford – Aug. 28, 1985 – b. 2031 p. 218
William Y. & Cynthia I Akerman – Dec. 8, 1989 – b. 3039 p. 18
So. Main Realty Trust, Wm. & Cynthia Akerman – Dec. 15, 1997 – b. 4919 p. 106
Michael Sabourin – May 18, 2000 – b. 5772 p. 200
Michael & Jennifer Moskowitz – Apr. 28, 2006 – b. 10154 p.7
Inventory Data:
| | |
| --- | --- |
| Street | South Main St |
| Place | Scotland District |
| Historic District | Not Applicable |
| Historic Name | Brooks F. & Mary Holt House |
| Present Use | residence |
| Original Use | residence |
| Construction Date | 1860 - 1861 |
| Source | ERDS, NERDL, style, |
| Architectural Style | Greek Revival |
| Architect/Builder | Charles C. Frost/building |
| Foundation | stone & granite |
| Wall/Trim | Clapboard/wood |
| Roof | asphalt/gable |
| Outbuildings / Secondary Structures | garage |
| Major Alterations | rear addition and attached garage |
| Condition | excellent |
| Acreage | 1.620 acres |
| Setting | residential |
| Map and parcel | 60-6 |
| Recorded by | Stack/Mofford, James S. Batchelder |
| Organization | Andover Preservation Commission |
| Date entered | 1975-77, 4/29/2018 |
Map: