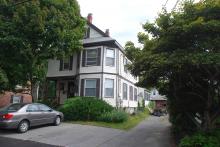 Historical Narrative:
Florence Street was constructed in 1885. The south end portion (Park St.) of two acres and 28,045 sq. ft. was owned by Hannah W. Foster, wife of Joseph W. Foster. Hannah sold the parcel to William Wood, a carpenter for $1900 on March 13, 1883. Wood built his home at 66 Park St. and house lots extended on both sides of Florence St. up to #21 and #24. The north end portion (Elm St.) on the east side was the former Moses Abbot Jr. homestead at #49 Elm St. Owned by his son George T. Abbott, also a House-wright, who was partners with William S. Jenkins in the firm Abbott & Jenkins. The Abbot parcel extended to #20 Florence. St. The west side of Florence St. from Elm St. to #17 was owned by the Henry Burtt estate formerly at #35-#37 Elm St.
Oct. 2, 1885 Andover Advertiser - pg. 2 col. 9, "The new way between Park and Elm has been completed by Nathan F. Abbott, the contractor, and accepted by the Selectman. Several names have been suggested……"
New house lots were created and sold to a variety of residents. William Wood deeded his remaining property to his wife Margaret Wood on Sept. 13, 1895.. Margaret would later deed her holdings to their daughter Marion L. Wood on July 3, 1917.
Marion sold this two family house to William H. Sparks on Oct. 15, 1919. The Andover Valuation Schedule in 1920 list Spraks at #32 Florence St. House $2300. and 6037 sq. ft. land $800. With the death of William Sparks his wife Ina inherited the property on Nov. 15, 1929. Ina then sold to Frank A. & Annie G. Dentremont on Nov. 19, 1929.
Frank A. Dentremont died on March 29, 1940 and his estate went to wife Annie G. Dentremont.
Annie held ownership for five more years then selling to Leo F. & Florence V. Naughton on Feb. 10, 1945. Leo is listed as a colorist at the Pacific Mills in Lawrence.
Bibliography/References:
Essex County Registry Deeds, Salem, MA
Essex Northern Registry Deeds, Lawrence, MA
Andover map 1906
1920 Andover Valuation Schedule
Owners;
Hannah Foster, wife of Joseph W.
William Wood - Mar. 13, 1883 - b. 71 p. 252
Mary M. Poor -Sept. 14, 1895 - b. 142 p. 524 deed transfer
Margaret Wood - Sept. 13, 1895 - b. 142 p. 525
Marion L. Wood - July 3, 1917 - b. 378 p. 30
William H. Sparks - Oct. 15, 1919 - b. 409 p. 514
William H. Sparks estate, Ina B. Sparks heir - Nov. 15, 1929
Frank A. & Annie G. Dentremont - Nov. 19, 1929 - b. 549 p. 234
Frank A. Dentremont estate, heir Annie G. Dentremont - Mar. 29, 1940
Leo F. & Florence V. Naughton - Feb. 10, 1945 - b. 671 p. 41
Joseph F. & Margarite A. Barton - Oct. 3, 1949 - b. 728 p. 144
Richard H. & Bonnie J. Guerin - Dec. 2, 1974 - b. 1252 p. 511
Thomas Murphy - Sept. 15, 1994 - b. 4126 p. 60
Moushel LLC - June 30, 2000 - b. 5794 p. 127
Inventory Data:
| | |
| --- | --- |
| Street | Florence St |
| Place | Andover Center District |
| Historic District | Andover Historic Building Survey |
| Historic Name | William H. Sparks House |
| Present Use | residence - two family |
| Original Use | residence - two family mill tenament |
| Construction Date | 1890 - 1895 |
| Source | ECRDS, ENRDL, style-njs |
| Architect/Builder | William Wood/builder |
| Foundation | stone/granite |
| Wall/Trim | clapboards/wood |
| Roof | asphalt - gable |
| Outbuildings / Secondary Structures | garage and shed |
| Condition | excellent |
| Acreage | 0.140 acre |
| Setting | residential/business |
| Map and parcel | 39-84 |
| Recorded by | James S. Batchelder |
| Organization | Andover Preservation Commission |
| Date entered | April 11, 2017 |
Map: