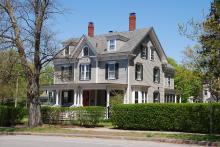 Architectural Description:
NRDIS NRMRA, bracketed window heads, hip roof
Historical Narrative:
Original owner Horace Wilson.
Themes - Architectural, Community Development and Education.
Built by Horace Wilson, carpenter, who lived at #33 School Street. His carpenter shop and barn were at this site. Charles L. Carter, Mrs. Mary T. Wildes and Gay families lived here 1890's and early 1900's. Florence Gay was murdered (Poisoned) by her nurse, Mrs. Lundgren who lived on Bartlet Street (or at 18-20 Elm St. ). Alice Jenkins and Mrs. Philip Ripley, testified against the nurse at the trial.
Abbot Academy purchased the property on Feb. 25, 1916, and used for rental property by Abbot Academy. The home also housed faculty. Occupied by Steven and Stephanie Perris. Stephanie was a teacher at Abbot and Phillips Academy until June 1977.
With the merger of Abbot Academy and Phillips Academy in June 1973 all the Abbot Academy holdings were transferred to the Trustees of Phillips Academy. The Academy owned the property until Sept. 2000 when it sold to Vincent J. & Carol Monaco.
Bibliography/References:
Essex County Registry Deeds, Salem MA
Essex Northern Registry Deeds, Lawrence, MA
Andover Historical Society files. (data from Alice C. Jenkins)
Andover Townsman, July 27, 1888 -
Owners:
Samuel Gray, wife Martha L. - 1855 - land
Horace Wilson, wife Sarah - Apr. 23, 1855 - b. 512 leaf 16 - parcel of land
Horace Wilson estate - Dec. 1, 1890 - b. 110 p. 403 - mtg. deed
Edward H. Moore - Dec. 1, 1890 = b. 110 p. 403 - mtg. deed
Charles L. Carter, wife Sarah - Sept. 8, 1891 - b. 115 p. 149 - mtg sale
Mary T. Wildes - Sept. 25, 1891 - b. 115 p. 154
Mary T. Wildes estate - Sarah N. Carter, Rosamond A. Gay, Edith A. Luce, Wm. Chauncy Walker
Florence W. Gay - Sept. 26, 1913 - b. 334 p. 97
Trustees of Abbot Academy - Feb. 25, 1916 - b. 361 p. 257
Trustees of Phillips Academy - June 30, 1973 - b. 1222 p. 85
School Street Realty Trust, Vincent J. & Carol Moraco Tr. - Sept. 8, 2000 - b. 5859 p. 69
School Street Realty Trust, Vincent J. & Carol Moraco Tr. - Sept. 8, 2000 - b. 5914 p. 342
Erik C. & Lauren H. Smith - Apr. 20, 2011 - b. 12465 p. 264
Inventory Data:
| | |
| --- | --- |
| Street | School St |
| Place | Andover Center |
| Historic District | Academy Hill NRH District |
| Historic Name | Wilson - Carter House - Phillips Academy |
| Present Use | residence |
| Original Use | residence, carpenter shop |
| Construction Date | 1888 |
| Source | ECRDS, ENRDL, style-njs |
| Architectural Style | Italianate |
| Architect/Builder | builder - Horace Wilson |
| Foundation | stone/granite |
| Wall/Trim | clapboards/wood |
| Roof | asphalt - gable |
| Major Alterations | barn and carpenter shop removed, restoration 2012 |
| Condition | excellent |
| Acreage | 0.375 acre, 16,320 sq. ft. , School Street frontage - 110', Locke - 187'. |
| Setting | residential/educational |
| Map and parcel | 40-5 |
| MHC Number | ANV.522 |
| Recorded by | Stack/Mofford, James S. Batchelder |
| Organization | Andover Preservation Commission |
| Date entered | 1975-77, 12/26/2015 |
Map: