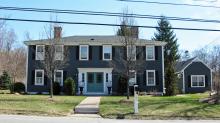 Architectural Description:
NRDIS NRMRA
Federal style double house with six bay, two chimneys, hip roof. The entry is defined by pilasters framing the doorway and separating the two dwellings. Originally, the building had 19th century rear ells on each dwelling with 20th century additions. These ells, consisting of four apartments, were razed due to condition before the structure was moved to its new site in 2004 by Michael Ristuccia. A free standing garage at 221-223 Main Street was also razed. The single car garage at the current site, built circa 1920, is original to this location but was moved 90 degrees and forward from original position.
Preservation restriction on the exterior facade filed with the registry of deeds.
The design for the new 5 town house structure on the 221-223 Main Street site, by architect Robert Bramhall, mirrors the original double house.
The orientation of the building at 221-223 Main Street was east/west. At 352 South Main Street, the orientation of the building is west/east.
Historical Narrative:
This Federal style double house originally abutted the Phillips Academy campus and the Academy Hill National Historic Register District. Throughout the 20th century, it was used to house domestic help, presumably for the Andover Theological Seminary and/or Phillips Academy, according to town directories. The 1920 Sanborn Map shows the structure included within the boundaries of Phillips Academy. During the 19th century, the houses are owner occupied.
Owners:
Michael Ristuccia, 2004
Phillips Common 11/17/2004
Dodd Realty Trust 6/6/2002
Rosalie V. Dodd, 5/31/2001
Bruce S. and Rosalie Dodd 4/18/1969
Ruth C. Hoihan, August 1967
Arthur F. Jackson, 9/1960
Helen Jackson, June, 1947
Mary Yule, July, 1944
Ann Hollows, August 10, 1944 (half house)
George Pillsbury (half house)
Mrs. S.F. Beard, 1906
Miss S.A. Wallace, 1884 estate of S.F. Beard
Spencer F. Beard 1860-70 (half house)
Albert Abbott (half house) 1850
Bibliography/References:
Town tax records 1850-1947
Andover town directories
1930 Sanborn map
1906 Andover Village Map
1852 and 1884 Maps of Andover
Andover Assessor's Office
Essex Country Registry of Deeds/Lawrence
Andover Historical Society vertical files - see records for 221-223 Main Street
Inventory Data:
| | |
| --- | --- |
| Street | South Main St |
| Place | Scotland District |
| Historic District | Andover Historic Building Survey |
| Historic Name | Abbott-Beard House |
| Present Use | residence |
| Original Use | residence |
| Construction Date | circa 1800 |
| Architectural Style | Federal |
| Foundation | stone |
| Wall/Trim | cedar clapboard |
| Roof | asphalt shingle |
| Condition | good |
| Moved? | Yes |
| Move Details | 2004 from 221-223 Main Street |
| Demolished? | Yes |
| Acreage | less than one acre |
| Setting | residential |
| Map and parcel | 61-4 |
| Recorded by | Karen Herman |
| Organization | Andover Preservation Commission |
| Date entered | 11/16/2004 |
Map: