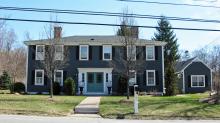 Architectural Description:
NRDIS NRMRA
Federal style double house with six bay, two chimneys, hip roof. The entry is defined by pilasters framing the doorway and separating the two dwellings. Originally, the building had 19th century rear ells on each dwelling with 20th century additions. These ells, consisting of four apartments, were razed due to condition before the structure was moved to its new site in 2004 by Michael Ristuccia. A free standing garage at 221-223 Main Street was also razed. The single car garage at the current site, built circa 1920, is original to this location but was moved 90 degrees and forward from original position.
Preservation restriction on the exterior facade filed with the registry of deeds.
The design for the new 5 town house structure on the 221-223 Main Street site, by architect Robert Bramhall, mirrors the original double house.
The orientation of the building at 221-223 Main Street was east/west. The right side was north and the left side south. At 352 South Main Street, the orientation of the building is reversed to west/east.
Historical Narrative:
This Federal style double house originally abutted the Phillips Academy campus and the Academy Hill National Historic Register District. Throughout the 20th century, it was used to house domestic help, presumably for the Andover Theological Seminary and/or Phillips Academy, according to town directories. The 1920 Sanborn Map shows the structure included within the boundaries of Phillips Academy. During the 19th century, the houses are owner occupied.
352 South Main formerly at 221-223 Main Street
223 Main Street - South side of house
The one acre lot at 221 Main Street was once owned by George Wardwell. It was purchased by Degrass Shipman and John Shipman on Feb. 3, 1824 for $300. The Shipmans were merchants. They took a $1000 mortgage from the Trustees of Phillips Academy and built the double house.
Degrass was married to Lydia and had at least six children; Henry b. 1816 – d. 1826, Frederick Wm. b. 1821 – d. 1830, Jennett A. b. 1823, John b. 1825, Lydia b. 1827, Mary b. 1830. They appear to have lived on the south side of the house which was larger than the north unit.
On Oct. 6, 1829 Shipman sold the north side, #221, to Kelita S. Ellis, wife Abby C. for $1050. Ellis was a bookbinder and most likely worked for Flagg & Gould which was located at that time across the road from the house. Kelita's marriage intentions were recorded on Dec. 15, 1827 to Abby C. Williams of Providence, RI. Two sons were born in Andover; Augustus Hilton bpt. Nov. 11, 1832 – d. June 24, 1832 a 13m. and Frederick Hilton bpt. Mar. 15, 1835. Ellis purchased the south half of the house on March 29, 1832 for $1800. Ellis sold the south side to Albert Abbott for $2000 and the north side to Nathum Wetherbee, a tailor, for $1200, both on April 9, 1836.
Albert Abbott owned #223 for 29 years. Albert was b. Feb. 27, 1810 in Greenfield, NH, son of William & Hannah (Bailey) Abbott. Albert was a Trader, had a grocery store near the Academy. Albert married Abby H. Cutler of Asburnham int. Dec. 12, 1835. They had six children Albert Cutler bp. Dec. 18, 1836, Sarah Lincoln b. May 13, 1840, Abby Elizabeth b. June 3, 1843, Lewis Lowe b. Feb. 21, 1845, Arthur Hale b. May 19, 1849 and Lucia W. b. 1852. The 1850 Andover Valuation list Albert Abbott ½ dwelling house & barn with ¾ acre $1700, Person estate, farm stock $100, Stock in Trade $2000, as trustee and guardian R.R. shares $300. The 1850 census lists Albert age 40, Abby 35, their children and eight boarders of which four were students. The 1860 property valuation lists; Dwelling house, barn and adjoining building on 3 acres $2775, ½ Dwelling house, barn ¾ acre $1800. Farm stock $202, Stock in Trade $1600. 1 Railroad share $101, as guardian 3 RR shares $303.
Albert sold his half house to Edward Gage of Paris, France on Jan. 20, 1865 for $2250. Gage was a 1845 graduate of Phillips Academy English Department and is listed as from Woburn. Edwad owned for seven years and was in Woburn, MA when he sold to Sophronia A. Wallace on Nov. 1, 1872. Sophronia was born in 1821 in New Hampshire. In 1870 she was boarding with Samuel Taylor, Principal of Phillips Academy. This property was an income investment as in 1885 she boards with Mrs. S. F. Beard's who owned the north side of the home. Sophronia died in Jan. 1891 in Portsmouth, NH and her nephew George B. Wallace was appointed administrator of her estate.
The house was purchased by Mary Underwood on Apr. 9, 1892. Mary held until her death in 1902.
George P. Pillsbury purchased #223 at the estate auction on Aug. 23, 1902 for $2360. This was investment property for Pillsbury who had a farm on Dascomb Rd.
Ann Hollows purchased the unit on Aug. 29, 1910. Annie (Holden) Hollows was born in 1853 in Heywood, Lancashire, England, dau. of James & Many Ann (Nutthall) Holden. She came to America in 1889, lived in Lawrence in 1910 with her sister Mary. Both were salesladies for a florist. Mary b. 1866 Birtle, Lancaster, England, married widower David D. Yule on July 1, 1914 in Lawrence. Mary is listed as a Janitress. David was a Steamfitter. They moved into Ann's townhouse where they lived out their years. Ann Hollows never lived in the house. Mary worked at Phillips Academy as a janitor. David b. March 31, 1858 in Dundee, Scotland, son of David & Elizabeth (Smith) Yule. David first married in 1889 in Andover to Jane Robertson and had one son David D. b. Feb. 1890. Jane died on April 2, 1909. David retired in the 1930's and died Oct. 11, 1937.
The 1937 Andover Directory lists Arthur R. & Helen Jackson at #223 with Mary Yule. Arthur is a carpenter. A son Charles M., a clerk in Boston, is listed. The Jacksons lived at 9 Argyle St. prior to Main St. Another son Arthur Forbes Jackson is a teacher in NH.
Ann Hollows died about 1943 and her sister Mary inherits the house. On July 20, 1944 Mary H. Yule and Helen R. Jackson hold the deed on the unit. Mary Yule died on Feb. 10, 1945 and the property then goes to Helen Jackson. Husband Arthur is now the custodian at the Addison Gallery at Phillips Academy. In 1947 Helen adds her son Arthur Forbes Jackson to the deed. Arthur F. is now a teacher at Phillips Academy. Helen died on July 17, 1945. Arthur F. inherits the home. On June 19, 1956 Arthur purchased the south side of the house consolidating both units in one deed since it was divided in 1836 by Ellis.
The property was purchased by William & Ruth Holihan as income property on Dept. 22, 1960. Holihan then sold to Bruce S. & Rosalie S. Dodd on Aug. 3, 1967. Bruce & Lee Dodd were both well-known and respected residents in our community. Bruce S. Dodd was born on Jan. 2, 1921 in Montclair, NJ, son of William S. & Adele (Bunce) Dodd. Bruce graduated from Montclair High School in 1939, worked for the Bendix Aviation Corp. prior to WWII. Bruce served from 1942 – 1946. He married in 1946 to Rolalie Van Everen b. Nov. 12, 1922 in Boston, dau. of Horace B. & Louise (Brooks) Van Everen. They had four children Douglas V.E., Alison B., Carol and Patricia H.
Bruce graduated from MIT in 1947 and was a Production manager in Melrose for Commercial Filters Co. In 1954 they purchased a home in Andover at 19 Argyle St. Bruce contracted Polio in 1955 leaving him paralyzed from the neck down. He would spend the next 21 years in an Iron lung and rocking beds but continued to help the community with his vast knowledge. He inspired all who met him His Rosalie, known as "Lee", began work with the Bernardin Real Estate Agency and later open her own successful agency in town. They built a new addition on the rear of 221 Main St. to accommodate Bruce daily needs. Bruce died on June 22, 1976 at the Veterans Hospital in Boston.
Lee Dodd remained the owner of the property until selling on June 6, 2002 to Phillips Common, LLC a development company.
221 Main Street North Side of house
Both Shipman and Ellis owned both sides of the house but when Kelita Ellis moved from Andover he sold off the two tenements separately. The north side was the smaller of the units. It was sold to Nathum Withebee (Wetherbee) on Apr. 9, 1836 for $1200. Nathum was a tailor and owned for four years then sold to William Watters, a Bookbinder on Oct. 1, 1840. Watters held for three years, selling to John C. Allen on April 14, 1843. Allen is listed as a Printer and also a bookseller. As Flagg & Gould printing house was across the street and the Andover Theological Seminary was publishing missionary books in several languages so Allen most likely worked for them. Allen sold to Joseph B. Johnson of Roxbury, MA, wife Rebecca, on Sept. 29, 1849. Johnson is listed as a gentleman in the deed and later a Minister. Johnson took a mortgage with David Hidden and the Trustees of Phillips Academy. That mortgage was assigned to Rev. Spencer F. Beard of Falmouth, MA on Sept. 2, 1853.
Spencer Field Beard was born on July 4, 1799 in Brookfield, MA son of Dr. Daniel & Elizabeth (Field) Beard. Spencer graduated from Amherst College in 1824 and the Andover Theological Seminary (ATS) in 1827. He married in 1831 to Lucy Allen Leonard b. July 30, 1805, dau. of Jonas Leonard of Paxton, MA. They had four children; Edwind Spencer b. May 15, 1832, Susan Huntington b. Feb. 14, 1834, William Henry b. Apr. 1, 1836 and George Miller b. May 8,1839. Lucy died on May 23, 1842 in Montville, CT where Rev. Spencer was the Pastor. He re-married in May 1842 to Mary Ann Fellows b. Mar. 18, 1808 in Montville, CT. dau. of Dr. Ephraim & Dorothea (Chester) Fellows. They had no issue. Spencer was a Professor at ATS and agent of the American Board of Commissioners for Foreign Missions in Massachusetts. The 1870 census lists the Beards boarding seven boys attending Phillips and two girls at Abbot Academy.
It appears that they are in Academy owned property and this home was income property.
Spencer died on Jan. 8, 1876 and is interred in the Academy Cemetery. The 1880 census lists Mary A. boarding with the Rev. Joseph Blake and family. Mary remained in Andover and died on Oct. 4, 1891. The property remained with the Beard family for 91 years until the heirs sold to Robert C. & Barbara D. Wilkie on June 2, 1944.
Robert C. & Barbara Wilkie were renting #221 in 1937. Robert was born on Nov. 15, 1909 in Saugus, MA son of Robert James & Lena Maud (Campbell) Wilkie. Robert graduated from Newton High School in 1929 and Lowell Textile School in 1933. He worked as Textile Engineer for the Pacific Mills in Lawrence. He married Barbara Marie Dalton b. Nov. 23, 1911 in Brookline, MA dau. of Harold L & Marie P. Applebee) Dalton. They resided here nearly 20 years and had three children, Robert, Duncan and Sarah. Robert was Director of Textile Research when he sold to Arthur Forbes Jackson on June 19, 1956. Arthur was a teacher at Phillips Academy. As stated above in the #223 history, Jackson now owned both sides of the home and the deeds were combined into a single property sale.
352 South Main Street
On this site was a small, plain, one story bungalow house with a hip roof painted light yellow. It was the home of Lucy Marie (Lewis) Buxton, widow of Elijah Bolles Buxton. Lucy was born Dec. 31, 1840 in Nashua, NH. She married Elijah Buxton of North Reading in 1858 and had six children. Elijah died on Dec. 7, 1893. Lucy purchased the lot on April 17, 1912. The home was built before 1916 as she and her son Lewis B. Buxton b. May 1, 1859 are listed here in the Andover Directory. Lucy was assessed in 1920 for $1000 on the house and 1 acre of land $300. Lucy died on July 17, 1927 and is interred in Park Street Cemetery in North Reading. Her estate went to her children.
Lewis B. and his brother Ira Buxton b. 1870 live in the home until Lewis's death in 1940. The property was then sold to Robert W. Shorten on April 23, 1940. Shorten owned the Park Street Garage, married Adelaide "Addie" Webb, well known counter clerk at Dalton's Pharmacy. Addie sold to Mike Ristuccia on July 15, 2004. Mike razed the house and moved the garage to accommodate the historic house to be moved in the Fall of 2004. The completed home was sold to Cheryl A. Willis on Jan 23, 2006 who remains the owner of record in 2020.
Bibliography/References:
Essex County Registry Deeds, Salem, MA
Essex Northern Registry Deeds, Lawrence, MA
Town tax records 1850-1947
Andover directories
Andover Valuation Schedules 1850, 1960, 1970, 1920
1930 Sanborn map
1906 Andover Village Map
1852 and 1884 Maps of Andover
Andover Assessor's Office
Andover Historical Society - Andover Center for History & Culture, vertical files - see records for 221-223 Main Street
Ancestry.com - family genealogies, US Census records.
Preservation Restriction 2006
Owners; 221 Main Street North Side of house (right side)
George Wardwell
Degrass Shipman & John Shipman – Feb. 3, 1824 – b. 235 leaf 165 - $300 one acre
Phillips Academy Trustees – Mar. 24, 1824 – b. 235 leaf 166 - $1000 mortgage
Degrass Shipman, wife Lydia & John Shipman – Oct. 6, 1829 – b. 256 leaf 65 – north ½ house PA
Degrass Shipman, wife Lydia & John Shipman – Oct. 6, 1829 – b. 256 leaf 66 – north ½ house A.J. Gould
Kelita S. Ellis, wife Abby C. – Oct. 26, 1829 – b. 256 leaf 66 – North ½ house - $1050
Kelita S. Ellis, Mar. 29, 1832 – b. 265 leaf 23 – South ½ house - $1800 – 123 rods
Nathum Withebee (Wetherbee) – Apr. 9, 1836 – b. 292 leaf 125 - $1200
William Watters – Oct. 1, 1840 – b. 321 leaf 38 - $1400
John C. Allen, bookseller – Apr. 14, 1843 – b. 337 leaf 11 - $1300
Rev. Joseph B. Johnson, wife Rebecca A. – Sept. 29, 1849 – b. 418 leaf 4 $1500
Rev. Spencer F. Beard – Sept. 2, 1853 – b. 483 leaf 13 - $700
Rev. Spencer F. Beard estate, d. Jan. 8, 1876, Beard heirs – by Will and Probate
Mary A. Beard & Susan H. Corwith – April 18, 1899 – b. 168 pgs. 529-535
Lucy M. Corwith, Cornelia E. Corwith, Wm. S. Beard, Laura C. Beard, Edward C. Beard
Land Court – Aug. 1943 – Map plan of 221 Main St # 18906-A
Lucy M., Cornelia Corwith, Wm. S., Laura C., Edward C. Beard – May 1944 Ctf. #2880
Robert C. & Barbara D. Wilkie – June 2, 1944 – Ctf. #2899
Arthur F. Jackson – June 19, 1956 – Ctf. #4398 north side
William & Ruth C. Holihan – Sept. 22, 1960 – Ctf. #4998 – both sides
William Holian estate, Ruth C. Holihan heir
Bruce S. & Rosalie V.E. Dodd – Aug. 3, 1967 – Ctf. #6099
Rosalie S. Dodd – Apr. 17, 1969 - Ctf. #6343
Dodd Realty Trust, Rosalie V.E. Dodd Tr. – May 25, 2001 – Ctf. #13661
Phillips Common, LLC – June 5, 2002 – Ctf. #13930
Deed Run Developers – Nov. 13, 2004 – Ctf. #15089
Trustees of Phillips Academy – June 16, 2006 – #15453
223 Main Street - South side of house (left side)
Owners:
George Wardwell
Degrass Shipman & John Shipman – Feb. 3, 1824 – b. 235 leaf 165 - $300 one acre
Phillips Academy Trustees – Mar. 24, 1824 – b. 235 leaf 166 - $1000 mortgage
Degrass Shipman, wife Lydia & John Shipman – Oct. 6, 1829 – b. 256 leaf 65 north ½ PA mtg.
Degrass Shipman, wife Lydia & John Shipman – Oct. 6, 1829 – b. 256 leaf 66 north ½ A.J. Gould mtg.
Kelita S. Ellis, wife Abby C. – Oct. 26, 1829 – b. 256 leaf 66 – North ½ - $1050
Kelita S. Ellis, Mar. 29, 1832 – b. 265 leaf 23 – South ½ - $1800 – 123 rods
Albert Abbott – Apr. 9, 1836 – b. 291 leaf 126 - $2000 south side
Edward Gage – Jan. 20, 1865 – b. 679 leaf 100 - $2250
Sophronia A. Wallace – Nov. 1, 1872 – b. 22 p. 185
Sophronia A. Wallace estate, d. Jan. 1891 –heirs Apr. 13, 1891 – Probate
George B. Wallace – May 11, 1891 – b. 111 p. 561 & 562
Mary Underwood – Apr. 9, 1892 – b. 118 p. 59
George P. Pillsbury – Sept. 8, 1902 – b. 197 p. 103 – at auction $2360
Ann Hollows – Aug. 29, 1910 – b. 306 p. 24
Ann Hollows estate, heir Mary H. Yule - Aug. 10, 1944?
Mary H. Yule & Helen R. Jackson – July 20, 1944 – b. 666 p. 68
Mary H. Yule estate d. Feb. 10, 1945, heir Helen R. Jackson
Helen R. Jackson and son Arthur Forbes Jackson – June 21, 1947 – b. 699 p. 237
Helen R. Jackson estate, d. July 17, 1955, Arthur F. Jackson heir
Arthur F. Jackson – June 19, 1956 – Ctf. #4398 buys north side
William & Ruth C. Holihan – Sept 22, 1960 – b. 923 p. 411
William Holihan estate, Ruth C. Holihan heir
Bruce S. Dodd – Aug. 3, 1967 – b. 1090 p. 378
Rosalie S. Dodd – Apr. 17, 1969 – b. 1128 p. 250
Dodd Realty Trust, Rosalie V.E. Dodd Tr. – May 31, 2001 – b. 6176 p. 130
Phillips Common, LLC – June 6, 2002 – b. 6873 p. 223
Deed Run Developers – Nov. 17, 2004 – b. 9188 p. 288
Trustees of Phillips Academy – June 16, 2006 – b. 10236 p. 286
Owners; 352 South Main Street;
Owners of 352 Main St.
John B. Abbott estate - May 11, 1899 - probate
Mary C. Abbott, Stephen & Mary Eliz. Abbott heirs
Martha G. Pierce, wife of Ellsworth – Jan. 8, 1904 – b. 319 p. 420
Lucy M. Buxton – April 17, 1912 – b. 316 p. 77
Lucy M. Buxton estate, Heirs Walter E., George H. Buxton, Florence E. Merchant, Herbert L. Pratt
Ira Buxton Feb. 5, 1950 b. 630 p. 399
Robert W. Shorten – April 23, 1940 – b. 630 p. 128
Robert W. & Adelaide Webb Shorten – Apr. 4, 1953 – b. 774 p. 287
Michael Ristuccia – July 15, 2004 – b. 8931 p. 343
Cheryl A. Willis – Jan 23, 2006 – b. 9999 p. 293
Inventory Data:
| | |
| --- | --- |
| Street | South Main St |
| Place | Scotland District |
| Historic District | Andover Historic Building Survey |
| Historic Name | Abbott-Beard House / Shipman-Ellis House |
| Present Use | residence |
| Original Use | residence - 2 family double house |
| Construction Date | 1824 |
| Source | ERDS, NERDL, style, |
| Architectural Style | Federal |
| Foundation | stone/granite/brick |
| Wall/Trim | Clapboard/wood |
| Roof | asphalt/hip |
| Outbuildings / Secondary Structures | One car garage, built by Shorten, on lot when house moved here. |
| Major Alterations | 2004 - 2005 - House was completely restored and renovated on the new site. Conversion from a double, mirror image design into a single family home. The front door surround replicates the original double entrance. The double front doors are a nod to the original design. The center interior wall separating the two units was removed and the two stairways merged in one wide grand stairway to the second floor. |
| Condition | Excellent |
| Moved? | Yes |
| Move Details | 2004 from 221-223 Main Street |
| Demolished? | Yes |
| Acreage | less than one acre |
| Setting | residential |
| Map and parcel | 61-4 |
| Recorded by | Karen Herman, James S. Batchelder |
| Organization | Andover Preservation Commission |
| Date entered | 11/16/2004, update 9/9/2020 |
Map: