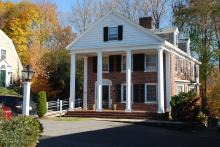 Architectural Description:
Greek Revival influence, Pediment facing street, columns and engaged pilasters create the Greek Temple look. The style is campatable with the Georgian Revival style of several of the buildings in Shawsheen Village
Historical Narrative:
This home was built as part of the Shawsheen Village development by William M. Wood, President of the American Woolen Co. Wood hired about eight different architects or firms to design homes and structures for the village. This building is unique to the Village as it is the only one of this style designed by Adden & Parker of Boston. The brick exterior is made from Kane-Gronic bricks made by the Goodrich Co. in Epping, NH, and used on all the business buildings and houses in "Brick Shawsheen" across the street.
The house was designed as a single family residence with one front center entrance. Today the building houses three separate units and is used as professional office space.
Homes were first sold or rented through the Homestead Association who had offices in the Post Office building on the corner of North Main and Poor Streets. After the death of William M. Wood in Feb. 1926 most of the residential and commercial buildings were then sold. Some were held by the Wood family in the "Arden Trust" and others by the American Woolen Company, which had been deeded the properties in December 1920. The AWCo Board of Directors authorized its President, Lionel J. Noah, to deliver all deeds, as deemed necessary to the Textile Realty Company for sale to private owners on Dec. 29, 1931.
The Textile Realty Co. then transferred ownership to the Andover Shawsheen Realty Company on June 30, 1932. T. Edwin Andrew, treasurer, was authorized to sell or rent the properties. With the Great Depression sales were sluggish and many homes were rented until the economy rebounded.
This property was however sold directly to Anna J. Harig, wife of Karl G. Harig on August 29, 1927. .
Bibliography/References:
Essex County Registry Deeds, Salem, MA
Essex Northern Registry Deeds, Lawrence, MA
Mills, Mansions, and Mergers, Edward G. Roddy 1982
Shawsheen Village Map 1922 -
Andover Historical Society, maps & files
Owners;
William Donald
Henry P. Binney
American Woolen Co. - Dec. 30, 1920 - b. 435 p. 215
Anna J. Harig - Aug. 29, 1927 - b. 534 p. 516
Karl G. Harig, wife Carolynn M - July 7, 1955 - b. 818 p. 337
William H. & Catherine D. Caverly - Apr. 10, 1962 - b. 955 p. 401
The Pillars,Inc. Wm. H. Caverly & John Webster - July 1, 1965 - b. 1037 p. 245
William H. Caverly & John Webster - Feb. 27, 1976 - b. 1277 p. 5
Donald I. & Barbara L. Richmond - Sept. 17, 1976 - b. 1291 p. 691
John H. Daher - Oct. 6, 1983 - b. 1731 p. 181
359 North Main St. Nominee Trust, Paula H. Daher, TR - Sept. 8, 1994 - b. 4123 p. 117
Inventory Data:
| | |
| --- | --- |
| Street | North Main St |
| Place | Shawsheen Village - Frye Village |
| Historic District | Shawsheen Village NRH District |
| Present Use | residences - 3 units |
| Original Use | residence |
| Construction Date | 1920 - 1922 |
| Source | ERDS, ENRDL, AHS file, njs, style |
| Architectural Style | Georgian Revival |
| Architect/Builder | Adden & Parker of Boston |
| Foundation | stone |
| Wall/Trim | brick/wood |
| Roof | gable - slate |
| Major Alterations | Interior conversion to three units |
| Condition | excellent |
| Acreage | 0.338 acre |
| Setting | residential/commerical |
| Map and parcel | 52-29 |
| Recorded by | Stack/Mofford, James Batchelder |
| Organization | Andover Preservation Commission |
| Date entered | 1975 - 1977, 3/10/2015 |
Map: