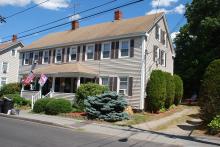 Historical Narrative:
The Ballardvale Machine Shop Corp., John Marland, President, purchased much of the property in the center of Ballardvale in 1847. The land was then sub-divided into house and store lots and the company began selling off parcels in 1848. John Marland and John Howe Jr. owned the parcel along Centre St. (now Center St.) and auctioned off 35 lots on July 28. 1847. The auctioneers were Loring, Abbott and Porter of Boston.
The Ballardvale Machine shop would begin selling off their holdings in 1848. Samuel Abbott of Boston and William Abbott of Andover followed suit with their property on Oak and Tewksbury Streets. The greater portion of the village center was developed at this period of time.
This lot # 25 on the Marland & Howe 1847 map was sold to the Ballard Vale Machine Shop on March 1, 1848 for $248.03. Marland was forced into bankruptcy in 1848 and the creditors of the Mallard Vale Machine Shop to possession of the company holdings. The 1848 Darracott map of the company holdings lists this lot as Block #3 and shows the tenement house on the site. The 1850 Andover Valuation schedule lists the 3 Block Buildings at $6700. The company's assessed holdings valued at a total $47,050.
This building was later sold to Alfred Kittridge, of Haverhill, MA president of the Abbot Hat Company. Kittridege then sold the property to the company on Dec. 5, 1863. This was the second parcel of three lots in the second deed to the hat company. The deed also included the factory on Andover St at the corner of Mechanics St. (now Clifton Ct.) and the "Schooner Block" on Oak St. a six tenement building that once stood across the street at 37 Center - 3 Oak St. The Abbot Hat Company was sold to co-partners, Thomas N. Hart, Frederick B. Taylor and Orin B. North of Boston, the firm Hart, Taylor and Co. on June 8, 1865. The firm then sold the holdings to the Whipple File & Steel Co. on Sept. 1, 1865.
The Whipple File & Steel Co. also fell into bankruptcy and the holdings were assigned to Edward Page, John W. Beals, Thomas J. Horner all of Boston and Thornton K. Lothrop of Milton in 1870. This tenement house was sold to Albion Yeaw, wife Sophia of Lawrence, MA on April 27, 1870. The apartment building was then used as income property. With the death of Albion, Sophia inherited the property. Sophia sold to Joseph D. Russell and Joseph F. Wilson on June 25, 1903. Wilson released his share of ownership to Russell in 1904.
Joseph D. Russell and wife Ella M. Russell. The property was inherited by, Roy A. Russell, Grace Hall, John T. Russell, J. Elwin Russell, all guardians of Clifton W. Russell.
Bibliography/References:
Essex County Registry Deeds, Salem, MA
Essex Northern Registry Deeds, Lawrence, MA
Historical Sketches of Andover, Sarah Loring Bailey 1880
Andover, A Century of Change, Eleanor Richardson 1995
Andover Advertiser, Andover Townsman
Andover Historical Society files
Marland & Howe map Ballardvale Center - house and store lots July 1847
Ballardvale Machine Shop Corporation May 1848 - Franklin Darracott Engineer
Samuel Abbott & William Abbott house lots amp 1848
Andover maps; 1852, 1856, 1872, 1884, 1888, 1906
Andover Valuation Schedules, 1850, 1860, 1870, 1900, 1910, 1920
National Register of Historic Places
Map plan #5018 - May 29, 1964 - Clifton R. Livingston
Owners;
John Marland & John Howe Jr. - June 1847
John Marland & John Howe Jr. July 28, 1847 - auction of lots
Ballard Vale Machine Shop - Mar. 1, 1848 - b. 395 leaf 123 - $245.03
Alfred Kittredge -
Abbot Hat Company, Alfred Kittredge, Pres.- Dec. 5, 1863 - b. 659 leaf 284
Abbot Hat Co., Pres. Thomas N. Hart, Hart, Taylor & Co. - June 8, 1865 - b. 684 leaf 274
Whipple File & Steel Manufacturing Co. - Sept. 1, 1865 - b. 689 leaf 155
Whipple File & Steel Manufacturing Co. bankruptcy - 1870
Edward Page, John W. Beals, Thomas J. Horner, Thornton K. Lothrop - 1870 - assignee's
Albion Yeaw, wife Sophia - Apr. 27, 1870 - b. 4 p. 323 & 324
Albion Yeaw, estate, heir Sophia Yeaw -
Joseph D. Russell & Joseph F> Wilson - June 25, 1903 - b. 204 p. 228
Joseph D. Russell, wife Ella M. - Jan. 29, 1904 - b. 209 p. 298
Roy A. Russell, Indenture and guarding - Clinton R. & Eliz. H. Livingston - Jan. 25, 1938 - b. 613 p. 144
Clifton W. Russell guardians, Roy A., John T., L. Elwyn Russell & Grace (Russell) Hall -
Roy A. & Elizabeth C. Russell -
Roy A. Russell estate, heir Elizabeth C. Russell - Dec. 10, 1970 - probate
Elizabeth C. Russell estate, heir Janet (Russell) Provasoli - June 25, 1993 - Probate
Robert D. & Phyllis V. Henderson - Nov. 23, 1993 - b. 3905 p. 295 - Probate #305,603
Charles K. & Janet J. Goff - May 4, 1984 - b. 1805 p. 54
Janet J. Goff estate, Charles K. Goff - Dec. 10, 2004 - probate
Goff One Family Trust, Charles K. Goff, Elaine M. Robinson Trs. - Apr. 28, 2005 - b. 9481 p. 136
Inventory Data:
| | |
| --- | --- |
| Street | Center St |
| Place | Ballardvale |
| Historic District | Ballardvale Local Historic District |
| Historic District | Ballardvale National Register District |
| Historic Name | Block #3 - Ballard Vale Machine Shop Co. |
| Present Use | residence - three family |
| Original Use | residence three family - Ballard Vale Machine Shop |
| Construction Date | 1848 |
| Source | ECRDS, ENRDL, style-njs |
| Architectural Style | Other |
| Foundation | stone/granite/brick |
| Wall/Trim | clapboard/wood/vinyl siding |
| Roof | asphalt - gable |
| Major Alterations | vinyl siding, replacement windows |
| Condition | excellent |
| Acreage | 0.38998 acre |
| Setting | residential |
| Map and parcel | 138-41 |
| Recorded by | Ruth A. Sharpe, Ballardvale Historical Distric t |
| Organization | Andover Historical Society, Andover Preservation Commission |
| Date entered | 30 Apr 1998, 8/31/2016 |
Map: