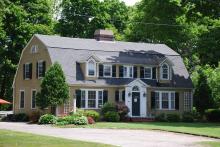 Architectural Description:
Colonial Revival - Dutch Colonial style
Historical Narrative:
This home was built as part of the Shawsheen Village development by William M. Wood, President of the American Woolen Co. Wood hired about eight different architects or firms to design homes and structures for the village. This home was designed by James E. Allen of Lawrence, MA and is one of three. The house was designed as a two family residence with one front center entrance and one side entrance to give the look as if it was a single family residence. Attention to details was a prime concern and every wooden house was painted white with green shutters, had window boxes and trellises and screened in porches. When sold a deed restriction dictated the color white, no clothes yards and style and location of a garage if one was later built.
AT - Aug. 1,1919 Frye Village Transformed...... "Then came the moving of that old landmark, the Donald homestead, which had been for many years the summer home of Dr. George M. Garland's family of Boston. This is now back on a line with the Smith house and faces the street. It also faces its beautiful old-fashioned garden that has been one of the delights of Andover flower lovers for a long time. Two more houses, one of brick and the other a Colonial frame house, are being builded between that and the inkshop."
Homes were sold or rented through the Homestead Association who had offices in the Post Office building on the corner of North Main and Poor Streets. After the death of William M. Wood in Feb. 1926 most of the residential and commercial buildings were then sold. Some were held by the Wood family in the "Arden Trust" and the American Woolen Company, which had been deeded the property in December 1920. The AWCo Board of Directors authorized its President Lionel J. Noah to deliver all deeds, as deemed necessary to the Textile Realty for sale to private owners on Dec. 29, 1931.
The Textile Realty then transferred ownership to the Andover Shawsheen Realty Company on June 30, 1932. T. Edwin Andrew, treasurer, was authorized to sell or rent the properties. With the Great Depression sales were sluggish and many homes were rented until the economy rebounded.
This house was sold to Andrew M. & Margaret Sullivan on Jan. 5, 1946. The Sullivans owned for nine years then sold to Dean R. & Julia A. Swan on Oct. 18, 1955.
Bibliography/References:
Essex County Registry Deeds, Salem, MA
Essex Northern Registry Deeds, Lawrence, MA
Mills, Mansions, and Mergers, Edward G. Roddy 1982
Owners;
William Donald
Henry P. Binney
American Woolen Co. - Dec. 30, 1920 - b. 435 p. 215
Textile Realty Company - Dec. 30, 1931 - b. 563 p. 351
Andover Shawsheen Realty Company - June 30, 1932 - b. 565 p. 87 (p. 95) 30th parcel
Andrew M. & Margaret Sullivan - Jan. 5, 1946 - b. 680 p. 211
Dean R. & Julia A. Swan - Oct. 18, 1955 - b. 822 p. 127
The Pillars, Inc, John G. Webster, Wm. H. Caverly - Dec. 31, 1965 - b. 105 p. 408
Conrad & Joyce Rossitto - July 16, 1973 - b. 1223 p. 123
Conrad & Joyce I. Rossitto - Feb. 19, 1993 - b. 3666 p. 41
Leonard B. & Cathleen M. Getty - Nov. 15, 1996 - b. 4633 p. 187
Cathleen M. Getty & Carol Ann Getty - Mar. 27, 1997 - b. 4713 p. 108
Inventory Data:
| | |
| --- | --- |
| Street | North Main St |
| Place | Shawsheen Village - Frye Village |
| Historic District | Shawsheen Village NRH District |
| Present Use | residences - 3 family |
| Original Use | residence - 2 family |
| Construction Date | Summer of 1919 |
| Source | ERDS, ENRDL, AHS file, njs, style |
| Architectural Style | Colonial Revival |
| Architect/Builder | James E. Allen - Architect, Lawrence, MA |
| Foundation | stone |
| Wall/Trim | clapboard/wood |
| Roof | asphalt - gambrel |
| Major Alterations | Original slate roof replace with asphalt shingles |
| Condition | excellent |
| Acreage | 0.443 acre |
| Setting | residential/professional offices |
| Map and parcel | 52-28 |
| Recorded by | Stack/Mofford, James Batchelder |
| Organization | Andover Preservation Commission |
| Date entered | 1975 - 1977, 6/10/2015 |
Map: