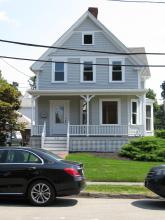 Historical Narrative:
Florence Street was constructed in 1885. The south end portion (Park St.) of two acres and 28,045 sq. ft. was owned by Hannah W. Foster, wife of Joseph W. Foster. Hannah sold the parcel to William Wood, a carpenter for $1900 on March 13, 1883. Wood built his home at 66 Park St. and house lots extended on both sides of Florence St. up to #21 and #24. The north end portion (Elm St.) on the east side was the former Moses Abbot Jr. homestead at #49 Elm St. Owned by his son George T. Abbott, also a House-wright, who was partners with William S. Jenkins in the firm Abbott & Jenkins. The Abbot parcel extended to #20 Florence. St. The west side of Florence St. from Elm St. to #17 was owned by the Henry Burtt estate formerly at #35-#37 Elm St.
Oct. 2, 1885 Andover Advertiser - pg. 2 col. 9, "The new way between Park and Elm has been completed by Nathan F. Abbott, the contractor, and accepted by the Selectman. Several names have been suggested……"
New house lots were created and sold to a variety of residents. William Wood deeded his remaining property to his wife Margaret Wood on Sept. 13, 1895.. Margaret would later deed her holdings to their daughter Marion L. Wood on July 3, 1917.
Margaret Wood sold this corner lot to John S. Harnden on Sept. 18, 1896. The 1920 Andover Valuation for John S. Harnden lists this property as #18 Florence St. House $2000., 1/8 acre $850. John Harnden died in 1933 and the property was inherited by his son Chester Hall Harnden on Nov. 13, 1933. Chester then placed the deed in both his name and wife Ina B. Harnden. They sold four years later to Timothy J. & Margaret H. Mahoney. on Feb. 26, 1937.
The 1943 directory lists Timothy J. (b. 1876) as a Watchman, wife Margaret and their son Vincent A. in the US Navy. After wife Margaret's death, Timothy deeds the property to his son Vincent A. & Evelyn H. Mahoney on Mar. 7, 1961. The 1961 directory lists Timothy and Charles P. & Margaret B. Robertson sharing the home. The home became rental property after Timothy's death. In 1971 Herbert F. & Barbara F. Kearn are renting the home.
The property was sold to Marielle D. Riendeau on Jan. 29, 1976. Marielle sold to Poste Realty Trust, Victor L. Hatem and Margaret L. Berill on Oct. 12, 1977. The house was converted in professional office space about this time.
The house as office and retail space with a list of tenants;
Real Estate Office 1981
Andover Interior Designs (AID) (1983) to PSV (1985)
Mission Traders (1985/86)
Village Artwooks, crafters' co-op (1988)
Annie's Book Stop - 1987 - 1992 Charles A. & Elizabeth M. LaBelle
Uptown Kids (1992) (to 11 Elm)
The Surprise Box (1994)
Esthetiques Par Kiki (1997/2001)
Fancy Fingers (2000)
Marissa Michaels
Bibliography/References:
Essex County Registry Deeds, Salem, MA
Essex Northern Registry Deeds, Lawrence, MA
Main Street Evolution, Gail Ralston 2014
Owners;
Hannah Foster, wife of Joseph W.
William Wood - Mar. 13, 1883 - b. 71 p. 252
Mary M. Poor -Sept. 14, 1895 - b. 142 p. 524 deed transfer
Margaret Wood - Sept. 13, 1895 - b. 142 p. 525
John S. Harden - Sept. 18, 1896 - b. 150 p. 440
John S. Harden estate, Clover J. Stone, Extr. - Nov. 13, 1933 - Probate
Chester Hall Harnden - Nov. 13, 1933 - heir
Clover J. Stone - Nov. 13, 1933 - b. 573 p. 231
Chester H. & Ina B. Harnden - Nov. 13, 1933 - b. 573 p. 231
Timothy J. & Margaret E. Mahoney - Feb. 26, 1937 - b. 605 p.141
Margaret E. Mahoney estate, Timothy J. Mahoney heir
Vincent A. & Evelyn H. Mahoney - Mar. 7, 1961 - b. 932 p. 347
Marielle D. Riendeau - Jan. 29, 1976 - b. 1275 p. 508
Poste Realty Trust, Victor L. Hatem, Margaret L. Berill - Oct. 12, 1977 - b. 1321 p. 510
Victor L. Hatem & Benjamin C. Osgood - Oct. 12, 1977 - b. 1321 p. 510
The Eaton Management Co. - June 30, 1980 - b. 1440 p. 232
Barbara Reictor - Mar. 5, 1981 - b. 1490 p. 306
B. C. B. Property Management Inc. - Mar. 24, 1983 - b. 1674 p. 280
Robert W. Schick - Apr. 30, 1985 - b. 1963 p. 90
Charles A. & Elizabeth M. LaBelle - Aug. 27, 1987 - b. 2585 p. 117
Dennis Forman - Apr. 3, 1993 - b. 3718 p. 286
Diogenis LLC - Apr. 30, 2013 - b. 13447 p. 89
Inventory Data:
| | |
| --- | --- |
| Street | Florence St |
| Place | Andover Center District |
| Historic District | Andover Historic Building Survey |
| Historic Name | John S. Harnden House |
| Present Use | commercial retail |
| Original Use | residence |
| Construction Date | 1896 - 1897 |
| Source | ECRDS, ENRDL, style-njs |
| Architectural Style | Queen Anne |
| Foundation | stone/granite |
| Wall/Trim | clapboards/wood |
| Roof | asphalt - gable |
| Major Alterations | Conversion to business and store |
| Condition | excellent |
| Acreage | 0.129 acre |
| Setting | residential/business |
| Map and parcel | 39-85 |
| Recorded by | James S. Batchelder |
| Organization | Andover Preservation Commission |
| Date entered | April 10, 2017 |
Map: