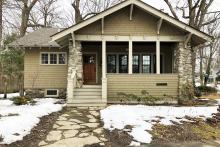 Architectural Description:
Style: Craftsman - Bungalow. The house design was purchased from the Sear-Roebuck Catalog that sold mail order houses and garages to potential homeowners for a number of years. They were offered in a variety of styles.
Historical Narrative:
Themes: Architectural, Community development
The land from the former Johnson estate (now Johnson Acres and Cheever Circle) to High St. and north to Carmel Woods was owned by John H. Flint. Flint created Carmel Road and house lots along the street. This lot and the homes at 50 Walnut St were purchased by John H. Grout from John H. Jowett on Sept. 27, 1898. John Grout then sold to his son Frank B. Grout in 1901. Frank then deeded the properties over to his wife Mary G. Grout on Nov. 15, 1901. The Grouts lived at 50 Walnut (formerly #26) until 1910. A 1906 map of Andover reveals that Grout owned both corner lots on Carmel Rd. This lot however is vacant.
Grout held on to this property after they moved to 77 Main St. in 1910. The 1920 Vauation schedule lists 2 1/2 acres on the north side or Carmel Rd $900 and 2 1/4 acres on north side of Walnut Ave $1000. It appears that the parcel at 41 Carmel was still vacant when Mary G. Grout sold to George Oliver Lewis and wife Marie on July 11, 1925. No mention of buildings is included in the deed. George O. Lewis was born on Sept. 30, 1878 in Lynn, MA son of George & Louisa E. (Stowell) Lewis. George married on June 16, 1901 in Lynn, MA, to Marie W. Cook
b. 1869 in Nova Scotia, Canada, daughter of Ephraim & Maria (Allen) Cook. George was a machinist for the railroad and in 1930 census list his occupation as an inspector of air brakes on steam trains. The were living in Lawrence, MA in 1926 then in their Carmel Rd. home in 1928.
Marie Lewis died on May 28, 1932 and George later remarried to Estella A. about in 1934. George & Estella continued to live in Andover until 1946 when they sold the home to William L & Elizabeth Wilkinson on Oct. 28, 1946.
In 2001, the Preservation Commission recognized Rob Bramhall, architect and owner of 41 Carmel Road, with a certificate of appreciation preservation award for architectural design.
In 2015, Doug and Sarah Crabtree made further architectural changes to the home, designing and modifying the entry way to build architecturally appropriate straight run front steps to the front door.
Bibliography/References:
Essex Northern Registry Deeds, Lawrence, MA
Owners:
Mary G. Grout, wife of Frank B. Grout
George O. & Marie W. Lewis - July 11, 1925 - b. 513 p. 169
Marie W. Lewis estate, George O. Lewis heir - May 29, 1932
Helen C. Twomey - Apr. 6, 1936 - b. 597 p. 278
George O. & Estella A. Lewis - Apr. 6, 1936 - b. 597 p. 278
William L. & Elizabeth Wilkinson - Oct. 28, 1946 - b. 690 p. 260
Sarah D. Jackson - May 14, 1951 - b. 750 p. 325 deed change
William L. & Elizabeth Wilkinson - May 14, 1951 - b. 750 p. 325
Ruth M. Birdsall - Aug. 15, 1953 - b. 778 p.1
Ernest A. Gravallese - Mar. 27, 1964 - b. 1006 p. 51
Camellia "Camie" E. Gravallese - Nov. 15, 1972 - b. 1207 p. 64
Camie E. & Darrell Overstake - May 27, 1982 - b. 1578 p. 259
Darrell Overstake estate, Camie E. heir - April 19, 1988 - Probate
Robert A. & Elizabeth Redman Bramhall - May 26, 1992 - b. 3491 p. 267
Douglas E. & Sarah L. Crabtree - Sept. 22, 2000 - b. 5869 p. 78
Carmel Nominee Realty Trust - Douglas & Sarah Crabtree Trustees - Jan. 18, 2001 - b. 5981 p. 340
Douglas E. & Sarah L. Crabtree - April 5, 2001 - b. 6158 p. 250
Carmel Nominee Realty Trust - Sarah Crabtree Trustee - Oct. 12, 2004 - b. 9109 p. 271
Inventory Data:
| | |
| --- | --- |
| Street | Carmel Rd |
| Place | Andover Center District |
| Historic District | Not Applicable |
| Historic Name | George O. & Marie W. Lewis house |
| Present Use | residence |
| Original Use | residence |
| Construction Date | 1926 |
| Source | ECRDS, ENRDL, style-njs |
| Architectural Style | Other |
| Foundation | stone |
| Wall/Trim | cedar shingles/wood |
| Roof | asphalt - gable |
| Major Alterations | front door overhang circa 1990s New entrance way to porch 2016 |
| Condition | excellent |
| Acreage | 0.156 acre |
| Setting | residential |
| Map and parcel | 20-86 |
| MHC Number | ANV.93 |
| Recorded by | Stack/Mofford, James S. Batchelder |
| Organization | Andover Preservation Commission |
| Date entered | 1975-1977, 3/2/2016 |
Map: