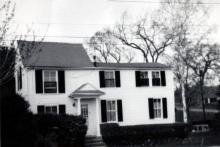 Architectural Description:
Original house was Cape style, facing south on Bannister Rd.
Basement has 5 ft. headroom & dirt floor (1975)
Historical Narrative:
Themes: architectural, commerce, community development.
The 1850 Andover Valuation schedule lists James Hirst in West Parish, house $100. What is unusual is there is no land valuation assessment. The triangular lot between Bannister and Dascomb Roads was 12 square rods, today 1/2 acre. The Valuation also lists Hiram W. French 1/2 acre house lot $50. From a deed we learn that James Hirst was a Wool Sorter, when his sells the property for $120.50 on Jan. 28, 1852 to William Calder, trader (merchant) in Andover. Calder had earlier purchased a quit claim deed of the property from Hiram W. French, of Andover, a merchant., for $25. on Dec. 29, 1851. The quit claim deed from James Hirst is mentioned in another deed as the "house".
It is possible that James Hirst purchased the house and moved it to this lot owned by Hiram French. William Calder, wife Harriet P., owned the property for ten years then sold it to Hiram W. French for $200. on Jan. 1, 1861. Calder was living in Chelsea, Ma at the time of sale. French held the property for three years then selling to John Ashworth on Dec. 22, 1864. Ashworth then purchased the 88 acre John Kneeland farm at 62 Argilla Rd. on April 10, 1867, much of that property is now part of Indian Ridge County Club and the perimeter development off Dascomb Rd. John Ashworth took a mortgage with the Andover Savings Bank for $3100. but was unable to to meet the loan and the bank took possession of both properties on Nov. 11, 1880.
Susan R. Poor purchased the Bannister Rd. property from the bank on March 11, 1884. Susan paid $125. for the house and lot. Poor owned for nine years then sold to Harry S. Wright, wife Annie B. for $200. on Mar. 27, 1893. Wright only owned for a year then sold to George C. Metcalf on March 13, 1894.
The Metcalf ownership would extend 72 years. George C. Metcalf was b. in 1855 in Williamstown, VT, son of George A. & Mary A. Mecalf. George was a Hostler in Lowell, MA when he married on Sept. 20, 1879 to Charlotte "Lottie" Broucher, b. 1863 in England, dau. of John & Charlotte (Banks) Broucher. Lottie immigrated to the US in 1876 and was a weaver in the woolen mills. George and Lottie had two children Raymond b. 1885 and Charlotte b. 1888. Daughter Charlotte married William Miller and they made their home with her her father from 1913 until the Millers sold in 1966.
The 1910 census lists George as a Produce Pedler, Lottie a weaver, Raymond a finisher and Charlotte also a weaver. Lottie died on July 5, 1913 of cancer at age 49. George C. Metcalf died on Nov. 9, 1914 of Chronic Influenza. Both are interred at Edson Cemetery in Lowell Mass. Raymond and Charlotte inherited the property. Charlotte purchased her brother Raymond's share of the estate in 1962 and placed the deed in both her and husband William's name.
The Millers later sold to Paul & Jeannette S. Johnson on Aug. 26, 1966. The property ownership has changed hands several times since the Metcalfs sold. Most probably purchased the property as a starter home then moved on after a few years.
George D. & Dorothy Moran who purchased the house on July 23, 1975 stated that this was the first home they owned. They shared a few stories about renovating the house. ..."when we moved in, there originally was a porch with 9 windows. We had the wall taken down to extend the kitchen area. When the wall was taken down there was a toilet seat nailed to the roof... Also there were trees in the wall used as wood. The kitchen sink pipe went straight down into ground in dirt cellar." The Morans replaced all the plumbing, upgraded the electric, new boiler and put on a new roof and added storm windows. "there was no radiator in the second bedroom so we had to put a radiator in because I was due in November 1975 with our first child." "When we finished with the house it was beautiful. We loved it but ended up building our home we live in today. That house was all we could afford years ago. It was a great starter home."
Bibliography/References:
Essex County Registry Deeds, Salem, MA
Essex Northern Registry Deeds, Lawrence, MA
Owners:
James Hirst - 1850
William Calder - Jan. 28, 1852 - b. 455 leaf 254
William Calder - Dec. 29, 1851 - b. 455 leaf 15 - quit claim from H. W. French
Hiram W. French - Jan. 1, 1861 - b. 618 leaf 131
John Ashworth - Dec. 22, 1864 - b. 678 p. 182 - second parcel
John Ashworth - Nov. 12, 1867 - b. 735 leaf 49 - mtg
Andover Savings Bank - Nov. 12, 1867 - b. 735 leaf 49 - mtg deed
Andover Savings Bank - Nov. 11, 1880 - foreclosure
Susan R. Poor - Mar. 11, 1884 - b. 75 p. 577
Harry S. Wright, wife Annie B. - Mar. 27, 1893 - b. 124 p. 276
George C. Metcalf - Mar. 13, 1894 - b. 131 p. 240
George C. Metcalf & Charlotte (Lottie) Metcalf, estates Probate -Nov. 9, 1914
George C. Metcalf heirs; Raymond Metcalf & Charlotte (Metcalf) Miller - 1914
Charlotte (Metcalf) Miller - Mar. 27, 1962 - b. 956 p. 395
Mary C. Murphy - Mar. 27, 1962 - b. 956 p. 396 - lot #1
William & Charlotte (Metcalf) Miller - Mar. 27, 1962 - b. 956 p. 398
Paul & Jeannette S. Johnson - Aug. 26, 1966 - b. 1067 p. 95
Chang Wook & Young Ja Kim - July 31, 1974 - b. 1246 p. 328
George D. & Dorothy Moran - July 23, 1975 - b. 1263 p. 711
William H. & Lenore Buehner - Aug. 25, 1978 - b. 1348 p. 796
John H. & Maureen F. Smith - Oct. 8, 1979 - b. 1395 p. 161
John Smith - Nov. 22, 1982 - b. 1621 p. 334
Sarah D. Korins - Dec. 22, 1982 - b. 1634 p. 224
James J. & Sarah (Korins) Chakuroff - Mar. 23, 1992 - b. 3430 p. 165
Gholam & Susan Fetanat -Sept. 30, 1993 - b. 3848 p. 229
Kevin J. Grasso - Aug. 27, 1999 - b. 5536 p. 111
Dan R. & Erin A. Forristall - Aug. 31, 2000 - b. 5849 p. 168
Christina A. Contardo - Sept. 3, 2002 - b. 7058 p. 236
Fannie Mae - Sept. 2, 2008 - b. 11305 p. 326 - mtg. deed
Lan Qin - Nov. 7, 2008 - b. 11369 p. 282
Sheila G. & Connor J. Powell - Nov. 18, 2019 - b. 16084 p. 132
Inventory Data:
| | |
| --- | --- |
| Street | Bannister Rd |
| Place | Ballardvale |
| Historic District | Not Applicable |
| Historic Name | Hirst - Metcalf House |
| Present Use | residence |
| Original Use | residence |
| Construction Date | 1840 - 1850 |
| Source | ECRDS, ENRDL, style-njs |
| Architectural Style | Other |
| Foundation | stone |
| Wall/Trim | clapboard/ asbestos shingles |
| Roof | asphalt - gable |
| Outbuildings / Secondary Structures | garage built 1924 |
| Major Alterations | Two story addition on west end, raised roof line on Cape |
| Condition | good |
| Acreage | 0.5 acre; approx. frontage on Dascomb Rd. 245 ft.; 240 ft. on Bannister Rd. |
| Setting | residential |
| Map and parcel | 137-52 |
| MHC Number | ANV.67 |
| Recorded by | Stack/Mofford, James S. Batchelder |
| Organization | Andover Preservation Commission |
| Date entered | 1975-77, 1/11/2016 |
Map: