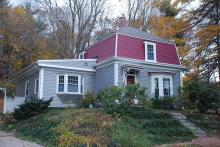 Architectural Description:
This house is an example of Second Empire style influenced by the French Empire style which introduced the mansard roof line. Bay windows were also a popular feature during this period and many homes in Andover were remodeled and the shed and hip roofs of the Colonial and Federal periods were replaced with the more stylish mansard roof line. This roof allowed for optimum living space on the second level without being taxed as a full story.
Historical Narrative:
John Follansbee, son of Paul Bailey Follansbee purchased 1.4 acres from his father's farm at 459 Lowell St. for $200. John's father owned a 60 acre farm, a garden centre and orchard named "Haggett's Pond Nurseries". John worked in and partnered in his father's business. The 1880 census lists John as 35, single, farmer and living with his parents.
The Andover Advertiser, March 25, 1881 John Follinsbee is building a cottage house with French roof just west of his father's residence, near Haggetts. John married on June 13, 1883 at Lynn, MA to Susan L. Chase of Stoneham, MA daughter of Andrew Jackson & Sarah E. (Wymand) Chase. The 1885 Andover town directory also lists John as a farmer but includes with greenhouses. After the death of his father on May 8, 1900 John took over the family business and inherited the family homestead. John died just eight months later on January 20, 1901 in Andover, MA.
Jan. 25, 1901 Andover Townsman p5 Obit – John Follansbee, a resident of the West Parish near Haggetts Pond, died Sunday, from Typhoid pneumonia, age 56 years. He was the son of the late Paul B. Follansbee, whose death occurred last year, and whose home full of curiosities, and beautifully kept nursery and arbor in the rear, is known in Andover as well as by travelers from long distances. The deceased was born in Andover and lived here nearly all his life.
The deceased leaves a widow and two sisters, Mrs. Ella Shattuck of North Hampton, and Mrs. Winifred Spaulding of Ashburnham.
The funeral was held from the late home of the deceased, Wednesday at 2 p.m. Rev. Edward W. Pride officiating. The body will be taken to Lynn for interment.
On July 22, 1901 John's wife Susan sold the house to her cousin Georgina Chase. Susan died on May 23, 1917 in Stoneham, MA and was interred at Pine Grove Cemetery in Lynn.
Georgina Chase was born on March 30, 1854 in Newburg, NY, daughter of Seth & Mary (Spellman) Chase. She lived in West Parish nearly her entire life. Georginia's parents lived on Haggett's Pond Rd. She "became a compositor in the printing industry beginning with the Lawrence American and the old Andover Advertiser, and continuing later for 30 years with the Boston Traveler and Boston Pilot, as a proofreader." In 1926 her sister Anna E. Chase, is also living with her. Anna began teaching in Andover at age 17 from 1886-1934. She first taught at the Abbott District School on Chandler Rd. then taught in the town center South Central Grammar school. Anna later became principal of Stowe School from 1898-1911. She retired but returned to Stowe Jr. High teaching history from 1921-1934. Anna died on Feb. 4, 1937 at age 68. In the Townsman Editorial page on Feb. 5 was written: "She could not come under the classification of an easy teacher, nor could she be called a hard teacher; rather she combined the two with a rare degree of success;… In her near fifty years as a teacher here, she set a very high standard for the public school teaching staff, and two generations of pupils have benefited by that standard. The town owes much to Miss Chase." Her sister Georgina Chase died on Jan. 18, 1944 at the age of 88 years. Both are interred in the family lot at West Parish Cemetery. The Chase family heirs then sold the property to Harvey & Myra Richardson. Harvey was a refrigeration engineer.
Armand J. & Eleanor DeRoche purchased in 1952 living here for 33 years. Armand is listed as a garage worker in 1953 and later in the auto body business. John & Shelia Willard were the next owners on Jan. 11, 1986. John is listed as a Systems Controller and Sheila is a college professor. They remained for fourteen years selling to Thomas & Julia Rudd in 2000. The Rudd family remained for nearly ten years before selling in 2010 to Ginamarie Tolford who then sold to the current owners.
See additional articles;
July 2, 1880 Andover Advertiser - Follinsbee & Son, extensive nursery west of the depot at Haggett's Pond. - Notes on the grounds – a rockery,
May 31, 1890 Andover Townsman – "An Interesting Place in Andover" long article on the Nursery and the grounds, especially the Rockery which John and his father Paul built, also an observatory.
July 21, 1899 Andover Townsman p.5 "Ten Miles Awheel" – A wheel to Haggetts Pond and Paul B. Follensbee's Nursery, Museum and Arboretum
Bibliography/References:
Resources:
North Essex Registry of Deeds, Lawrence.
Andover Building Survey forms
Andover Historical Society files.
Andover Street Indexes 1888 – 2009
Andover Vital Records
Andover Townsman obituaries
West Parish Garden Cemetery records
Membership roles of South Church, West Parish & Free Church
Andover Maps, 1830, 1852, 1872, 1888, 1899, 1906.
Owners
Paul Bailey Follansbee - Oct. 8, 1835 - b. 285 p. 179 Salem Deeds
John Follansbee - Nov. 24, 1880 - b. 62 p. 120 Lawrence deeds
Susan L. Follansbee - July 22, 1901 - Probate estate
Georgina Chase - Oct. 3, 1916 - b. 375 p. 544
Franklin N. Chase, Admtr. - Apr. 26, 1944 - Chase estate
Harvey S. & Myra A. Richardson - June 24, 1944 - b. 665 p. 509
Armand J. & Eleanor B. De Roche - Oct. 7, 1952 - b. 768 p. 165
John M. & Shelia D. Willard - Jan. 17, 1986 - b. 2117 p. 30
Thomas F. & Julia K. Rudd - Oct. 20, 2000 - b. 5894 p. 311
Ginamarie Tolford - May 28, 2010 - b. 12106 p. 304
Stephen L. & Jamie S. Rankin - June 20, 2011 - b. 12533 p. 24
Inventory Data:
| | |
| --- | --- |
| Street | Lowell St |
| Place | West Parish - West Andover |
| Historic District | Andover Historic Building Survey |
| Historic Name | John Follansbee House |
| Present Use | residence |
| Original Use | residence |
| Construction Date | 1881 |
| Source | Andover Bldg. Survey |
| Architectural Style | Second Empire |
| Architect/Builder | John Follansbee |
| Foundation | stone & granite |
| Wall/Trim | clapboards, shingle |
| Roof | wood shingle, ashpalt |
| Outbuildings / Secondary Structures | garage |
| Major Alterations | One story addition on west side |
| Condition | good |
| Setting | residential |
| Map and parcel | 196-1 |
| Recorded by | Stack/Mofford; James Batchelder |
| Organization | Andover Preservation Commission |
| Date entered | 1975-77 updated 2013 |
Map: