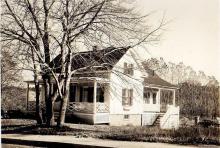 Architectural Description:
NRDIS
Style: Late Greek Revival
Historical Narrative:
Themes: Architectural, Community development, Industry
Historical significance:
Shawsheen Village was named after the Native American name for the river Shawshin, which means Great Spring. Prior to Shawsheen Village this area was known as Frye Village.
This home was not built as part of the Shawsheen Village development 1918 - 1924 by William M. Wood, President of the American Woolen Company. but was a Frye Village residence preserved by Mr. Wood. William Wood hired about eight different architects to design the homes and structures for the village. Older homes were acquired, remodeled and moved as he integrated the old with the new.
After the death of William M. Wood on Feb. 2, 1926 most of the residential and commercial buildings were then sold. Some were held by the Wood family in the "Arden Trust" and others with the American Woolen Company, which had been deeded the property in December 1920. The A.W.Co. Board of Directors authorized its President, Lionel J. Noah, to deliver all deeds, as deemed necessary to the Textile Realty Co. for sale on Dec. 29, 1931.
The Textile Realty then transferred ownership to the Andover Shawsheen Realty Company on June 30, 1932, holding the mortgage on the properties. T. Edwin Andrew, treasurer, was authorized to sell or lease the properties. With the Great Depression sales were sluggish and many homes were rented until the economy rebounded.
One of the first occupants of record to lease the home in 1923 were
This house was sold to
Bibliography/References:
Essex County Registry Deeds, Salem, MA
Essex Northern Registry Deeds, Lawrence, MA
Andover Maps, 1852, 1872, 1888, 1906, 1926
Andover Street Directories
Andover Townsman
Mills, Mergers and Mansions, by Edward Roddy 1982
See Map plan #704 - American Woolen Company - Sept. 1927
#878 - June 1932 - Textile Realty Company lot #68
Owners; at 49 -51 Haverhill St.
John Smith & Peter Smith – Dec. 29, 1841 –b. 335 leaf 99
Smith & Dove Manufacturing Co. – July 1, 1864 - b. 677 leaf 259 Salem deed
Robert Braisford, General Degreasing Co. – July 21, 1902 – b. 197 p. 32
Beacon Trust Company. – Dec. 23, 1904 – b. 217 p. 80
Daniel C. Smith –Mar. 28, 1909 – b. 258 p. 446
Arlington National Bank – June 11, 1909 – b. 274 p. 565
James E. McGovern – July 17, 1909 – b. 275 p. 400 – mgt sale
Henry P. Binney, Trustee of A. W. Co. – Aug. 14, 1909 - b. 277 p. 310
American Woolen Company, Wm. M. Wood Pres. - Dec. 30, 1920 -435 p. 215 parcel 1
Textile Realty Co., Lionel J. Noah, Pres. A.W.Co. - Dec. 30, 1931 - b. 563 p. 351
Andover Shawsheen Realty Co. - June. 30, 1932 - b. 565 p. 87 - parcel
Clara M. Emerson - Sept. 11, 1934 - b. 581 p. 422
Edward F. & Orelia R. Dhondt - May 7, 1953 - b. 775 p. 289
Robert J. & Margaret M. Hargreaves - Aug. 12, 1963 - b. 991 p. 284
Mark Abelson - Sept. 12, 1980 - b. 1454 p. 180
Sanford A. Kaufman & Joseph B. Guerrera - b. 1535 p. 89
Bill & Cathleen Deluca - Oct. 7, 1983 - b. 1732 p. 115
Owners; at 38 Haverhill St.
Moody Abbott -
John Dove - Feb. 17, 1847 - b. 380 leaf 166
David Middleton - MAY 30, 1867 - B. 725 Leaf 172
David & Catherine Middleton - Feb. 3, 1882 - b. 72 p. 85 - second lot
Margaret Robb, wife Charles - Mar. 17, 1886 - b. 85 p. 133 & 134
David Middleton estate, Catherine heir, Jos. A. Smart, Extr. - Sept. 17, 1901 - Probate
Frank Orlando Banton - Apr. 3, 1902 - b. 193 p. 584
Ellen Casey - July 6, 1903 - b. 204 p. 106
Edward Elmer & Janet Watson - Mar. 3, 1913 - b. 327 p. 281
Elizabeth Donahue - June 12, 1913 - b. 331 p. 290
Minnie Greenwood, wife of Joseph - Jan. 1, 1914 - b. 337 p. 147
Henry P. Binney - Feb. 19. 1916 - b. 361 p. 191
American Woolen Company, Wm. M. Wood Pres. - Dec. 30, 1920 -435 p. 215 parcel 1
Textile Realty Co., Lionel J. Noah, Pres. A.W.Co. - Dec. 30, 1931 - b. 563 p. 351
Andover Shawsheen Realty Co. - June. 30, 1932 - b. 565 p. 87
Inventory Data:
| | |
| --- | --- |
| Street | Haverhill St |
| Place | Shawsheen Village - Frye Village |
| Historic District | Shawsheen Village NRH District |
| Historic Name | David Middleton Hosue |
| Present Use | Parking lot |
| Original Use | residence |
| Construction Date | mid 19th century |
| Source | ERDS, ENRDL, AHS/Style/njs |
| Architectural Style | Greek Revival |
| Foundation | stone |
| Wall/Trim | clapboard/wood |
| Roof | asphalt - gable |
| Major Alterations | Razed for parking |
| Condition | Razed 1980's |
| Moved? | Yes |
| Move Details | 1920 - 1921 |
| Demolished? | Yes |
| Demolition Details | 1980's |
| Acreage | 0.35882 acre |
| Setting | residential/commerical |
| Map and parcel | 36-87 |
| Recorded by | Stack/Mofford, James Batchelder |
| Organization | Andover Preservation Commission |
| Date entered | 1975 - 1977, 7/8/2015 |
Map: