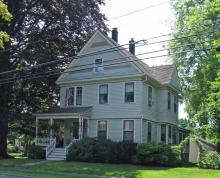 Historical Narrative:
This property was once owned by Richard M. Abbott. Abbott sold the house lot of 15,600 sq. feet to Mrs. Annie T. Burns on Feb. 27, 1889 for $500. Annie was the widow of David Burns. Annie's given name was Nancy Teresa Schofield b. Oct. 1843 in Co. Cork, Ireland, daughter of Thomas & Mary Schofield. She came to America in 1862 and married David Burns, b. Mar. 15, 1845 in Ireland, a Laborer. The had eight children of which six survived to adulthood: John H. b. May 14, 1868, William Joseph b. Oct. 5, 1869, Mary Ellen b. Mar. 22, 1873 - d. Aug. 12, 1896, Thomas Edward b. June 26, 1875, David Francis Sheridan b. Apr. 2, 1877, Joseph Lawrence, b. Nov. 30, 1879.
David Burns died on Aug. 6, 1880 at age 36. 49 Summer St. was the first of several properties acquired by Annie through the years that followed. The home was built by the Burns family shortly after the purchase of the lot. He sons William Joseph and David S. would become tailors. William J. worked for Joseph M. Bradley and Paul Hannon, two of the best tailors and merchants of men's where in Andover at that time.
In March 1896 Joseph M. Bradley sold his business to William J. Burns & M. J. Crowley and established Burns & Crowley. It was described as, "The handsomest tailoring and gent's furnishing goods store in the state." They were also agents for Scriptures Laundry. The two men had worked in the trade under Mr. Bradley & Paul Hannon.
Jan. 24, 1896 AT p5 New Tailoring Firm – Burns & Crowley is the name of the new firm. Conducted by Joseph M. Bradley – March 1 – Bradley to open a new store in Lawrence, - long article about who worked for who.
April 17, 1896 AT – p1. Jos. M. Bradley has sold the building on Main Street, now occupied by Burns & Crowley and the Cutshamache Club, to John Ford of Lawrence. This building is 13-15 Main Street.
When Crowley left the partnership in 1899 the store became the W. J. Burns Company and continued at that location until 1949. Both William and David S. managed the store. Michael J. Burns never married and remained in the Summer St. home with his mother. On Apr. 7, 1919 Annie Burns deed the house over to Michael.
Annie acquired the store building at 9-11 Main St. on Sept. 27, 1905 and transferred the deed to William on Sept. 1, 1910. Son Joseph L. Burns would purchase the little store building at 17 Main St. on July 20, 1910 which he then deeded to his mother Annie in August 1910. William J. would finally purchase the building his store was in on April 7, 1919.
The 1920 Andover Valuation Schedule lists Mrs. Annie T Burns at 49 Summer St.; Her properties included 49 Summer, house $3300, garage $700, 3/4 acre $1000, Store bld. 9-11 Main St. $3500, lot 2077 sq.ft. $3300., Draper Store Bld. 33-35-37 Main St. $6400, Draper Brick Shop, rear of 37 Main (former Andover Press Buiding) $1000, land $8250., Store bld. 17 Main St. $2000., lot 796 sq. ft. $1200. The house at 66 Main & 23 - 25 Chestnut St. (CVS corner) $2200., barn & shed $100, lot 7050 sq. ft. $2000., Total assessment $34,950. All income property, save her home on Summer St.
William J. Burns was assessed for his Store at 13-15 Main St. $3000. lot 1281 sq. ft. $2050. His brother David S. Burns owned the building at 6 Park St. valued at $2700. and lot 1500 sq. ft $1500.
Annie died on Feb. 11, 1926 at age 83. The three business properties were then placed together. and held by both brothers. William J. Burns died on June 5, 1939 age 69. His brother David Burns inherited his estate and the family business.
David Burns married Florence May Souter b. dau. of James & Mary (McCaslin) Souter of Andover. They first lived at 81 Chestnut St. then moved to 14 Wolcott Ave. They had three children; Florence, Nancy and David Burns Jr.
David later sold the business to Holden & O'Sullivan, Inc. owned by Timothy J. O'Sullivan & Joseph J. Holden signed a 10 year lease on the building on Dec. 1, 1949 continuing the men's furnishings and tailoring until 1953 when it closed. The Burns home at 49 Summer St. was sold to Harold C. & Ruth M. Dunn on Sept. 26, 1944.
David Sheridan Burns died on Aug. 22, 1952 and his estate was placed in the Florence M. Burns Trust. The Burns family are interred at St. Augustin's Cemetery on Lupine Road, Andover, MA
Bibliography/References:
49 Summer St.
Essex County Registry Deeds, Salem, MA
Essex Northern Registry Deeds, Lawrence, MA
Andover Townsman
Owners;
Richard M. Abbott – land
Annie Burns, widow – Feb. 27, 1889 – b. 99 p. 225
William J. Burns – Apr. 7, 1919 – b. 520 p. 98
William J. Burns estate, June 5, 1939, heir David S. Burns
David S. Burns, wife Florence M. Burns - 1939-1944
Harold C. & Ruth M. Dunn – Sept. 26, 1944 – b. 667 p. 569
Madelyn S. Mondale, wife of Walter E. – Mar. 27, 1951 – b. 748 p. 417
Per & Barbara Bro – Feb. 27, 1959 – b. 890 p. 49
Francis J. & Patricia G. O'Neil – Oct. 1, 1974 – b. 1249 p. 652
Inventory Data:
| | |
| --- | --- |
| Street | Summer St |
| Place | Andover Center District |
| Historic District | Not Applicable |
| Historic Name | Annie T. Burns House |
| Present Use | residence |
| Original Use | residence |
| Source | ECRDS, ENRDL, style-njs |
| Foundation | stone/granite/brick |
| Wall/Trim | clapboards/wood |
| Roof | asphalt - gable |
| Condition | excellent |
| Acreage | 0.422 acres, 15,600 sq. ft. |
| Setting | residential |
| Map and parcel | 22-12 |
| Recorded by | James S. Batchelder |
| Organization | Andover Preservation Commission |
| Date entered | July 18, 2017 |
Map: