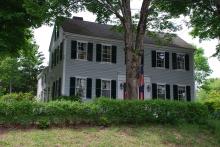 Architectural Description:
NRDIS NRMRA
Federal period style
Historical Narrative:
Original owners; Abel and Paschal Abbott.
Themes - Architectural, Community Development and Industry.
53 Red Spring Road – Captain Abel Abbot House, circa 1820-23
This house is the "3rd of detached houses" described by Charlotte Helen Abbott as the house Abel and Paschal Abbot lived in.
The two houses at 51 & 53 Red Spring Road were built about 1823 by brothers, Abel & Paschal Abbot of Andover. The brothers were partners in cotton manufacturing and began operations in the North Parish of Andover in 1812. Abraham Marland, also a cotton manufacturer in the South Parish since 1807, bought a third interest in the Abbot Mill in 1813. The Abbots sold their mill in 1814 and moved the operation to (what would become known as Abbot Village) the South Parish. The Shawsheen River was a swifter water source making it more suitable for manufacture by water-power. They built their wooden mill on the west side of the river, began spinning cotton and woolen yarns. (Redman Card Co. / Merrimack Card Clothing in 1975 - at bottom of Red Spring Road), where it remained until razed in 2015. Abiel Russell was the first foreman of the mill and lived on Cuba Street. He was also the brother-in-law to Abel and Paschal, his wife Sarah Abbot being their sister.
Abel was born September 7, 1786 and married, 1811 to his first cousin Sara Abbot b. April 1789 daughter of Job Abbot and Anna Ballard. Abel's brother Paschal married Sara's sister Mary Foster Abbot. Uncle Job Abbott and their father Nathan Jr. were brothers.
Abel & Sara had two sons; Abel b. March 5, 1812 and James Alfred b. May 17, 1818. Sara died Dec. 1, 1821 at age 32. Capt. Abel remarried a year later on December 26, 1822 to Mary Jones, a member of the South Church who joined the congregation on June 28, 1812. Capt. Abel & Mary had one son; Abiather b. May 6, 1824.
Captain Abel Abbot was a carpenter, farmer and manufacturer. Abel was elected Prudential Committee the first year the newly established Village School District was created in November 1828.
When the Abbot Mill failed in 1842, investors took the mill properties and then sold to Smith & Dove Manufacturing Co. in 1843. The brother's homesteads and farm containing 73 acres with three houses and barns at #51– 53 – 55 Red Spring Road was purchased by Job Abbot, brother of Abel & Paschal in April 1843. Job was also listed as an investor in the mill operations. Abel and Mary left for Dexter Maine along with brother Paschal, but returned to Andover. They lived out their days in their former home at #53, now owned by his brother Job who deeded them a life tenancy. The house was given to their nephew Amos in 1856. Abel Abbott died July 3, 1862 of consumption and wife Mary on January 18, 1870. Both interred at South Cemetery.
Captain Job Abbot & Lucy Chandler Abbot 1842–1847, #51, 53 & 55 Red Spring Rd
Job Abbot was the second son of Nathan & Sarah Ballard Abbot and older brother to Abel and Paschal. Job was born in Andover on August 7, 1782 and married Lucy Chandler of Concord, N.H. int. recorded October 9, 1807. The couple joined the South Church on November 6, 1831.
He was a man of considerable enterprise and wealth and from all documentation had a strong loyalty to his family. He gives his profession as Gentleman. He was Captain of the Andover Militia
Amos Abbot 2nd (aka Amos C. Abbot) 1847 – 1869 - #51, 53 & 55 Red Spring Rd
Job sold the homestead to his son Amos Abbot 2nd in July 1847 for $100. Essentially a wedding gift. Amos lived at #51 with his new bride Lydia H. Blanchard age 18, daughter of Abel and Elizabeth Blanchard of Andover. The property was divided up at this time and the two houses at 53 & 55 were separated from the original farm and were reserved for Abel & Mary Abbot for the remainder of their lives. Amos would later be gifted the other property in 1856.
Amos was a farmer and held the 72 acre farm until Feb. 1869 when he sold to John & Phebe Chandler. Amos and family then moved west and settled in Kansas.
John & Phebe R. Chandler 1869-1885 - #51, 53 & 55 Red Spring Rd.
John Chandler buys from Amos C. Abbot (aka Amos Abbot 2nd) on Feb. 23, 1869 for $6500 two parcels of land. The first contained 2 acres across the street from #53 and down to the Shawsheen River and the second parcel contained 75 acres, with buildings north of the road being Amos Abbot's Homestead farm The land contained all three houses at # 51, 53, & 55 and a barn. John Chandler was born in 1812 in Andover and married in 1839 to Phebe Russell b. 1818, daughter of Joel Russell and Sally Curtis. John and Phebe had four children; John Henry b. 1840, George Warren b. 1842, Ann Elizabeth b. 1844 and Emma b.1849.
The Chandler's occupied the house at #51 and rented out #51 & 55. John was originally a farmer but began a very successful wood and coal business in 1870. At age 70 in 1882 he sold his business to his son George. The David Bruce family had occupied #53 since 1870 and later Chandler sold to Bruce #53 and #55, the former Capt. Abel Abbot lot in 1885.
The David Bruce Family – Tenants 1870 1885, owners 1885 – 1913 #53 & #55
The Bruce family lived in Abbot Village and shortly after the property was purchased by John Chandler, moved into the house at 53 Red Spring Road (Mineral Street). John Chandler lived next door in the house at #51. David purchased the house and land in 1885 from Chandler which also included the small house at #55 for $2300.
David Bruce was born in Brechin, County Angus Scotland in 1823,. David married Jemina S. Bern also of Brechin. The couple immigrated in 1853, had five children; The two oldest Jeanne, Alexander, were born in Scotland and Mary, Georgina, & Susan all born in Andover. David Bruce worked in the Smith & Dove mills in Abbot Village and was Overseer in the thread mill. David's daughter Jeanie was a dressmaker. Son Alexander became a baker with the Kent Baking Co. of Lawrence, later a partner and owner. Alexander became Mayor of Lawrence in 1886 at the age of 32 and re-elected in 1887. He was also the unsuccessful Democratic candidate for governor of Massachusetts in 1898. The Bruce school in Lawrence is named after Alexander and the clock in the original school building was given by him.
David Bruce died August 12, 1889. The Bruce family kept the house and rented it to various families.
The 1870 census lists two families and boarders at the same address; James Souter, wife Ann and two boys Walter and Joseph, Ellen Ann Campbell age18 and Jesse Bern 45, both Spinners.
The second family was Morris Collins from Ireland a Laborer, wife Mary and children Margaret, John, and Mary.
1890 - 1899 James & Mary Scott, gardener.
1897-99 Mr. & Mrs. Samuel Harris, a Smith & Dove Machinist and boarder Mrs. Eliza (Alex.) Reid.
1901-1913 Mrs. John (Isabella) McLaughlin, Smith & Dove Co.
1902-1913 Mr. & Mrs. Alexander McLaughlin, a meat cutter.
1908-1913 Mr. & Mrs. David McIntosh, Smith & Dove Co.
H. Evelyn Hardy Ownership 1913 -1923 - #53 & #55
On October 7, 1913 Miss H. Evelyn Hardy of 17 Maple Street, Andover, daughter of Lewis T. Hardy of Hardy & Cole Company, builders and lumber, purchased the property solely as an investment. Miss Hardy became a landlord and never lived at either #53 or #55 Red Spring Rd. Evelyn worked in the office of the Smith & Dove Co. but moved to Orange, NJ in 1917, her father having died on Dec. 25, 1916. She had returned to Andover by 1920 and her occupation was listed as a nurse. She lived with her brother Roy E. Hardy at 115 Chestnut Street. In 1913 William D. Valentine & wife Isabel Ness Valentine were renting a house on Red Spring Rd. and by 1916 are listed at #53. The Valentines purchased the houses from Miss Hardy in 1923 and she moved to Georgia.
Isabel Ness Valentine & William D. Valentine House – Tenants 1913-1923, owners 1923 -1979
The Valentines purchased the property from Miss Evelyn Hardy on July 14, 1923. The couple had five children, four who survived to adulthood. Mae b.1910, b. Bruce 1913, Ronald b. 1917, Edith b. 1921, and infant son William Jr. b. 9/ 7/ 1923 d. 9/ 9/1923.
William D. Valentine was born on Sept. 3, 1887 in Arbroath, Scotland. In 1902, at age 15, William immigrated to America with his mother Jane and his sisters Isabella & Margaret. All three children were employed with the linen company of Smith & Dove Manufacturer Co.. William became a bookkeeper/clerk in the office until the mill closing in 1928. William then was employed with the Arlington Mills in Lawrence.
William loved sports and was affiliated with various sporting teams. He served as secretary for the Shawsheen Soccer Club, the Andover United Football Club and Smith & Dove Overseers Club. He was also a member of the Clan McPherson. He died on October 17, 1930. His wife Isabel continued to maintain the homes and rented them to family and friends. Her daughter Edith married George St. Jean and they remained in the house and raised their family here. Oldest daughter May Valentine lived next door at #55. After Isable's death in 1979 the two houses were separated as two parcels and inherited by the daughters.
Isabel's son Ron, wife Flora E. (Raidy), and children William b. 1946, Ronald "Rookie" b. 1948, and Jane E. b. 1950, fiirst lived in the home in the early 1950's then built a home at 63 Reservation Rd. Daughter Edith Valentine St. Jean, husband J. George St. Jean were also tenants from 1948-1979 then owners 1979 - 2002. Edith & George had three children; Peter b. 1950, Pamela b. 1954 and Nancy b. 1958.
George was employed at the Addison Art Gallery as security and maintenance facilitator. Edith worked as the principal's secretary at East Jr. High for many years. George died January 10, 2000 at 83, Edith died at 81 two years later on June 26, 2002, the last Valentine of her generation.
James Batchelder and Scott Slaughter 2002-2016
Jim Batchelder is an Andover native. A retired Art teacher with 33 years with the Andover Public Schools. Jim's interest in local history and preservation has made him an active member of the boards of the Andover Preservation Commission, Andover Historical Society and the West Parish Garden Cemetery. Scott Slaughter is a native of Illion, NY, had a career in retail and sales, long time association with Crate & Barrel. Now self employed in painting, design and restoration, loves to garden and cook. Jim & Scott were committed to restoring and rehabilitating the house during their ownership and remained faithful to the architectural integrity of the house. They sold on October 28, 2016 to Vincent P. & Shamma N. Mullen.
Bibliography/References:
Essex County Registry Deeds, Salem, MA
Essex Northern Registry Deeds, Lawrence, MA
Dorman, Moses: Map of Andover, 1830.
Andover Historical Society files - Charlotte Helen Abbott on Abbott Village
Bailey, Sarah Loring: Historical Sketches of Andover, 1880.
Andover Advertiser AA
Andover Townsman AT
Owners;
Able & Paschal Abbott - Apr. 5, 1822 - b. 232 p.5 - Indenture Trust Stephen Abbot.
Job Abbot - Apr.13, 1843 - b. 332 p 196
Amos Abbot, 2nd (aka Amos C. Abbot) Jan.10, 1856 - b. 525 p.145
John & Phebe Chandler - Feb. 23, 1869 - b. 769 p.137 - Salem deeds
John & Phebe Chandler - b. 92 p.165
David Bruce estate, died 8/12/1889 - b. 97 p.465
Bruce family heirs - 1889 - 1913
H.Evelyn Hardy - Oct. 7,1913 - b. 335 p.510
William D. & Isabel (Ness) Valentine - July 14, 1923 - b. 482 p.337
Edith V. St. Jean - b. 1403 p.235
Edith & George St. Jean - b. 1806 p.151
James Batchelder & Scott Slaughter - Sept. 23, 2002 - b. 7110 p.4
Vincent P. & Shamma N. Mullen - Oct. 28, 2016 - b. 14854 p. 346
Inventory Data:
| | |
| --- | --- |
| Street | Red Spring Rd |
| Place | Abbott Village |
| Historic District | Andover Village Industrial NRH District |
| Historic Name | Abbott, Capt. Abel House |
| Present Use | residence |
| Original Use | residence |
| Construction Date | circa 1823 |
| Source | ERDS, ENRDL |
| Architectural Style | Federal |
| Architect/Builder | Abel Abbott |
| Foundation | stone & granite |
| Wall/Trim | clapboards/wood |
| Roof | asphalt |
| Outbuildings / Secondary Structures | small garage, shed |
| Major Alterations | interoir restoration 2003-2012 Family room added in former rear attached shed 2010 |
| Condition | excellent |
| Acreage | less than one acre, 34,360 sq. ft. 241' frontage. |
| Setting | residential |
| Map and parcel | 72-35A |
| Recorded by | Stack/Mofford, James Batchelder |
| Organization | Andover Preservation Commission |
| Date entered | 1975-77, 5/2014 |
Map: