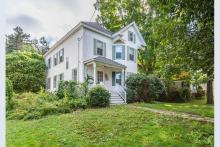 Architectural Description:
Historical Narrative:
55 Maple St – 38-178 – 0.444 a 19,400 sq. ft. – Lamont – Dugan House (once listed as 27 Maple St.)
The property was once owned by Henry A. Bodwell and was divided into house lots. Alexander Lamont purchased this lot from the Bodwell heirs for $500 on Nov. 24, 1894. Lamont then had the house built.
Andover Townsman – March 22, 1895 – "The new house of Alexander Lamont on Maple Avenue is completed and the family has just moved in. It is a two story and a half structure, designed and built by contractor Eugene Pitman. It has every appearance of being a piece of good and through workmanship and is an addition to the street. Mr. Lamont is an overseer at the Smith and Dove Mills and has lived in Abbott Village."
Alexander Lamont was born Jan. 21, 1847 in Arbroath, Scotland, son of Alexander & Elizabeth Lamont. Alexander arrived in NYC on Oct. 17, 1871. He was employed as a Flax Dresser at Smith & Dove, Manufacturing Co. in Abbott Village. He later became Superintendent of the Flax Department. Alexander married on Dec. 24, 1872 in Andover to Isabella T Dick b. July 1849 in Scotland, dau. of George and Margaret Dick. Alexander bought the house at 3 Cuba St. in 1882 and lived there until moving to their new home in 1895. They had seven children: Margaret Isabella b. Sept. 30, 1873, Alexander Dick b. July 1875, Elizabeth Jarvis b. Apr. 16, 1877 (Arbroath, Scotland), George Dick b. June 9, 1879 – d. July 21, 1879, Walter McCloud b. Aug. 24, 1880, Mary Fleming b. Mar. 26, 1883 and James Garfield b. Nov. 6, 1887 - d. May 20, 1888 age 6m 14d.
Alexander and Isabella sold the house to Mary Elizabeth Dugan on July 30, 1919 and moved to 98 Elm St. Isabella died on April 19, 1922. Alexander lived to the age of 92, died on Feb. 2, 1939. They are interred in West Parish Garden Cemetery.
Mary Elizabeth Dugan was born in May 1887 in Andover daughter of Martin J. & Margaret (Collins) Dugan. Mary E. was the eldest of seven children. Her father Martin was born Nov. 28, 1860 in Ireland, son of Michael & Hannah (Cabey) Dugan. Martin immigrated in 1883 and married on Aug. 3, 1886 to Margaret Collins b. Jan. 1863 in Andover, dau. of Daniel J. & Johanna (Foley) Collins. Martin became a Naturalized Citizen on Oct 24 1896 in Lawrence. He was assistant overseer in the flax Tow Dept. of Smith & Dove Manufacturing Co. and after it closed in 1927, a janitor at Tyer Rubber Co. Margaret died at age 47 on Dec. 17, 1913 of chronic endocarditis.
Martin and Margaret's children; Mary Elizabeth b. 1887, Anna Cecilia b. Feb. 1890, Charles Michael b. Aug. 11, 1891– d. Mar. 24, 1892 Meningitis, Daniel Joseph b. May 23, 1893, John Leo b. Dec. 21, 1895, Eleanor Josephine b. Mar. 31, 1898 and Agnes Veronica b. Apr. 27, 1901. The Dugan family rented at 12 Ridge St. prior to moving to Maple Ave. The family stayed together and only Eleanor married.
Mary E. was an accountant at Tyer Rubber Company. Anna C., Punchard class of 1907, a teacher in Lawrence. Agnes V., PHS 1919, went to Salem Normal and Boston University and was elected a teacher of Business at Punchard High in 1932. Aggie was head of the department at Andover High retiring in June 1971. John Leo PHS 1915 was a stenographer at Tyer Rubber Co. and later Freight Rep. at the railroad station. Daniel was a plumber and fireman at Tyer Rubber Co. later worked at a gas station attendant. Daughter Eleanor J. Punchard High Class of 1917 was also a stenographer.
Eleanor married in 1922 in Lawrence, MA to Joseph Michael Finneran b. Mar. 27, 1891, in Lawrence, MA son of Laurence & Bridget Finneran. Joseph was a registered pharmacist. They lived at 66 Railroad St. in North Andover. Joseph also served as a Selectman in No. Andover. Eleanor and Joseph had four sons; Joseph C. b. 1924, John L. b. 1926, William A. b. 1928 and Robert Edward b. 1932. Eleanor died on May 11, 1972 and Joseph in Nov. 1973.
Agnes Dugan was the sole Dugan survivor of her family. Agnes died Jan. 6, 1987 and is interred at St. Augustine's Cemetery, Andover Dugan family lot. Agnes willed the property to her nephews. William A. Finneran, a pharmacist and his wife Patricia A. a nurse resided here after Agnes. The home continues in the family, now 99 years.
Bibliography/References:
Essex Northern Registry Deeds, Lawrence, MA
Andover Valuation Schedule 1920
Ancestry.com - Lamont and Dugan family research
Andover Directories
Owners:
Henry A. Bodwell estate, Emma A. & Emma Grace Bodwell, Extrs – June 15, 1891 – Probate
Alexander Lamont, wife Isabella – Nov 24, 1894 – b. 136 p. 201 - $500 lot
Mary Elizabeth Dugan – July 30, 1919 – b. 404 p. 375
Mary Eliz., Anna C. and Agnes V. Dugan – Mar. 25, 1941 – b. 638 p. 297
Anna C. Dugan & Agnes V. Dugan - June 18, 1975 – b. 1261 p. 677
Anna C. Dugan estate, heir Agnes V. Dugan – Feb. 24, 1978
Agnes V. Dugan estate, Jan. 13, 1987 – Probate 87PO246-E1
John Finneran heir – Jan 13, 1987 – Probate will
55 Maple Declaration Trust, John Finneran – June 25, 1990 – b. 3128 p. 125
55 Maple Real Estate Trust, John Finneran Tr. – Aug. 18, 2004 – b. 8998 p. 151
Inventory Data:
| | |
| --- | --- |
| Street | Maple Av |
| Place | Andover Center District |
| Historic District | Andover Historic Building Survey |
| Historic Name | Lamont - Dugan House |
| Present Use | residence |
| Original Use | residence |
| Construction Date | 1895 |
| Source | ERDS, NERDL, style, |
| Architectural Style | Queen Anne |
| Architect/Builder | Eugene Pitman |
| Foundation | stone & granite |
| Wall/Trim | clapboard/wood/vinyl clad |
| Roof | asphalt/hip |
| Condition | excellent |
| Acreage | 0.444 acre, 19,400 sq, rods |
| Setting | residential |
| Map and parcel | 38-178 |
| Recorded by | James S. Batchelder |
| Organization | Andover Preservation Commission |
| Date entered | Nov. 9, 2018 |
Map: