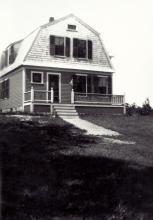 Architectural Description:
Architectural significance:
The dominant feature of the one-and-a-half story wood-shingle house is the steep gambrel roof, pierced by shed-roof dormers on east and west slopes. It is surrounded on two sides by a broad open veranda. It is accompanied on the lot by a two-bay garage with a pyramidal hip roof and novelty siding.
Historical Narrative:
Historical significance:
This house and garage were probably built about 1915 by Louisa R. Bailey, who purchased the property in 1911 from the Shattuck family. Louisa Rounds (Wentworth) Bailey was born in in 1877 in Hiram, Coos Co., Maine, daughter of John and Lucy M. Wentworth. Louisa was the youngest of five children. She came to Andover, MA and married on Nov. 18, 1889 to Alfonso Augustus Bailey, b. Sept. 6, 1860 in Andover, son of Warren Augustus & Sarah (Nay) Bailey. The Bailey farm was off River Road near the present day Laural St. Louisa & Alfonso would have two children: Mabel Roxie b. Nov. 18, 1890 and Warren Augustus b. April. 30, 1892. Sadly Alphonso died of Consumption on July 16, 1893 leaving Louisa with two young children. Louisa would live with her in-laws Warren & Sarah Bailey. Her infant son Warren A. was left in the care of her parents to raise in Hiram, Maine. Louisa would re-marry two years later on Aug. 14, 1895 to her brother-in-law Henry Hersey Bailey, b. Sept. 19, 1865.
Louisa & Henry would also have two children, Ethel Marion b. May 15, 1896 and Arlon Wentworth b. Nov. 4, 1898. Once again Louisa would become a widow when Henry H. died on Jan. 7, 1900 of Apoplexy from alcohol. In the 1900 census she continues to raise her children with the in-laws. Warren Bailey died on May 2, 1909. In the 1910 census it appears that Louisa is living in the home at 59 River Road. Now 45 years old she is a dress maker. Her daughter Mabel, age 19, is a stenographer for the American Woolen Co. It has been stated that she was a secretary for William M. Wood. Ethel 14 and Anton 11 are students at the North District School across the street. Annie Shirley age 30, the school teacher boards with the Bailey family. Once the children are established in occupations, Louisa sells the property and the family moves to 4 Avon Street near the center of Andover.
Joseph A. Gleeson purchased the home on July 7, 1919 and sold a year later to Helen W. Manning, wife of Francis J. on June 25, 1920. The house and property went through a long series of owners, almost none holding the property for longer than a decade. According to neighbors, the house had been recently sold to the town to allow expansion of the adjacent Greater Lawrence Vocational Technical High School School.
Paul F. & Cecile I. Kelley would be the last family to own the property, purchased on May 31, 1972. They owned for 16 years then selling to the Town of Andover on Aug. 15, 1988. The home was later razed and the property annexed into the Technical High School campus.
Bibliography/References:
Essex County Registry of Deeds.
Owners;
Edward Shattuck, George H. Shattuck, Susan (Shattuck) Cabot, Emily C. Shattuck, widow of George A. Shattuck
Louise R. Bailey - Jan. 11, 1911 - b. 300 p. 526 - 7/8 acre with buildings
Joseph A. Gleeson - July 7, 1919 - b. 403 p. 278
Helen W. Manning, wife of Francis J. - June 25, 1920 - b. 427 p. 147
Harold H. & Elizabeth M. Adams - Jan. 23, 1925 - b. 508 p. 143
Anna B. Wilcox - Dec. 11, 1928 - b. 544 p. 17
Helen Richardson, wife of Frank H. - Jan. 27, 1939 - b. 620 p. 479
Catherine M. Waring - Oct. 14, 1946 - b. 704 p. 20
Helen Richardson - Sept. 22, 1947 - Probate #16938 - divorce decree
Helen Richardson - Oct. 20, 1947 - b. 704 p. 21
Helen (Richardson) Robinson and Helen F. Tacy - June 27, 1959 - b. 896 p. 320
Joseph R. & Carol A. Duquette - June 23, 1962 - b. 961 p. 271
Donald & Alwyn Thorpe - June 24, 1969 - b. 1133 p. 367
Paul F. & Cecile I. Kelley - May 31, 1972 - b. 1193 p. 757
Inhabitants of Town of Andover - Aug. 15, 1988
Greater Lawrence Regional Vocational Technical High School District - Nov. 20, 1989 - b. 3029 p. 273
Inventory Data:
| | |
| --- | --- |
| Street | River Rd |
| Historic District | Not Applicable |
| Present Use | vacant |
| Original Use | residence |
| Construction Date | c. 1915 |
| Source | ECRDS, ENRDL, style-njs |
| Architectural Style | Colonial Revival |
| Foundation | stone |
| Wall/Trim | clapboard, wood shingles |
| Roof | gambrel/asphalt |
| Outbuildings / Secondary Structures | garage, poultry shed |
| Major Alterations | 6 Nov 1987, observed fire damage (BCT) Barbara C. Thibault |
| Condition | razed |
| Demolished? | Yes |
| Demolition Details | 1988 by Town of Andover |
| Acreage | .621 acre or 7/8 acre |
| Setting | adjacent to Technical School (modern) and busy highway. Woods in rear. |
| Map and parcel | 143-11 |
| Recorded by | Peter H. Stott; Org.: BU OPA, James Batchelder |
| Organization | Andover Historical Society, Andover Preservation Commission |
| Date entered | 25 Oct 1987, Dec. 4, 2015 |
Map: