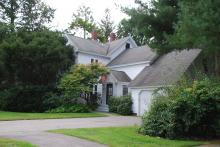 Historical Narrative:
59 Salem Street – Gutterson – Erving House
The property along the west side of Salem St. was once owned by brothers Asa A. Abbott and Sylvester Abbott. Both farmers living on Porter Rd., Asa and Sylvester sold off lots on Salem St. This parcel contained two and a half acres when sold to George H. Gutterson on July 3, 1871 for $600. George Herbert, born May 21, 1847 in Andover, MA was the only child of George & Priscilla F. (Phelps) Gutterson.
Georges' mother Priscilla died of consumption on September 26, 1847 at age 26. His father George Gutterson b. Nov. 25, 1820 in Milford, NH later remarried on May 28, 1855 to Hannah H. Phelps, sister of Priscilla. They were the daughters of Jonathan & Abigail (Abbott) Phelps who lived in an old homestead near 39 Salem St. George and Hannah H. P. would have two children Clara Priscilla b. Sept. 29, 1856 and Myron E. b. 1863.
George H. attended public schools in Andover and graduated from Punchard Free School in 1865. In the 1870 census George H., now 22, is listed as a farm laborer most likely working with his father. George H. buys the parcel on Salem St. in 1871 and on Sept. 3, 1875 deeds the property over to his step-mother Hannah H. P. Gutterson. George H. gives his occupation as Student at this time. George had enrolled at the Andover Theological Seminary and became a Minister and Missionary. He married Emma S. Wilder and went to India where their first six children were born from 1876 to 1886. They returned to Winchester, MA where they had four more children.
Hannah H. Gutterson took an $800 mortgage with the Andover Savings Bank on August 3, 1876. The loan would later be assigned to the Trustees of Punchard Free School in August 1882. Husband George was a farmer and gardener, experimented with several varieties of strawberries. George died of cancer on April 16, 1887 at the age of 66. The Trustees would later take possession of the house on October 1, 1890. They then sold the property to Martha M. Whitney on June 8, 1891 for $2850.
Martha (Merrill) Whitney, b. Mar 30, 1850, Corinth, ME, daughter of Adam Huse Merrill (1805-1888) and Persis Poor Greenleaf (1810-1895). Martha was one of 12 siblings. Martha married Charles Albert Whitney born Jan 17, 1851, Penobscot County, ME, son of Calvin Harlow Whitney (1814-1892) and Rebecca Clark Steward (1830-1899). His father was a merchant, then a farmer. Son Charles A. was a store clerk and one of 5 siblings. He died Jan 2, 1891, Presque Isle, ME: buried Hill Cemetery, Newburgh Center, ME. Charles & Martha had two sons;
Richard Merrill Whitney, b Nov 10, 1874, St. Albans, ME, d Aug 16, 1924, New York, NY: buried Arlington National Cemetery, Educated at Phillips Academy, and Harvard, class of 1897Philip Lawrence Whitney, b Sep 15, 1880, Brownville, ME, d Nov 21, 1950, Orange CA. Phillips Academy, class of 1897, and Harvard, class of 1901.
After the death of her husband Martha purchased the home in Andover as her sons would attend Phillips Academy. It appears from the Phillips Academy Catalogues that she took in boarders from Phillips Academy, at least during the years her sons attended in the 1890s. Several students are listed as boarding at "Mrs. Whitney's" or Mrs. C.A. Whitney's," in addition to her sons. Whitney held the property for six years then selling to Mary J. (Bell) Erving on Nov. 26, 1897 for $3000.
Martha Whitney died Sep 20, 1910, Bangor, ME: buried Brownville Village Cemetery, Brownville, ME
The Erving family would own the home for the next 52 years. Mary Jane Bell was born in Canada in July 1866, dau. of Christopher & Fanny (Galbraith) Bell, Mary J. married on Jan. 30, 1884 in Peterborough, Ontario, Canada to Abbot E. Erving born in 1858 in New York. They had six children; Harry B. b. June 13, 1885 and Annie J. b. July 1886, both in Canada. They then moved to Andover, MA in 1887 where William G. b. June 3, 1888, Eva A. b. May 31, 1891, Mary L. b. Jan. 18, 1893 and John M. b. Nov. 27, 1896 were born.
Abbot Erving lists his occupation in 1900 as a Farm Manager. In 1910 he is a school Janitor and 1920 as a Gardener for a private family. At this time only the youngest son John M. was living with his parents. In 1910 the Ervings sub-divided their lot into three separate parcels. Their home sited on lot #3 and the other two remained open. On June 29, 1922 Mary J. sold the adjoining lot #2 to her son John M. Erving. The restriction came that no building constructed could be closer than 30' from the street. John had married that year to Ruth B. Milton b. 1898 in NH. He is listed as a Stationary Engineer. John & Ruth had a son John M. Jr. on Sept. 8, 1923. Sadly his father Abbot died on July 24, 1923.
In 1930 John & Ruth lived at 14 Carisbrooke St. in Shawsheen Village. John & Ruth would later build a home at 61 Salem Street next door to his family home. John went into Real estate Insurance. His mother Mary J. died on Sept. 1, 1936 and the estate was inherited by the Erving children.
In 1935 the home was rented to family. Carl Nelson Lindsey born May 1894, son of John Wm. & Isabella (Kinley) Lindsey and wife Mary (Erving) Lindsey, daughter of Abbot & Mary J. Erving. Carl Sr. served in WWI as a Corporal in the 102 Field Artillery, 26th Division. Carl & Mary had five children John A. b. 1921, Kinley Walker b. 1922, Caryl Norma b. 1924, Marilou b. 1927 and Carl b. 1929. During the war sons, John A. served with the U. S. Marines, and K. Walker the US Army Air Corps. Daughter Caryl N. became a nurse. Carl Lindsey died on Dec. 11, 1945.
The home was sold to J. Norman Anderson on Sept. 24, 1949 for $8000. Anderson owned for seven years then sold to Ruth M. Erving, wife of John M. on Oct. 20, 1956. Ruth held the property for one year then selling to George A. L. & Constance J. Brown on Oct. 11, 1957.
Harford W. H. & Virginia Powel bought the home on Apr. 28, 1960. Harford b. 1916 is retired in 1961. His wife Virginia is an Art teacher. With the death of Harford his wife sells to the Trustees of Phillips Academy on July 15, 1968 and the home becomes faculty housing for the school.
The house was later sold to Peter J. & Gayle LaFleur Caruso on July 24, 1979 the current owners of record of 38 years in 2017.
Bibliography/References:
Essex Country Registry Deeds, Salem, MA
Essex Northern Registry Deeds, Lawrence, MA
Andover Directories
Phillips Academy Directories
Andover Maps 1872, 1884, 1888, 1906
Owners;
Asa A. Abbott & Sylvester Abbott – 1871 – land
George H. Gutterson – July 3, 1871 – b. 10 p. 3
Hannah H. P. Gutterson – Sept. 3, 1875 – b. 36 p. 105
Hannah H. P. Gutterson, wife of Geo. – Aug. 3, 1876 – b. 42 p. 443 - $800 mtg. A.S. Bank
Trustees of Punchard Free School/Gutterson – Aug. 30, 1882 – b. 69 p. 300 – assign. mtg.
Trustees of Punchard Free School – Oct. 1, 1890 – b. 113 p. 243 – Poss. Mtg. deed
Martha M. Whitney – June 8, 1891 – b. 113 p. 244 - $2850 –
Mary J. (Bell) Erving, wife of Abbot E. – Nov. 26, 1897 – b. 159 p. 372 - $3000.
Mary J. Bell Erving Estate, died Sept. 1, 1936 – Probate # 185,934 –b.289 p.18
John M. Erving & Fannie E. Arendale, Executors
J. Norman Anderson – Sept. 24, 1949 – b. 728 p. 541 - $8000
Ruth M. Erving – Oct. 20, 1956 – b. 843 p. 410
George A. L. & Constance J. Brown – Oct. 11, 1957 – b. 863 p. 24
Harford W. H. & Virginia Powel – Apr. 28, 1960 – b. 914 p. 102
Harford W. H. Powel estate, heir Virginia Powell
Trustees of Phillips Academy – July 15, 1968 – b. 1110 p. 146
Peter J. & Gayle LaFleur Caruso – July 24, 1979 – b. 1380 p. 135
Gayle LaFleur Caruso – June 13, 1986 – b. 2214 p. 208
Inventory Data:
| | |
| --- | --- |
| Street | Salem St |
| Place | Phillips District |
| Historic District | Andover Historic Building Survey |
| Historic Name | Gutterson – Erving House |
| Present Use | residence |
| Original Use | residence |
| Construction Date | 1876 |
| Source | ECRDS, ENRDL, style-njs |
| Foundation | stone/granite |
| Wall/Trim | clapboards/wood |
| Major Alterations | several additions and alterations |
| Condition | excellent |
| Setting | residential/educational |
| Map and parcel | 58-5 |
| Recorded by | James S. Batchelder |
| Organization | Andover Preservation Commission & Andover Historical Society |
| Date entered | Dec. 7, 2017 |
Map: