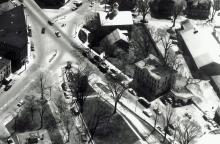 Historical Narrative:
6 – 12 North Main Street – The Daly Block
Built 1893 Razed December 1972
The south portion of the current Mobil Service Station property at 14 North Main Street formerly housed the Daly Block. Built in 1893 by Patrick Daly, the large three story apartment building contained four apartments on the upper floors and had two retail stores on the ground level. The numbering of this site has included 2-4-6-8-10 and12.
Through the years adjustments were made to the building and the retail spaces. Originally the building was clad with wood clapboards, had side porches at the ground level and the roof line had a decorative frieze on the front and two sides. The front top pediment had the name "Daly Block" integrated into the design. Painted in contrasting colors, the facade Queen Anne elements would have complimented the high Victorian style of the original look of the Memorial Hall Library. The color banding and shutters on the windows visually broke up the mass of the building making an attractive apartment building on Elm Square. At some point during the first half of the 20th century the block was over clad with white asbestos or composite shingles. Eventually the two store fronts became additional residential apartments by the 1940's. The decorative elements were removed and the building lost much of the original charm.
Patrick J. & Hannah E. Daly purchased the property in January of 1892, residing in one of the units. Daly relocated his P. J. Daly & Co. grocery store from Ballardvale to #2 North Main in September 1893. The Daly store would be the only store to occupy this space at #2 and the last retail tenant closing just prior to WWII. Several businesses occupied the stand at #10. Lannan's Market, owned by George Lannan was the last store here closing about 1936.
The Daly family lived in their block for many years. Jeremiah J. Daly became a doctor and had his practice here in 1913.
August 5, 1892 AT – It begins to look as if P. Daly of Ballardvale, who recently purchased the piece of land below Memorial Hall, intends to build. Wilson has moved the fish market to a position close to the blacksmith shop, and it is understood that J. H. Campion will have the building occupied by the Andover Laundry, moved to Park Street, near his stable.
December 2, 1892 AT – p.1 P. Daly intends to build at once on the lot next the Memorial Hall. It is understood that the contract for the cellar has been let to Richard Williamson.
March 17, 1893 AT – Hardy and Cole are engaged to-day staking out the land next the Memorial Hall for Patrick Daly's new building.
April 7, 1893 AT – The cellar for Daley's [sic] Block, next to the Memorial Hall, is well under way. Richard Williamson is doing the work.
Sept. 22, 1893 AT – A sign on Daly's new block reads "P. J. Daly's Cash Store" This signifies that Mr. Daly, who has conducted a grocery store in Ballardvale, is to carry on the same here.
Sept. 29, 1893 AA – pg 5 The building recently erected by P. J. Daly of Ballardvale near the Memorial Hall is finished and Mr. Daly opened his "Cash Store" last Saturday. He will carry on the grocery and dry goods business and intends to run two teams. If he can run a business in Andover on a cash basis for one year and make it pay it will be something never done here since the first settler purchased the town site of the Indians for two pounds sterling and an old coat. Mr. Daly has not yet rented the other store in the block but expects to soon, as it is a good stand.
In the 1893-1894 Andover Directory a half page advertisement gives the following; P. J. Daly – dealer in Dry Goods and Groceries, Boot, Shoes and Rubbers of all description – at reasonable prices. Choice Brands Flour, Grain, Crock, Crockey, Glassware and everything usually found in a general store. The New Store Elm Square
In 1900 the building valuation was $4000. and a Shoe Shop at #18 No. Main - $150. The ½ acre property from 2 – 18 was $3000.
Oct. 14, 1927 p.5, Patrick J. Daly obit. grocery store in Daly Block, 82 years. Has son William and daughter Julia.
Tenants of the Daly Block;
1897 – P.J. Daly & Jerry Daly grocers
1904 - J. Daly – Groceries & Shoe Store #6
1901 – 1913 A.P. Levine #10 Dry & Fancy Goods, Philip Levine
1908 – J. Daly – Groceries & fruit – Boots, Shoes & Rubbers 2 & 4 No. Main
Annie & Delia G. McCrossen 12 work Tyer Rubber Co.
Anna I. & Mary A. McGlynn 12 TRCo.
Patrick Welton 12 tailor
1916 - #10 Yunggebauer, Gustav & Maria A. provisions
P.J. Daly & Co. #4
Dr. Jeremaih Daly #8
Wm. P. & Julia K. Daly prop.
Feb. 15, 1924 AT - pg. 5 - New Hardware store opens. S. D. Rutstein in Daley's block 10 North Main Street – Andover Supply Co.
1930 – Sarah L. Resnick – dry goods #10, #8 vacant #2 Daly
1935 – Lannan's Market – George A. Lannan prop. #4 P.J. Daly grocery
1937 – Daly and 10 is vacant
1945 – Six different families living here but no Daly now occupying the building.
The building was razed in 1972 to make way for a new service station on the enlarged corner parcel of North Main and Pearson Streets.
Bibliography/References:
Owners;
Honorable Amos Abbott
Honorable Amos Abbott Alfred A. & Albert Abbott, Extrs.
John Abbott & Moses Foster - Sept. 26, 1870 - b. 6 p. 56 parcel #1
John W. Faulkner - June 27, 1877 - b. 46 p. 572 parcel #2
Olivia W. Mansfield - April 16, 1891 - b. 112 p. 27
Patrick J. & Hannah E. Daly - June 28, 1892 - b. 122 p. 319
Julia E., Patrick W. & Jeremiah Daly - Jan 10, 1920 - b. 417 p. 397
Daly heirs: Hannah Mullane, John A. Daly,
Martin W. Daly, Josephine D. Lawson,
Eleanor C. Doyle & William J. Daly
Cyr Oil Corporation - May 17, 1962 - b. 958 p. 279
Cyr Oil Company - Oct. 4, 1984 - b. 1876 p. 195
Mobil Oil Co. - Feb. 1, 1993 - b. 3653 p. 354
Photo in Lawrence Evening Tribune Nov. 6, 1942 of Service Station and side of Daly Block.
Inventory Data:
| | |
| --- | --- |
| Street | North Main St |
| Place | Andover Center District |
| Historic District | Not Applicable |
| Historic Name | Daly Block |
| Present Use | Service Station |
| Original Use | Apartment & retail building |
| Construction Date | 1893 |
| Source | ECRDS, ENRDL, style-njs |
| Architect/Builder | Hardy & Cole builders |
| Foundation | stone/granite/brick |
| Wall/Trim | clapboard/ asbestos shingles |
| Roof | flat - tar & gravel |
| Condition | razed 1972 |
| Demolition Details | 1972 |
| Setting | residential/business |
| Map and parcel | 55-71 |
| Recorded by | James S. Batchelder |
| Organization | Andover Preservation Commission |
| Date entered | Oct. 21, 2016 |
Map: