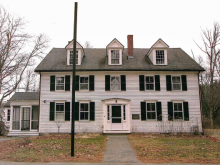 Architectural Description:
Style: Georgian and Federal
Other features: 1/2 house (right) seems earlier - Georgian window heads
Historical Narrative:
Present owner: Trustees of Phillips Academy
Original owner: John Blanchard
Subsequent uses: boys dorm 1802
Themes: Architectural, Community development, Education
Historical significance: Now the oldest building on the Academy campus - used as a dormitory for Academy's boys as early as 1802.
John Blanchard was licensed to take Phillips Academy boys as boarders in 1789. 1802 - 1804, his nephew, Amos from Wilton, N.H. lived there while attending P. A. and at that time Uncle John was permitting 7 boys as boarders. Amos Blanchard stayed there again in 1817 while his own house was being built at 97 Main St. in 1819. The house was moved in August 1858 across the lane to 18 Salem Street, south of the library. In September 1928, it was again moved across Main Street to its present site "Off Main" - now Hidden Field.
Madame Phoebe Foxcroft Phillips stayed here and in 1812, Phillips Academy bought the house from her for $3000 and rented it to "eccentric" Josiah Clough", typesetter at Flagg & Gould. His daughter, Lizzie followed. Scott Paradise, English teacher & local historian, was resident in 1930's & 1940's. In 1965 Walter Gireasch was occupant.
In 2016 an extensive renovation was begun on the interior of the house. After exposing ceiling joists it was determined the the structural integrity of the building had been seriously compromised over the years. Cost to repair the structure was too high and the Trustees of the Academy applied for a demolition permit. The Preservation Commission reviewed the documents and toured the site and building. Regrettably the historically significant building was approved for demolition and came down in November 2016.
Bibliography/References:
B. Goldsmith - Historical Houses in Andover, Mass.
Andover Historical Society files
Paradise, Scott; "The Blanchard House" Phillips Bulletin, April 1927, pg. 24 - 28
"Old Houses on Andover Hill"; Phillips Bulletin, July 1915.
Goldsmith, Bessie; Historical Houses in Andover, Mass. Compiled for Tercentenary 1946.
Inventory Data:
| | |
| --- | --- |
| Street | Hidden Field |
| Historic District | Not Applicable |
| Historic Name | Blanchard-Clough House |
| Present Use | Residence - Faculty house |
| Original Use | Residence & Phillips Academy dorm |
| Construction Date | 1790 |
| Source | Goldsmith, Historic Houses |
| Architectural Style | Other |
| Wall/Trim | clapboards |
| Outbuildings / Secondary Structures | Modern garage |
| Major Alterations | altered 1858 |
| Move Details | twice, 1858 and 1928 |
| Acreage | lot size: 15,000 sq ft; approx. frontage: 88' |
| Map and parcel | 57-55 |
| Recorded by | Stack/Mofford |
| Organization | Andover Historical Commission |
| Date entered | August 1977 |
Map: