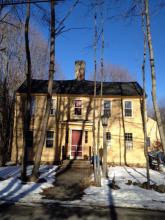 Architectural Description:
This home was built during the Federal Period in the typical five bay facade tradition, with center door with window above, and double windows flanking both sides top and bottom. A Greek Revival entry porch was a later addition. The first floor held 3 fireplaces.
Historical Narrative:
Last owner occupied Crowley, John and Elizabeth 11/1/52
Themes: Architectural, Community Development
This house is said to have been moved to this location from the corner of Woodland Rd. and Salem Street. Deeds support this statement as the land was developed along Salem St. from Woodland Rd. in the 1920s. A site plan #536 of "Property of Theron H. Lane, Andover MA Dec. 25, 1923, by John Franklin, CE". shows 8 house lots from the Jaquith property on Salem St. extending to this lot #8 on Prospect Hill Rd. A 1906 map of Andover shows no houses located along this section of road. At the intersection of Woodland (Missionary Lane) and Salem streets are two homes of Joseph Johnson marked #72 and #74 on the 1906 map of Andover. The 1830 and 1852 maps place Charles Wardwell at that location. We know from the deeds that the smaller home at #74 was occupied by Osgood Woodbridge and acquired by Charles Wardwell at auction in October 1818 for $163.51. We believe that the Wardwell home at #72 Salem St. is the house moved to 6 Prospect Rd.
One of the two Wardwell houses was moved to this location about 1924 and it was sold to Francis H. Foster on July 17, 1925. Francis Homer Foster, (1867-1950) was a farmer and lived at 98 Central St. in Andover. His wife was Mary Jackson (Swett) Foster ( 1870-1937), dau. of Jackson & Mary Swett) age 39. It appears that this was purchased as income property and Francis never used it as his residence. Foster died in 1950 and his estate was administered by the New England Trust Company of Boston via probate on Aug. 16, 1950.
The Property was sold to John W. & Elizabeth (Morgan) Crowley on Nov. 23, 1951. The Crowley family owned the home for 62 years. John W. Crowley b. 1912, son of William & Mary (Buckley) Crowley was a Andover Firefighter. He was married to Elizabeth Morgan b. 1925. John died July 8, 1986 in Boston. His wife Elizabeth was heir and the property was later placed in the Crowely Family Trust with daughter Joan (Crowley) Mailhot as Trustee.
Bibliography/References:
Essex County Registry Deeds, Salem, MA
Essex Northern Registry Deeds, Lawrence, MA
Dorman, Moses: Map of Andover, 1830; Wardwell
Owners:
Charles W. & Mehitable K. Wardwell -
Charles Otis Wardwell - Dec. 19, 1843 - b. 340 leaf. 282 Mtg.
Charles Otis Wardwell - Jan. 8, 1864 - b. 680 leaf 153 - mtg. release
Charles W. & Mehitable K. Wardwell -
I. Alvin Farley - Jan. 8, 1864 - b. 680 leaf 152 - portion of homestead
William H. Gray - July 12, 1872 - b. 15 p. 485
I. Alvin Farley - June 19, 1877 - b. 46 p. 590
John McCarthy - June 6, 1877 - b. 46, 593 - land
John McCarthy estate, Julia Lane, Mary and Annie McCarthy
Julia Lane, wife of Wm. Lane -
Theron H. & Agnes Lane - June 9, 1920 - b. 425 p. 532
Francis H. Foster - July 17, 1925 - b. 515 p. 247
Francis H. Foster estate, New Eng. Trust Co. -Aug. 16, 1950 - Probate
John W. & Elizabeth A. Crowley - Nov. 23, 1951 - b. 759 p. 496
John W. Crowley estate, heir Elizabeth A. Crowley - July 8, 1986
Elizabeth A. Crowley, Joan Mailhot, P.O.A. -
Crowley Family Realty Nominee Trust, L. Mailhot, Tr. - Sept. 4, 2013 - b. 13623 p. 137
Jeffco, Inc. Doug Ahern - Sept. 11, 2013 - b. 13630 p. 301
Pulchia & Hualin Yip - Jan. 14, 2014
Inventory Data:
| | |
| --- | --- |
| Street | Prospect Rd |
| Place | Holt District |
| Historic District | Not Applicable |
| Present Use | residence |
| Original Use | Farmhouse |
| Construction Date | 1800 |
| Source | ECRDS, ENRDL, style-njs |
| Architectural Style | Federal |
| Architect/Builder | Doug Ahern 2013 |
| Foundation | stone/granite |
| Wall/Trim | clapboards/wood |
| Roof | asphalt - gable |
| Major Alterations | added 2 story lean-to at rear shed razed 1967 |
| Condition | razed 2013 |
| Moved? | Yes |
| Move Details | per owner - house moved here from corner of Woodland and Salem Rds. 60-70 years ago. |
| Demolition Details | 2014 - Razed for new construction by Jeffco Inc. |
| Acreage | less than one acre; 23,758 sq. ft. , 110' frontage |
| Setting | residential |
| Map and parcel | 25-40 |
| Recorded by | Stack/Mofford, James S. Batchelder |
| Organization | Andover Preservation Commission |
| Date entered | 1975-77, 12/29/2017 |
Map: