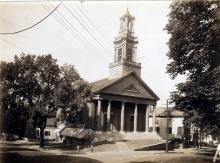 Architectural Description:
Unusual step pyramid spire roof, decorative touches typical of Chickering's style.
Multi pane geometric windows,
Interior has had some alterations but still has upper galleries.
Historical Narrative:
Themes - Architectural, Commerce, Community development, religion, and Social/humanitarian.
The Baptists were the first denomination in Andover to assert their rights of freedom of conscience and worship, when during the ministry of South Parish's first parson, a citizen tried to secure tax exemption to attend a Baptist meeting nearby. Although he was refused permission, it was through the persistence of the Baptists that freedom of worship was won and the Bill of Rights eventually amended. The Andover Baptists were organized at the home of Orlando Lovejoy (376 Main St.) on Sept. 21, 1832, and 30 members began meeting the next week in Masonic Hall.
On Aug. 28, 1834, the present church was dedicated and is now the second oldest original church edifice in Andover. Rev. James Huckins served as first pastor, 1834-1835. The denomination was not strong and was served by ministers intermittently. The dominance of Andover Theological Seminary's Congregationalism was perhaps too powerful and may have influenced the slower growth of the Baptist parishioners.
When the church was first constructed, the basement rooms had been rented out to business firms, most notably, T. A. Holt & Co., pioneer grocery firm of Andover, founded 1838 by Solomon Higgins and Thompson Abbott. It was succeeded on Sept. 1859 by J. Thompson Abbot and T. Augustus Holt.
Andover Townsman - Jan. 3, 1919 – Andover's Oldest Firms Sold – T. A. Holt & Co. and A.S. Manning sold to E. T. Heathering[sic] – Holt's the oldest began in 1838 as Higgins & Abbot in the Baptist Church basement 80 years. Manning began 1845 as S. G. McNeil, Dodge & Beard – 1845, H. P. Beard & Co. (Wm. Beard, J. S. Smith & A.S. Manning,) 1871 Smith & Manning & Co. (Smith, Manning and Isaac Carruth), Smith & Manning, 1918 A.S. Manning.
Not until 1924 when the Hethrington Store moved to 68 Main St. did the Baptist Church congregation vote to use their entire building for church purposes and at that time renovations were made on the edifice. The porch foundation was re-laid and the steeple repaired. Improvements had also been made in 1892, adding electricity and installing the pipe organ. The church was again renovated in 1963.
Jacob Chickering, who lived down the street, was master carpenter and builder and won the bid to build the Baptist Parsonage also on Essex Street.
Some former tenants in the basement stores;
Andover Advertiser (AA)
Feb. 19, 1853 AA - Daniel Logue –Tailor – Under the Baptist Church
May 28, 1853 AA – The Clothing Store of Daniel Logue under the Baptist Church was broken into on the night of the 23rd inst. and goods to the amount of about $1500 taken – chiefly ready made garments
Aug. 4, 1855 AA – William Barnett – Plumber – Tin plate, sheet iron and copper – rear of the Baptist Church
June 14, 1856 AA – William Corse just opened a store under the Baptist Church. – Gentlemen's Boots, shoes, & Gaiters – Ladies' cloth gaiters, French shoes, slippers, all kinds of repairing done.
March 28, 1857 AA - William Corse – Boots, Shoes and Rubbers – basement of the Baptist Meetinghouse.
July 18, 1857 AA – The Tract Depository has been located at Mr. John Harding's store under the Baptist Church. The stock consists mainly of the Tracts and books of the Tract Society, which will be sold at cost, as at the Boston Depository. There is a small assortment of Bibles & Testaments.
June 25, 1859 AA- William Barnett – Plumber, tin plate, sheet iron, copper, stoves, stove funnel, tin. Japanned, glass & Britannia ware – rear of Baptist Church.8/16/58
Sept. 10, 1859 AA – New firm – On Monday morning the old sign of Higgins & Abbot, which for so long hung over their well known place of business, was removed and a new one indicating the new firm of Abbot & Holt took its place. The long continued illness of Mr. Higgins has compelled him to give up his active business, and Mr. Holt, who has been well known as clerk in the establishment, has associated with Mr. Abbot in the business. We hope that the liberal patronage and eminent success of the old firm will be continued by its successor.
Sept. 3, 1859 AA – Co-partnership of Higgins & Abbot dissolved – new partnership of Abbot & Holt - Jos. T. Abbot & T. A. Holt ( Sept. 1)
Feb. 8, 1862 AA - William Barnett – plumber – rear of Baptist Church
M. A. Wilson – Watchmaker & Jeweler – in Mr. Corse's Shoe Store - (Oct. 26, 1861)
Feb. 13, 1864 AA - William Barnett – Magee Parlor Stoves – Old Railroad Depot – [9 Essex St.]
Aug. 13, 1869 AA – E. R. Farnsworth & Co. bought out the stock of John Harding under the Baptist Church.
Bibliography/References:
Andover Historical Society files
Bailey, Sarah Loring, Historical Sketches of Andover., Boston:Houghton Mifflin, 1880
"Andover Baptist Church to Observe 100th Anniversary of It's Founding"- Lawrence Tribune, Oct. 8, 1932
Business History of Andover, Anniversary Souvenir Number of the Andover Townsman, 250th Anniversary Souvenir..1896, p. 29 - T.A. Holt & Co
Inventory Data:
| | |
| --- | --- |
| Street | Central St |
| Place | Andover Center District |
| Historic District | Central Street NRH District |
| Historic Name | Andover Baptist Church |
| Present Use | Church |
| Original Use | church and store rentals |
| Construction Date | 1834 |
| Source | ECRDS, ENRDL, style-njs |
| Architectural Style | Greek Revival |
| Architect/Builder | Jacob Chickering builder |
| Foundation | stone/granite |
| Wall/Trim | brick/wood |
| Roof | slate - gable |
| Major Alterations | Basement store changed into Vestry at $5,000. 1924;1963 |
| Condition | excellent |
| Acreage | less than one acre, 11,167 sq. ft. |
| Setting | residential/commercial |
| Map and parcel | 55-50 |
| MHC Number | ANV.187 |
| Recorded by | Stack/Mofford, James S. Batchelder |
| Organization | Andover Preservation Commission |
| Date entered | 1975-1977, 3/1/2014 |
Map: