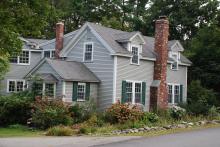 Historical Narrative:
Stillman H. Harnden once owned this property on Holt Rd. and sold four lots on Sept. 1, 1864. The parcel had been surveyed by James S. Eaton on Aug. 31, 1864. Lot #1 two acres was sold to John Sweeney for $250. The adjoining lot #2 also 2 acres was sold to his older brother Dennis Sweeney for $250 and lot #3 of 1 acre 3 rods and 37 sq. rods was purchased by Patrick Carney $250. Stillman Harnden also sold a 2 acre lot to Michael Geary on Sept. 1, 1864 for $250 recorded in an earlier book.
John Sweeney was born in Ireland in 1832, son of David & Mary (Sexton) Sweeney. John married Jan. 26, 1861 at Lawrence, MA to Margaret Donovan b. 1830 in Ireland, daughter of Charles & Catherine Donovan. The 1870 Andover Valuation Schedule lists John Sweeney, South District; Half House $100, Barn $150, 9 acres $500 = $750. Farm stock $100 Money $300. Denis Sweeney, Half House $100, Barn $150, 2 1/2 acres $150 = $400 Farm stock $60.
The assessment shows the brothers shared the property at first. Dennis was born in Ireland 1830 and married Margaret Collins b. 1830 daughter of John & Mary (Donovan) Collins. Dennis and Margaret had two children: Daniel b. March 5, 1858 and Mary b. 1861. Dennis would purchase the two lots north of his in 1880 and late built at 44 Holt Rd. Dennis died July 20, 1898, age 70 years of Apoplexy in Andover.
John Sweeney was a Laborer who died three month before Dennis on April 9, 1898 of pneumonia in Andover, MA. John & Margaret Sweeney had five children:
Dennis b. Nov. 2, 1861, Blacksmith, m. July 11, 1900 Lucy Agnes Roach b. 1869 (c. Edith E. & Miriam L.)
James b. May 3, 1863 – d. Sept. 16, 1889 age 27 Typhoid pneumonia
Daniel b. Dec. 20, 1865 –
John Jr. b. June 8, 1868, Butcher, m. Nov. 3, 1896 to Mary J. Griffin
Mary Agnes b. Nov. 25, 1870, m. Nov. 28, 1906 to John J. Timony b. 1877 (c. John J. & James F.)
Margaret's son Daniel and her daughter Mary A. Timony and family would live with her on Holt Rd. Margaret died about 1909 as the 1910 Census lists Daniel Sweeney age 43 a farmer and John J. Timony 34 b. Penn. wife Mary age 39 and two young sons; John J. 22 months and James F. 1 month old.
Mary S. Timony was appointed Administrator of her parent's estate on Sept. 13, 1915. Mary sold the property to Henry S. Wright on Oct. 8, 1915 for $2700. The property was 9.78 acres. Mary's husband John died young and her brother Daniel Sweeney would reside with Mary on Pearson St. in 1920 and later at 77 School St.
Henry S. Wright placed the property deed in both his and wife Helen's name on July 25, 1932. Henry Wright died on Aug. 2, 1942. Widow Helen A. Wright then co-owned the property with her son John W. Wright on Oct. 5, 1943. Helen later transferred the deed to him and his wife Gladys on Sept. 20, 1946.
Thomas B. & Dorothea C. Mortimer took ownership on Aug. 29, 1947 and held for five years. Wallace M. & Eleanor G. Haselton purchased the home and 9.78 acres on July 28, 1952. Haselton sub-divided the nine acres into house lots then sold the house and 2.17 acres, lot #4, to Alphonse A. & Ann M. Zuppardi on Nov. 30, 1954. Alphonse & Ann owned four years then selling to Robert W. & Patricia Phinney on Jan. 5, 1959. Phinney owned five years then sold to Benjamin B. & Betty (Schaefer) Appleton on Feb. 24, 1964. eight months later the house was sold to Lawrence S. & Barbara A. Spiegel on Oct. 27, 1964. The Spiegel family owned for 33 years.
E. Breck & Louise A. (Peterson) Arnzen bought on June 18, 1997. Current owner of record is David J. Hanitchak on June 25, 2013.
Bibliography/References:
Essex County Registry Deeds, Salem, MA
Essex Northern Registry Deeds, Lawrence, MA
Deeds state Survey done Aug. 1, 1864 by James T. Eaton - lot #1 -
Lot #1 - two acres
Map plan #2633 - March, 1953 - Sub-division - Haselton
Owners:
Stillman H. Harnden - Oct. 23, 1856 – b. 540 leaf 169 - $900 – 9¼ acres
Michael Geary, wife Catherine - Sept. 1, 1864 - b. 673 leaf 145 - lot #2 - $250
John Sweeney - Sept. 1, 1864 - b. 674 leaf 82 - lot #1 - $250 - 2 acres
John Sweeney estate - died April 9, 1898, heirs wid. Margaret and children
John Sweeney estate, Mary S. Timony Adm. – Sept. 13, 1915 – Probate
Henry S. Wright – Oct. 8, 1915 – b. 358 p. 275 - $2700 – 9.78 acres w/b
Marguerite R. Donahue – July 25, 1932 – b. 565 p. 570
Henry S. & Helen A. Wright – July 25, 1932 – b. 565 p. 571
Henry S. Wright estate, heir Helen A. Wright – died Aug. 2, 1942
Helen A. Wright and John W. Wright – Oct. 5, 1943 – b. 660 p. 121
Irene M. Robinson – Sept. 20, 1946 – b. 689 p. 361
John W. Wright, wife Gladys K. - Sept. 20, 1946 – b. 689 p. 362
Thomas B. & Dorothea C. Mortimer – Aug. 29, 1947 – b. 701 p. 557
Wallace M. & Eleanor G. Haselton – July 28, 1952 – b. 765 p. 295 – 9.78 acres
Alphonse A. & Ann M. Zuppardi –Nov. 30, 1954 – b. 803 p. 364 – lot 4 - 2.17 acres w/bld
Robert W. & Patricia Phinney – Jan. 5, 1959 – b. 886 p. 267
Benjamin B. & Betty (Schaefer) Appleton –Feb. 24, 1964 – b. 1004 p. 281
Lawrence S. & Barbara A. Spiegel – Oct. 27, 1964 – b. 1021 p. 275
Lawrence S. Spiegel – Apr. 22, 1977 – b. 1352 p. 768
E. Breck & Louise A. (Peterson) Arnzen –June 18, 1997 – b. 4778 p. 176
David J. Hanitchak – June 25, 2013 – b. 13525 p. 90
Inventory Data:
| | |
| --- | --- |
| Street | Holt Rd |
| Place | Holt District |
| Historic District | Not Applicable |
| Historic Name | John & Margaret Sweeney House |
| Present Use | residence |
| Original Use | residence |
| Construction Date | 1864 - 1870 |
| Source | ECRDS, ENRDL, style-njs |
| Architectural Style | Greek Revival |
| Foundation | stone & granite |
| Wall/Trim | Clapboard/wood |
| Roof | asphalt/gable |
| Outbuildings / Secondary Structures | garage |
| Major Alterations | rear and side additions |
| Condition | excellent |
| Acreage | 2.17 acres |
| Setting | residential |
| Map and parcel | 42-40 |
| Recorded by | James S. Batchelder |
| Organization | Andover Preservation Commission |
| Date entered | May 25, 2018 |
Map: