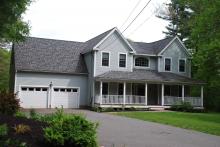 Historical Narrative:
The current house at 76 Red Spring Road was constructed in 2004 to the rear of the original house which was later razed.
The first home was constructed for the Guthrie family about 1898 and was the same design as the home at 74 Red Spring Rd. and probably built by John Henderson, the carpenter who lived next door.
John Y. & Alexina A. Guthrie were the first owners of the property. Alexina A. b. 1876 held the deed in her name and lived in the home until 1966, when she rented out to Norman & Lorraine Auchlerlonie that year. Alexina died in April 1969 and was interred on May 1, in Spring Grove Cemetery.
Norman & Lorraine Auchlerlonie then purchased the property and lived there with their family until 1998. They sold to Richard C. Sarcione in June 1997 and remained two years.
Kerrin M. Gibson was the next owner in In June 1999. Kerrin married David Sorrie and the deed was quit clamed to both on Dec. 10, 2003.
Kerrin & David lived in the old house and had plans drawn up for a new house. Construction began in 2004 and when completed the old Guthrie house was razed.
Sorrie remained just four years selling in May 2008 to Marion T. Jordan and husband Charles F. Zanazz.
Bibliography/References:
Essex Northern Registry Deeds, Lawrence, MA
Land Court Records
Andover Street Directories
Owners;
James J. Abbott - land
John Y & Alexine A. Guthrie
Alexine A. Guthrie - Jan. 23, 1934 - Cert. #2021 b. 14, p. 85
Alexina A. Guthrie estate, Norman E. Harris, Cons. - Oct. 24, 1966 - probate #281133
Norman H. & Lorraine B. Auchterlonie - Oct. 26, 1966 - Transfer cert. #5988 b. 40 p. 353
Bertha Crowley, Norman H. Auchterlonie Jr. & Helen Gifford - Dec. 5, 1984 - Cert. #9590 b. 66 p. 365
Norman H. & Lorraine H. Auchterlonie - Nov. 29, 1996 - Cert. #12534 b. 96 p. 141
Richard C. Sarconie - June 2, 1997 - Cert. #12647 b. 97 p. 193
Kerrin M. Gibson - June 24, 1999 - Cert. #13202 b. 103 p. 13
Kerrin M. (Gibson) & David A. Sorrie - Dec. 10, 2003 - Cert. #14350 b. 114 p. 245
Marion T. Jordan & Charles F. Zanazz - May 20, 2008 - Cert. 15878
Inventory Data:
| | |
| --- | --- |
| Street | Red Spring Rd |
| Place | Abbott Village |
| Historic District | Andover Village Industrial NRH District |
| Historic Name | Guthrie Lot |
| Present Use | residence |
| Original Use | residence |
| Construction Date | 2004 |
| Source | ERDS, ENRDL |
| Architectural Style | Other |
| Foundation | concrete |
| Wall/Trim | clapboard/wood |
| Roof | asphalt |
| Major Alterations | Original house razed in 2004 |
| Condition | excellent |
| Demolished? | Yes |
| Demolition Details | 2004 |
| Acreage | 1.69 acres |
| Setting | residential |
| Map and parcel | 73-1 |
| Recorded by | James S. Batchelder |
| Organization | Andover Preservation Commission |
| Date entered | June 2014 |
Map: