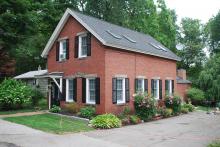 Historical Narrative:
The Boston & Maine Rail Road Corp once owned this property when the railroad line was relocated to its current position in 1847. The Ballardvale Machine Shop Corp., John Marland, President, purchased much of the property along Marland St. on Dec. 16, 1847. They then sub- divided the Pole Hill land into house lots and began selling off parcels in 1847.
Henry Osmore Perley, a Mason, wife Martha G. purchased two lots #26 & #36 on May 31, 1848 for $173.14. Osmore, as the deeds recorded, is tax in 1850 Andover Valuation Schedule for a Dwelling house valued at $1050. in the West Parish. West Parish district included all properties west of the Shawsheen River. We assume, that it was H. Osmore Perley that built the brick home in 1848. Perley had moved to Haverhill, MA by the time he sold the home for $1000. to Rev. Henry S. Greene on May 10, 1851.
Rev. Henry S. Greene, wife Mary then acquired two adjoining lots #28 & #35 on Sept. 15, 1853 from William L. King of NYC & Levi B. Meriam of Boston for $105. The deed also includes a quit claim from Janette M. Scott, widow, for $70. on all four lots, as they were recorded as just lots 30 & 34. Scott had sold to King & Merium.
Ballardvale Union Society, Howell F. Wilson, Treas. -
Henry S. Greene was born in Boston in 1807, son of Henry Greene. He graduated from Amherst College in 1834, and the Andover Theological Seminary in 1837. Henry's first church was in Lynnfield, MA which he served for 13 years. Henry married on Jan.1, 1840 in Andover, to Mary E. Philips Abbot, b. Jan. 5, 1807 in Andover, daughter of Stephen & Hannah (Russell) Abbot. Rev. Henry S. Greene received the call from the newly formed Ballardvale Union Society in September 1850 to become their first minster.
The Ballard Vale Union Society was formed on March 18, 1850. Its name was derived from the membership which included several religious sects. The first service was officiated by Rev. Professor Edward A. Park of the Andover Theological Seminary. Seminary students then filled the pulpit until the parishioners call to Rev. Henry S. Greene. The services were held in second floor hall of the Ballardvale Centre Schoolhouse on Centre St. and Andover St to the rear. They finally built their church building next to the schoolhouse on the corner of Andover and Church Streets ( first known as Village St. ) In 1876 the congregation purchased the two adjoining lots on Village St. from Rev. Greene for $150 and erected the church. The Parsonage next door would come later in the summer of 1890.
Henry & Mary had five children, of which, only one son survived to adulthood. Children: Stephen Abbot b. Oct. 21, 1840 – d. Oct. 24, 1840, Henry Mathias b. 1842 – d. Jan. 19, 1867, Mary Phillips b. 1843 d. Nov. 3, 1845, Mary Gardiner b. 1848 d. Aug. 18, 1848, and Sarah Parker b. 1850 d. Aug. 25, 1851. Son Henry M. also graduated from Amherst College in 1865. He attended Phillips Academy. Mary E. P Green died on Jan. 29, 1878. "The aged minister is thus, to use his own words, "left alone – yet not alone."
Rev. Henry deeded his home to the Ballardvale Union Society to use as a parsonage. Henry died on June 11, 1880 of Heart disease. He had served the congregation for thirty years. Rev Greene and his family are interred at South Parish Cemetery.
The Ballard Vale Union Society then used this home as their Parsonage from 1880 - 1890. Three more ministers would reside here; Rev. John W. Savage 1881 - 1882, Rev. Samuel Bowker 1884-1888 and Rev. G. S. Butler - 1888 - 1890. The church parishioners voted to sell the parsonage at auction on March 14, 1890 within sixty days. Andover Townsman - April 11, 1890 - Ballardvale; The Congregational parsonage is to be sold at auction April 19. This is a desirable piece of property in the heart of town.
AT - April 25 1890 - Ballardvale; The Congregational parsonage and lot adjoining was sold by auction Saturday last, as advertised by George S. Cole, to P. Donovan of this place. The two combined brought $1775., a good price, and more than was generally expected.
Patrick Donovan's deed was recorded on May 10, 1890. Donovan owned the property for 14 years then selling to Thomas Mathews on Sept. 28, 1904. The home would remain with the Mathews family for 67 years.
Bibliography/References:
Essex County Registry Deeds, Salem, MA
Essex Northern Registry Deeds, Lawrence, MA
Historical Sketches of Andover, Sarah Loring Bailey 1880
Andover, A Century of Change, Eleanor Richardson 1995
Andover Advertiser, Andover Townsman
Andover Historical Society files, church records.
8 Marland St. 157-47 0.24242 acre
Map plan #6416 – Jan. 1971 – Marion E. Mathews sub-divide Lot A & B
Owners;
Boston & Maine Rail Road Corp. 1847
Ballardvale Machine Shop Corp., John Marland, President - Dec. 16, 1847 -
Osmore Perley, wife Martha G., - May 31, 1848 - b. 407 leaf 50 - lots #26 & #36 - $173.14
Rev. Henry S. Greene, wife Mary - May 10, 1851 - b. 445 leaf 131 - $1000.
Rev. Henry S. Greene, wife Mary - Sept. 15, 1853 - b. 485 leaf 72 - lots #28 & #35
Rev. Henry S. Greene, wife Mary - Oct. 25, 1853 - b. 485 leaf 72 - lots #28 #30, #34 & #35
Ballardvale Union Society, Howell F. Wilson, Treas. -
Patrick Donovan – May 10, 1890 – b. 106 p. 329
Thomas Mathews – Sept. 28, 1904 – b. 215 p. 227
Thomas Mathews, estate, William Matthews
William E. Mathews, wife Millicent – Feb. 19, 1924 – b. 496 p. 221
William E. Mathews estate, Jan. 7, 1950 – heirs, Marcia G. Sherry, Adele L. Cummings, Marion E., Chester E., Foster A., Arthur Mathews and Converse F. & Nellie M. Parker.
Marion E. Mathews – 1950
Donald M. & Delia H. Strobel – June 11, 1971 – b. 1173 p. 393 lot B.
Jeramy L. Smith & Linda A. Smith – Apr. 18, 1973 – b. 1216 p. 345
Linda A. Mason-Smith – Apr. 13, 1987 – b. 2510 p. 30
Avery K. Woodworth & Elizabeth Harris – June 2, 1987 – b. 2510 p. 31
Avery K. & Elizabeth (Harris) Woodworth – Aug. 30, 1988 – b. 2804 p. 306
Henry Poland –
Rosanne Surette – Apr. 3, 1996 – b. 4528 p. 14
Brenda Julianna Cammarano – Nov. 19, 2011 – b. 6505 p. 96
John R. & Ashley L. Fishback – Feb. 11, 2015 – b. 14124 p. 182
Inventory Data:
| | |
| --- | --- |
| Street | Marland St |
| Place | Ballardvale |
| Historic District | Ballardvale Local Historic District |
| Historic District | Ballardvale National Register District |
| Historic Name | Rev. Henry S. Greene House - Union Congregational Parsonage |
| Present Use | residence |
| Original Use | residence & Parsonage |
| Construction Date | 1848 - 1849 |
| Source | ECRDS, ENRDL, style-njs |
| Architectural Style | Greek Revival |
| Architect/Builder | Henry Osmore Perley / Mason |
| Foundation | stone/granite |
| Wall/Trim | brick/wood |
| Roof | asphalt - gable |
| Outbuildings / Secondary Structures | shed |
| Condition | excellent |
| Acreage | 0.24242 acre |
| Setting | residential |
| Map and parcel | 157-47 |
| Recorded by | Ruth A. Sharpe, James S. Batchelder |
| Organization | Andover Preservation Commission |
| Date entered | 1988, 7 /29/2016 |
Map: