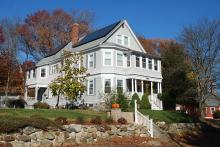 Architectural Description:
Two family home with Queen Anne style modified
Historical Narrative:
Thomas E. Andrew sold this property to Alexander E. Gordon, wife Robina on Oct. 7, 1908. Alexander E. Gordon purchased a second parcel of land on Nov. 16, 1912, from James Fraser who lived next door at 84 Poor St. This entire area north of Poor St. had been parceled off into small house lots for a development in September 1906 called "Oakhurst Knolls".
Alexander Edwards Gordon was born on May 25,1882 in Scotland, son of David & Jessie S. (Edwards) Gordon. Alex immigrated to America in 1894 with his parents and siblings. His sister Jessie E. had arrived two years earlier. The 1900 census lists the Gordon family at 84 Poor St. His father David b. Feb. 1842 is a farmer,wife Jessie b. July 1845 and children; William b. May 1878, Jessie E. b. Feb. 1880, Alexander b. 1882 and Norman b. Dec. 1886. The Gordons had 9 children of which 8 survived.
Alexander Gordon married on June 13, 1908 to Robina Gordon, born 1887 in Scotland, daughter of John & Mary (Clyde) Gordon. In 1910 Alexander & Robina with son Walter N. b. Oct. 10, 1908 are living at 10 Wood Way in Lawrence, MA. Alexander is a leather belt maker for the Woolen Mill. In 1918 they have returned to Andover and are living in their home at 80 Poor Street. Robina's parents John & Mary and siblings Edward, Jennie, William and Evelyn are living in the apartment at #82. The in-laws moved to 21 Bartlet St. in the 1920's but returned to 80 Poor Street by 1926.
Alexander E. Gordon died in July 1976 and his estate was administered by Edward F. Cregg. The Gordon family occupied the home for 69 years. The property was sold to Thomas E. & Patricia M. Malone on April 15, 1977. Thomas Malone was a teacher in the Andover Public Schools, teaching math at Andover High School.
Bibliography/References:
Essex Northern Registry Deeds, Lawrence, MA
Owners;
Thomas E. Andrew - 1908
Alexander E. Gordon, wife Robina - Oct. 7, 1908 - b. 265 p. 542 & 543
Alexander E. Gordon - Nov. 16, 1912 - b. 324 p. 60 - second parcel
Alexander E. Gordon estate, Edward F. Cregg, Extr. - April 14, 1977 - Probate
Thomas E. & Patricia M. Malone - April 15, 1977 - b. 1306 p. 140
Thomas E. & Patricia M. Malone - Sept. 7, 1983 - b. 1722 p. 345
Mark E. Engelberg - Aug. 25, 2004 - b. 9027 p. 213
80 - 82 Poor Street Condos - Sept. 13, 2010 - b. 12183 p. 176 - confirm deed
Inventory Data:
| | |
| --- | --- |
| Street | Poor St |
| Place | Shawsheen Village - Frye Village |
| Historic District | Shawsheen Village NRH District |
| Historic Name | Alexander & Robina Gordon House |
| Present Use | residences - 2 family |
| Original Use | residence - 2 family |
| Construction Date | 1910 - 1915 |
| Source | ERDS, ENRDL |
| Architectural Style | Other |
| Foundation | stone |
| Wall/Trim | clapboards/asbestos shingle covering |
| Roof | asphalt - gable |
| Major Alterations | Solar panels 2013 |
| Condition | excellent |
| Acreage | 0.353 acre |
| Setting | residential |
| Map and parcel | 51-1 |
| Recorded by | Stack/Mofford, James Batchelder |
| Organization | Andover Preservation Commission |
| Date entered | 1975 - 1977, 6/18/2015 |
Map: