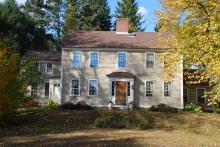 Architectural Description:
Center entrance colonial, 2-story ell on west side, central chimney
Historical Narrative:
9 Lowell Street – Joseph Faulkner House
This property was once owned by Jemimah Osgood, bought by Captain James Parker and sold to Samuel Frye on Sept. 6, 1762. The property contained about 40 acres, "on the East by the Shawshin River so called, Northerly on land of Daniel Moore, Westerly partly on a private road and partly on land of the Heirs of Ezekiel Lovejoy Decd.,Southerly on the County Road, said land together with the house, Barn and Grist Mill standing thereon with all privileges of the stream on which said Mill is built, the Dams on which said Mill is Dependent for flowing.
Joseph Faulkner later acquired the property and the water rights on the river. Joseph Faulkner was born on July 30, 1783 in Andover, son of Abiel & Hannah (Abbott) Faulkner. Joseph married on June 13, 1809 to Lydia Russell born Dec. 15, 1785 in Andover, daughter of Uriah & Lydia (Abbott) Russell of Andover, MA.
Joseph and a friend Warren Richardson were employed in a mill in Medway, Massachusetts in 1820. It is here that the two men met John Smith of Brechin, Scotland, who had arrived in America in 1816 and obtained a job as journeyman machinist at the same mill. They became friends and decided to form a partnership about 1822 to set up a business for themselves. John Smith took the lead in the enterprise.
"Fortunately for their undertaking, they obtained an order for machinery in advance, and thus got a successful start, establishing themselves first in Plymouth. Through the influence of Mr. Faulkner's friends from Andover they were induced to transfer their business to this town. They bought the unoccupied mill-privilege on the Shawshin, at Frye village, and in 1824 Mr. John Smith built the machine-shop now standing on the east side of the river and removed their works from Plymouth to Andover. Here they did an extensive business in the manufacture of cotton machinery, obtaining contracts for machinery in a cotton mill in New Market, NH, and for other large establishments. In 1829 Mr. Richardson died, and in 1831 also Mr. Faulkner. Mr. John Smith was then assisted in charge of the machine-shop, his younger brother, Peter Smith, who had come from Scotland in 1822, and been in the employ of the firm at Plymouth."
The company later changed from machine manufacture to flax manufacture and linen thread and yarns manufacturing, the first in the United States. It became the Smith, Dove & Company in 1836.
Joseph & Lydia Faulkner joined the newly formed West Parish Church on Nov. 7, 1830. They had three children; Lydia Abbot b. Mar. 22, 1810, Joseph Warren b. Oct. 27, 1812 and Mary Poor b. 1817. Joseph W. joined the church on Jan. 1, 1832, Lydia A. on May 6, 1832 and Mary P. in November 1832.
Sadly Joseph Faulkner died on Aug. 5, 1831 age 48. Son Joseph Warren was accepted to Yale but withdrew in his freshman year, perhaps to return home after his father's death. Lydia took in a few boarders through the years. In the 1860 Census both daughters are listed as teachers, but can find no listing in the public schools in Andover. Lydia Faulkner died of Consumption (TB) on Dec. 2, 1865. Joseph W. was institutionalized in the Worchester Lunatic Asylum in 1860 and died October 12, 1871 at 58y 11, 15ds of Mania & Epilepsy. A similar fate followed to sister Lydia A. who died in the North Hampton Lunatic Hospital at 71 of Paralysis on June 22, 1881. Their sister Mary Poor Faulkner died on Dec. 10, 1892 at age 75 of General Disability. All are interred at West Parish Garden Cemetery.
After the death of their mother Lydia Faulkner the heirs sell the homestead to Esther B. Cutler, wife of Herbert W. Cutler on April 18, 1866. Herbert Warton Cutler was born on Nov. 14, 1835 in Framingham, MA son of William K. & Amelia (Haven) Cutler. His parents moved to Andover and occupied the Nourse homestead at 219 Lowell St. Three of his brothers fought at Harris Farm, Spotsylvania, VA on May 19, 1864. Brother Granville died on the battlefield, Charles died from his wounds in Washington DC and Abalino, returned home to Andover. Herbert married on Dec. 27, 1862 to Esther B. Annis b. June 13, 1833 in Londonderry, NH, dau. of James & Mary Annis. They had one son Charles b. 1866. The Cutlers owned for nine years then selling to William Miller on October 30, 1885. Cutlers moved to Nashua, NH and the deed was finally recorded on Feb. 24, 1888. It was not uncommon to find the property placed in the wife's name, as it protected their asset from creditors. Herbert was a milk dealer. They later settled on South Broadway in Lawrence, MA.
William Miller was born on May 7, 1843 in Dundee, Scotland, son of William Miller. He married there on May 31, 1867 to Mary A. Charles b. July 1845 in Dundee. They lived at 2 Watt St, St. Peter Civil Parish, Dundee. William & Mary would have ten children, eight born in Dundee, Scotland and two in Andover, MA.
Children; Mary Anderson b. Jan. 8, 1868, Elizabeth Bruce b. Sept. 13, 1869, Jessie Belle b. Oct. 11, 1873, Wilhelmina b. 1876, David McRichie b. 1878, Jane Charles b. Apr. 1880, William b. May 1, 1882, James Charles b. Feb. 28, 1884, Joseph Abbott b. Dec. 25, 1885 in Andover, and Margaret Kydd b. April 12, 1888 Andover, MA.
The census states the Miller family immigrated to America in 1884 and settled in Andover, MA. William is listed as a blacksmith in the Andover Directories. He was a Master Blacksmith and worked at Smith & Dove Manufacturing Co. William invested in property, built three income tenements on Maple Ave. William died on Nov. 16, 1897 of stomach cancer.
All the Miller children married. In 1900 Mary Miller remains in her home with daughter Elizabeth B. Abbott age 30 a widow with her son William Abbott. Elizabeth is a saleslady selling candy. Jane C. 20 is a flax winder, James C. 16 a flax spinner, Joseph 14, teamster and Margaret 12 at school.
In the 1910 census Mary now 63 and Joseph 24, a house carpenter, are living in one side of the house. Her extended family; Frank Ellis 44 a grocery clerk, wife Elizabeth (Miller – Abbott) 40, and son William 14 live in the rear of the house. George Baxter 24, Gardener at Wm. M. Woods farm and wife Margaret (Miller) 22, and son James 4 live in the front of 9 Lowell St. Mary Miller sells the property to William M. Wood, President of the American Woolen Co. on Jan. 13, 1914 and Mary moved to 56 Poor St. She died on Aug. 2, 1921 and is interred at West Parish Cemetery.
William M. Wood held the property and rented the house to employees who worked for him on the Arden estate or in his mills. In 1921 with the construction of Shawsheen Village in full swing Wood placed all his holding into the Arden Trust. For his children. When Wood died on Feb. 2, 1926 the Trust was administered by his son Cornelius A. Wood and Fred R. Edington of the AWCo. The properties were deeded to the Philips Corporation of Maine for liquidation. This house was then purchased by Albert J. Moore on June 9, 1926.
Albert J. Moore and his wife Agnes were living in Shawsheen Village in 1924. Albert was the president and treasurer of the J. F. Bingham Manufacturing Co. , steel products company in Lawrence, MA. Albert retired after WWII and lived in the home until his death.
The property was sold to David Cutler, wife Louise H. on Feb. 17, 1961. David had been living at 48 Balmoral St. prior to purchasing the property. Cutler owned for six years selling to David A. & Mary Q. Maney on Aug. 17, 1967. Maney owned seven years then sold to
James M. & Martha J. Beardsley on May 15, 1974. The property continues in the Beardsley family stewardship in 2015.
Bibliography/References:
Dorman, Moses; Map of Andover, 1830, maps 1852, 1888, 1906, 1926
Andover- North Andover Historical Society files
Essex County Registry Deeds, Salem, MA - Deed of James Parker to Sam. Frye.
Essex Northern Registry Deeds, Lawrence, MA
Historical Sketches of Andover, Sarah Loring Bailey 1880 chapter Mills & Manufactures p. 595
Andover Townsman
Andover Advertiser
Andover Street Directories
Federal Census 1850, 1860, 1880, 1900, 1910, 1920
Andover Vital Record
Ancestry.com – Scottish Census
Owners;
James Parker
Samuel Frye - Oct. 18, 1765 - deed Salem
Joseph & Lydia Faulkner
Lydia Faulkner – August 1831 – 1865
Lydia Faulkner estate, Lydia A. Faulkner & Guardian – April 18, 1866 – b. 704 leaf 162
Esther B. Cutler, wife of Herbert W. – April 18, 1866 – b. 704 leaf 163
William Miller – Oct. 30, 1885, rec. Feb. 24, 1888 – b. 94 p. 480
William Miller estate, Mary A. C. Miller heir & Trustee– Nov. 1897
William M. Wood – Jan. 13, 1914 – b. 337 p. 371
Arden Trust, Cornelius A. Wood, Tr. – Feb. 9, 1921 – b. 447 p. 330
Phillips Corporation of Maine – Mar. 31, 1926 – b. 520 p. 462 (parcel #8 p. 465)
Albert J. Moore – June 9, 1926 – b. 524 p. 462
Albert J. Moore estate, heir Agnes Moore – Probate #225590
Agnes Moore estate, Roland H. Sherman, Extr. – Feb. 3, 1961 – Probate
David Cutler, wife Louise H. – Feb. 17, 1961 – b. 931 p. 432
David A. & Mary Q. Maney – Aug. 17, 1967 – b. 1088 p. 416
Mary Q. Maney – Feb. 27, 1968 – b. 1102 p. 246
James M. & Martha J. Beardsley – May 15, 1974 – b. 1240 p. 691
Martha J. Beardsley estate Probate – release – b. 4396 p. 289
Heirs, David A. Beardsley, Gail A. Beardsley (McNaughton), Marcia J. Kinstey -
Aug. 26, 2013 - b. 13611 p. 153
John W. Beardsley & Jeanne E. Puffer – Aug. 26, 2013 – b. 13611 p. 156
Inventory Data:
| | |
| --- | --- |
| Street | Lowell St |
| Place | Shawsheen Village - Frye Village |
| Historic District | Shawsheen Village NRH District |
| Historic Name | Faulkner Farmhouse |
| Present Use | residence |
| Original Use | farm house |
| Construction Date | early 18th century |
| Source | ERDS, ENRDL, AHS file, njs, style |
| Architectural Style | Georgian |
| Foundation | stone & granite |
| Wall/Trim | clapboards/wood |
| Roof | asphalt - gable |
| Major Alterations | shed razed 1972 garage razed 1973 pool 1974 |
| Condition | excellent |
| Acreage | 1.137 acres. Approximate frontage 193'. |
| Setting | residential/commerical |
| Map and parcel | 52-88 |
| MHC Number | ANV.290 |
| Recorded by | Stack/Mofford, James Batchelder |
| Organization | Andover Preservation Commission |
| Date entered | 1975-77, 02/17/2006, 5/22/2015 |
Map: