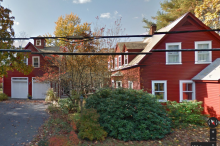 Historical Narrative:
The early deeds refer to Greenwood Road as the Boston Road and the Peterson farm of 24 acres as the "Jerry Lot". It was once part of Benjamin Goldsmith's property in the West Parish of Andover. Goldsmith lived in Roxbury, MA in 1850 and held 17 acres in West Parish. In 1860 his property contained 84 acres and a barn valued at $3694. Upon his death his estate was partitioned off went to his children in shares. The homestead parcel of 13 acres straddled the line between Andover and Lawrence and was most likely near Wesbster St. George W. Goldsmith 2nd, Caroline M. Forsaith, Sophia A. Smith, Susan C. Brier and Benjamin F. Goldsmith all held 1/10 share. Caroline M Forsaith, living in Lawrence, received 5/10 with a life estate. Two minors Benjamin F. and Charles Herbert Forsaith were assigned a guardianship of Asa French.
Caroline M. Forsaith received three parcels of land; 28½ acres in Owl Swamp, the Cummings lot of 9½ acres and the 24 acres of woodland called the "Jerry Lot". When Caroline died her son Charles H. Forsaith inherited her share. The 1870 Andover Valuation lists William Forsaith of Roxbury; 24 acre Jerry Place $250, 9 ½ a Cummings lot $190, and 28 a Owl Swamp $330 = 61½ acres $770.
Charles H. Forsaith sold the property to Henry C. King of Lawrence, MA on April 16, 1896. King was a grocery merchant in South Lawrence, pres. of H. C. King Co., the D. W. Pringree Co. and treasurer of the Dillon Machine Co. in Salem. King also sold hay, straw, wood and coal. He may have used this property as a wood fuel source. King lived at 266 Andover St. in Lawrence and held this property four years then selling the parcel to Sivert K. Peterson on April 17, 1900.
Sivert Kristian Peterson was born in Norway on Mar. 9, 1862 son of Peter Tobias Staalesen and Margrethe Kristine Olsdr. Siver was baptized on Mar. 30, 1862 at Nes, Vest-Agder, Norway. Sivert immigrated through the port of Boston on April 22, 1883 at age 21. He was living in Tewksbury when he took citizenship in 1890. Sivert, a carpenter, married in 1890 to Anna Cecila Swenson b. March 1870 in Sweden, immigrated in 1887. The had seven children; Ebba Sophia b. Nov. 21, 1891, Pauline Elizabeth b. Feb. 28, 1894 both born in Tewksbury, Phillip Severt b. Feb. 5, 1899, Carl Otto b. May 30, 1901, Peter Theodore b. June 18, 1904, Elmer Oscar b. Mar. 15, 1907 and Eleanor Frances b. Aug. 17, 1911.
The 1920 Valuation lists Sivert; House $700, New barns and shed $300, Shed and hen house $100 24 acres land $600 = $1700. The 1920 census lists Sivert as a house carpenter. All but Carl are listed with their parents. In 1930 Sivert and Anna with Ebba, Elmer and Eleanor remain in the home. Sivert died on Jan. 1, 1938 and his wife the following month on Feb. 25, 1938. Both are interred in West Parish Garden Cemetery.
The property went to the children who later sold to eldest daughter Ebba S. Peterson on June 30, 1939. Ebba worked a stenographer for the American Woolen Co. in Lawrence and was a secretary with the Andover Savings Bank in 1937. Ebba was the only sibling that did not marry. Her brother Elmer O. lived with her and ran a poultry farm.
Elmer purchased the farm from Ebba on April 12, 1948. Ebba was deeded a parcel of land on the south side of High Plain Rd. Elmer O. Peterson married Betty Sherman b. Oct. 10, 1917 in Andover, daughter of Leonard D. & Blanche D. (Berry) Sherman. Her father was an artist and photographer who owned the Andover Studios on Main St. Leonard was a member of the Masons and the Andover Barnstormers theatrical group. Elmer & Betty had three children, Diane Louise b. 1944, David Shorman b. 1945 and Donald b. 1949. Peterson would be the last to maintain a farm at this location.
Rosann M. Brown purchased the house on Feb. 21, 1969. Elmer sold off most of the 24 acres to developer Chongris Bros. in 1968 who sub-divided the parcel creating Dean Circle with 14 parcel lots and 7 more along Greenwood Rd. The Peterson house and barn remained on the corner lot. Elmer and Betty retired to New Hampshire. Elmer died on Feb. 21, 1993 in Laconia. Betty died Feb. 20, 2003 in Orlando, FL.
Bibliography/References:
Essex County Registry Deeds, Salem, MA
Essex Northern Registry Deeds, Lawrence, MA
Maps #5897 - Aug. 30, 1968 - and #6036 May 1969 - Chongris Bros. sub-division Dean Cir.
Owners:
Benjamin Goldsmith estate, heirs
Caroline M. Forsaith heir 5/10 life estate
Charles H. Forsaith – Apr. 21, 1866 – b. 706 leaf 276 – by partition
Charles H. Forsaith (Lillian A. G.) b. 134 p. 94
Henry C. King, (Nellie F.) – Apr. 16, 1896 – b. 146 p. 289
Sivert K. & Anna C. Peterson – Apr. 17, 1900 – b. 176 p. 206
Sivert K Peterson estate - died Jan. 1, 1938
Anna C. Peterson estate - died Feb. 25, 1938
Peterson heirs: Ebba S., Elmer O., Theodore P., Eleanor F. Hall, Pauline E. Johnson, Phil S., Carl O. Peterson
Ebba S. Peterson - June 30, 1939 - b. 625 p. 218
Elmer O. & Betty S. Peterson - Apr. 12, 1948 - b. 709 p. 330 – 24 acres "Jerry Lot"
Rosann M. Brown - Feb. 21, 1969 - b. 1125 p. 233
Wayne R. & Carolyn B. Donle - June 13, 1969 - b. 1133 p. 53
Nathaniel & Dorothy B. (Fraser) Mann, III - June 7, 1974 - b. 1242 p. 564
Jonathan Glesmann - July 7, 1982 - b. 1589 p. 311
Jonathan & Kim A. Glesmann - Mar. 17, 1992 - b. 3421 p.3
Inventory Data:
| | |
| --- | --- |
| Street | Greenwood Rd |
| Place | West Parish - West Andover |
| Historic District | Andover Historic Building Survey |
| Historic Name | Peterson Farmhouse |
| Present Use | residence |
| Original Use | residence - farmhouse |
| Construction Date | 1900 |
| Source | ECRDS, ENRDL |
| Architect/Builder | Sirvet K. Peterson |
| Foundation | stone/granite |
| Wall/Trim | clapboards/wood |
| Roof | asphalt - gable |
| Outbuildings / Secondary Structures | attached ell to barn |
| Condition | excellent |
| Acreage | 0.749 acre |
| Setting | residential |
| Map and parcel | 150-3 |
| Recorded by | Stack/Mofford, James S. Batchelder |
| Organization | Andover Preservation Commission |
| Date entered | 1975-1977, 3/4/2016, 11/10/2018 |
Map: